The Big Picture
Desperation Road is a new thriller movie starring Garrett Hedlund, Willa Fitzgerald, Woody McClain, and Mel Gibson, and Collider has an exclusive first look at the trailer and images.
The story follows a former convict, Russell Gaines, who seeks help from his father to start a new life but gets caught up in a dramatic turn of events with a woman named Maben.
The movie, based on the acclaimed novel by Michael Farris Smith, is described as a modern noir thriller set in a small Mississippi town where justice and the law are not the same.
Ahead of the upcoming thriller movie Desperation Road, which stars Garrett Hedlund, Willa Fitzgerald, and Academy Award winner Mel Gibson, Collider is excited to collaborate with Lionsgate to exclusively present the first trailer and images from Nadine Crocker's new film. The gritty and dramatic story centers around Russell Gaines (Hedlund), a former convict striving to rebuild his life following his release from prison. In order to do so, and head down a new path, Russell seeks assistance from his father, Mitchell (Gibson). However, things take a dramatic turn when Maben (Fitzgerald) enters Russell's life, and as their story unfolds, they find themselves on the run, realizing that their survival depends on developing trust in each other.
Who Is Behind 'Desperation Road'?
Crocker, Cassian Elwes, and Walter Josten are acting as producers on the film, which is based on the 2017 novel of the same name by Michael Farris Smith, who also produces while serving as the movie's screenwriter. Smith's other novels include 2021's Nick, 2020's Blackwood, and 2018's The Fighter. "Nadine Crocker is one of the most exciting young directors to appear in my life in quite some time," said Elwes, adding, "With this cast and script, she is making something incredible." Patrick Josten, Veronica Radelli, Peter Graham, Steve Hays, Paul Robarts, and Katy Bodenhamer are also on board as executive producers for the film.
In a statement released back in October 2022 when Gibson and Hedlund were cast, director Crocker said: "Garrett and Cassian had been on my vision board for years, but I couldn't have dreamt of working with Mel Gibson, Garrett, and Ryan Hurst on my second film," said Crocker. "It's been my wildest dreams come true! Our entire cast are some of my favorite creators in our industry! So grateful to work with our entire team on this film!"
Desperation Road will be released theatrically and via video on demand on October 6. You can check out the trailer and poster below: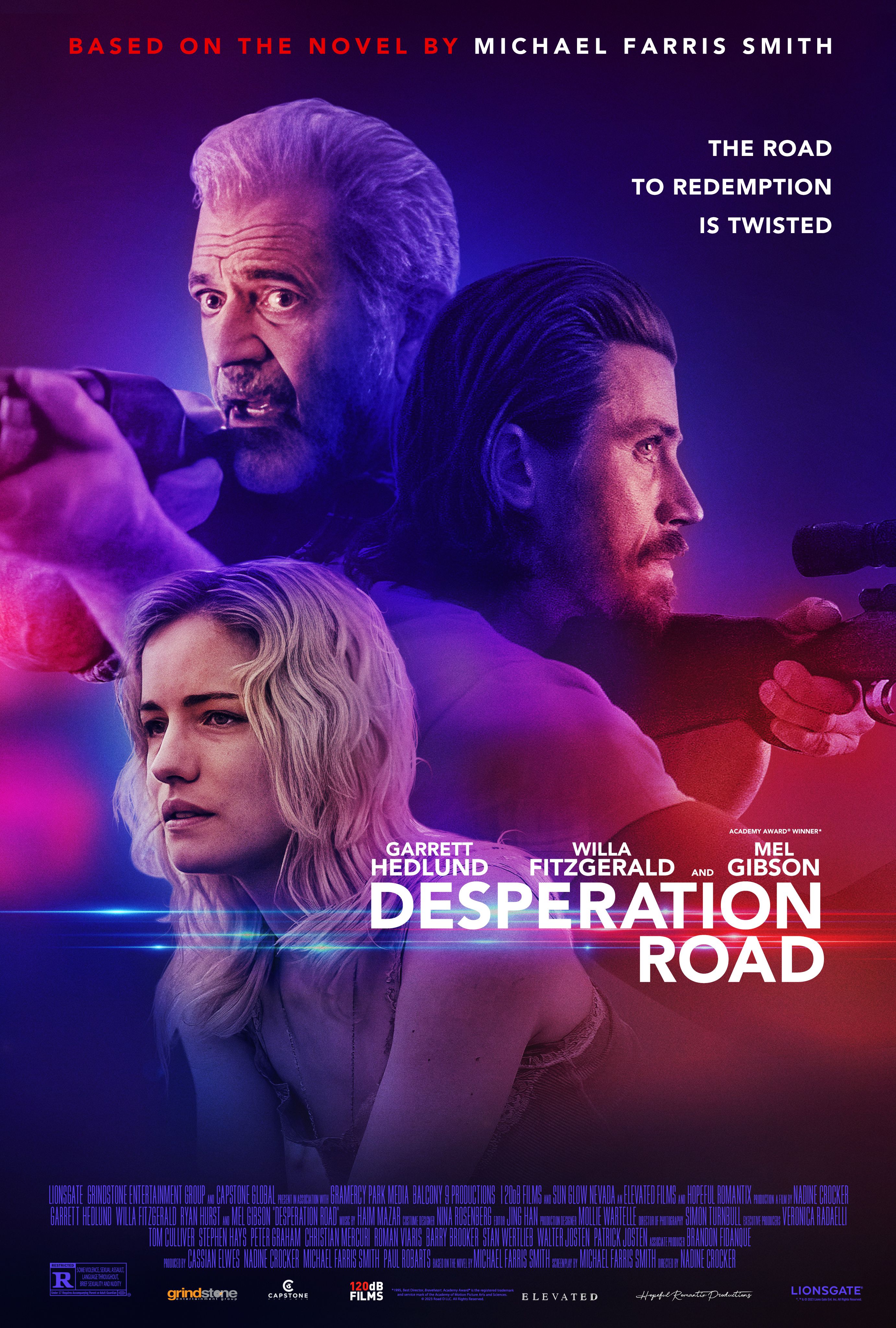 The official synopsis released for the movie states the following regarding the high stakes plot:
In a small Mississippi town, justice and the law are two very different things. Academy Award Winner Mel Gibson (Braveheart), Garrett Hedlund (TRON: Legacy), and Willa Fitzgerald (Scream: The TV Series) star in a modern noir thriller based on the acclaimed novel by Michael Farris Smith about two lost souls tortured by the mistakes of their past and bound by a secret that keeps them running.