Just when you thought your Halloween collectibles were complete for the year, Funko springs a surprise with an irresistible, glow-in-the-dark Sauron Funko Pop! This bad boy looks as intense and menacing as the Dark Lord Sauron and his army from Lord of The Rings. It's the perfect addition to bring one final luminous touch of Middle-earth to Halloween collection.
The pop will impress fans of the franchise with its incredibly detailed look, as it even has the One Ring sliced from its hand. The glow-in-the-dark details serve as icing on the cake. The Sauron Funko Pop! is part of the esteemed Pop! Movies collection and is an exclusive at BoxLunch. The figure is crafted from premium vinyl and stands approximately 5 1/2″ tall. Plus, it almost looks as though it's made of metal, making it look all the more real. There's also a dark, cape-like base at the bottom.
The figure comes in a windowed box like most Funko collectibles, but the best part about this Sauron Funko Pop! is that it costs only $17 (excluding shipping) and ships to all 50 states. The flexible shipping options like standard, express, and overnight also make getting this collectible delivered a breeze.
'Lord of the Rings' Film Series Will Officially Have Its 22nd Anniversary This December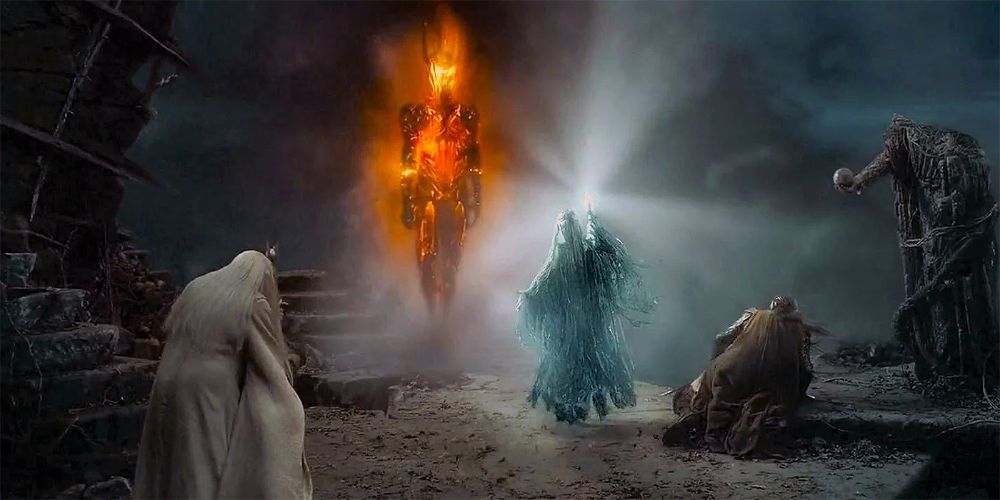 Lord of the Rings film series, directed by the visionary Peter Jackson, stands as one of cinema's most epic achievements. Based on the classic fantasy novels by J.R.R. Tolkien, the series initially comprised a trilogy. The first film, The Fellowship of the Ring, was released in December 2001, followed by The Two Towers in 2002, and The Return of the King in 2003.
Owing to the success of the trilogy, the franchise also later introduced a prequel series which was called The Hobbit. It also had three installments. Sauron was the primary antagonist of all six films and was voiced by Alan Howard in The Lord of the Rings movies and Benedict Cumberbatch in The Hobbit movies.
This pop of Middle-earth's most formidable foe, forever encapsulated in a collectible form, is now available to preorder at BoxLunch. Check out the Sauron Funko Pop! below.