The Big Picture
New images from The Ballad of Songbirds & Snakes reveal the backstories and characters, including Viola Davis as game-maker Volumnia Gaul.
Tom Blyth's portrayal of Coriolanus Snow's transformation is "extraordinary" and "incredibly gratifying" as he starts to "break bad."
The chemistry between Coriolanus and Lucy is complicated, with mutual need and manipulation on both sides. Hunger Games fans can expect an immersive experience on November 17.
It's about time we returned to the Capitol for another round of Hunger Games with The Ballad of Songbirds & Snakes. Set 64 years before the events of the original movie, the upcoming prequel centers on a young Coriolanus Snow (Tom Blyth) and his tribute Lucy Gray Baird (Rachel Zegler). Fans of the franchise have been waiting long for another iteration in the franchise and will soon find themselves immersed in the bloodthirsty world.
Now, Entertainment Weekly has revealed new images from the feature that give us a deep dive into the characters and a sense of their backstories. One image sees Fionnula Flanagan as Coriolanus Snow's grandma'am giving him a yellow rose as his cousin Tigris (Hunter Schafer) stands behind them. The Snow family is having a hard time after the first civil war the districts waged against the Capitol, which compels Coriolanus to protect his family. In another stunning image, Viola Davis is seen as Volumnia Gaul, the head game-maker for the 10th annual Hunger Games.
Another image sees Peter Dinklage as Casca Highbottom standing among students lost in his own thoughts. Another image sees Jason Schwartzman as Lucky Flickerman, the television host for the 10th Hunger Games and ancestor to Stanley Tucci's Ceasar Flickerman. Seems like Blyth's look is going to change with his heart as in one of the images we see him with extremely short cropped hair donning a gray uniform.
Get Ready for Amazing Chemistry Between Tom Blyth and Rachel Zegler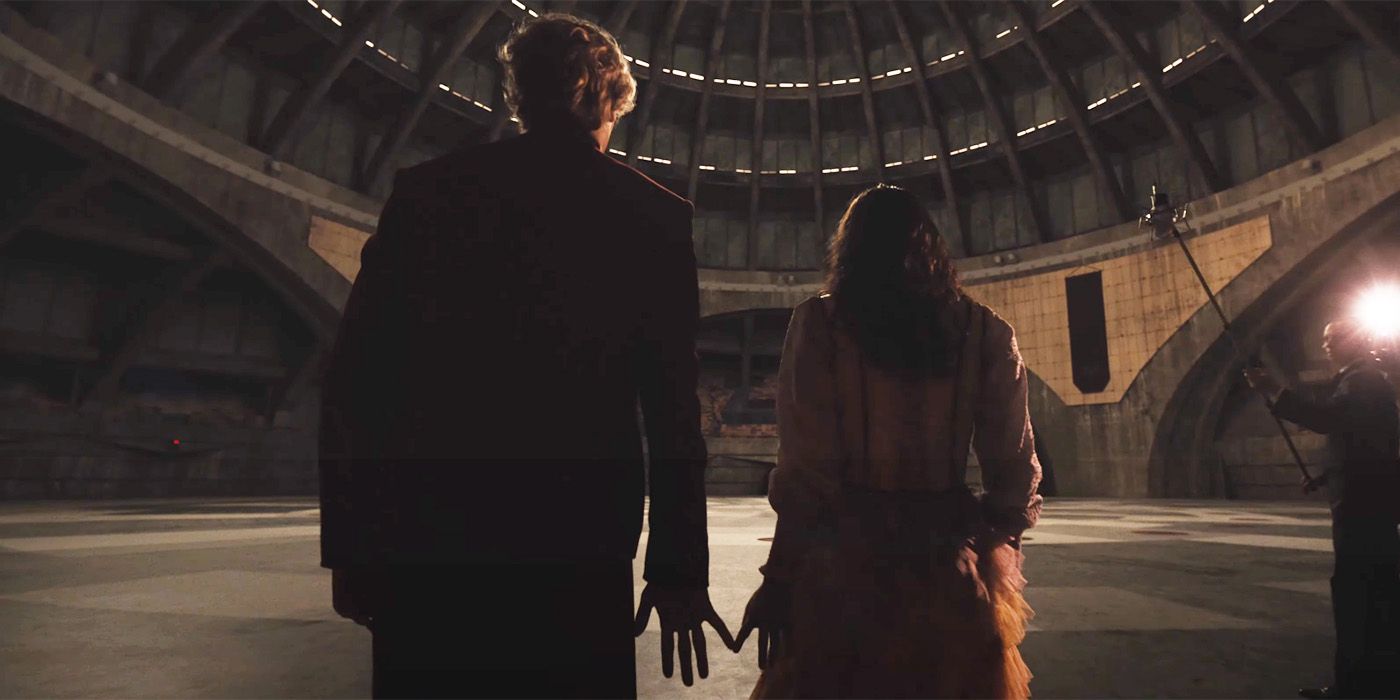 Franchise producer Nina Jacobson sheds light on this change of heart, revealing, "Tom is extraordinary as the turn happens." Adding, "As he starts to break bad, as you start to see the man that he becomes breaking out of the shell of the man that he might've been, it's incredibly gratifying." As for the leading pair's chemistry, director Francis Lawrence says that between Coriolanus and Lucy, "there's this mutual need," which the actors played to a T. "He needs her to win and survive, so he wins. She needs him to help her win and survive, so she survives." But it's also complicated as the director explains, "There's manipulation on both sides."
Along with the aforementioned cast, the movie also features Josh Andrés Rivera as Sejanus Plinth, Burn Gorman as Commander Hoff, Ashley Liao as Clemensia Dovecote, and many more. Hunger Games: The Ballad of Songbird and Snakes will be released on November 17. You can check out the new images below: