The Big Picture
Apple Original Films releases new posters for Martin Scorcese's Killers of the Flower Moon, starring Leonardo DiCaprio and Robert De Niro.
The film, based on a true story, follows a string of murders in 1920s Oklahoma, shedding light on systemic discrimination against the Osage Nation.
Killers of the Flower Moon received critical acclaim and a standing ovation at the Cannes Film Festival, and will have a global theatrical release on October 20.
Apple Original Films has just released two new posters for Martin Scorcese's highly anticipated new film Killers of the Flower Moon and set a global theatrical release for the film, which will then debut on Apple TV+ following its theatrical run. The film is now set to be released to theaters worldwide on October 20, as a part of Apple Original Films' partnership with Paramount Pictures. The film's global theatrical release follows its premiere at the prestigious Cannes Film Festival this May.
A New Look at Scorsese's Latest Project
Killers of the Flower Moon stars Leonardo DiCaprio, Robert De Niro, and Lily Gladstone in the riveting historical narrative inspired by real events. The film is based on David Grann's best-selling non-fiction book of the same name and tells the story of a string of murders that took place in 1920s Oklahoma. Both a riveting personal narrative and an indictment of systemic discrimination, the film will show how members of the Osage Nation, a group of Native Americans made wealthy by mineral rights and oil-rich land, were murdered in a spree of brutal crimes. Starring alongside DiCaprio, De Niro, and Gladstone are Jesse Plemons, Cara Jade Myers, JaNae Collins, Jillian Dion, and Tantoo Cardinal.
The new posters, released today, give us a look at DiCaprio's newest, and perhaps most intense, role yet. The first poster shows DiCaprio, who plays Ernest Burkhart, husband of oil heiress Mollie Burkhart, played by Gladstone, in a close-up. He looks out of frame, his eyes are a bright blue and his face is cast in a red light. Next to him in the poster stands his wife and De Diro's character, William "King" Hale. Behind King and Mollie are oil rigs. The poster is washed in a black effect, mimicking the oil that drove the bloody crime spree. The second poster shows Ernest embracing Mollie. Both posters mimic classic Western posters, a nod to the influence of classic Westerns on the film.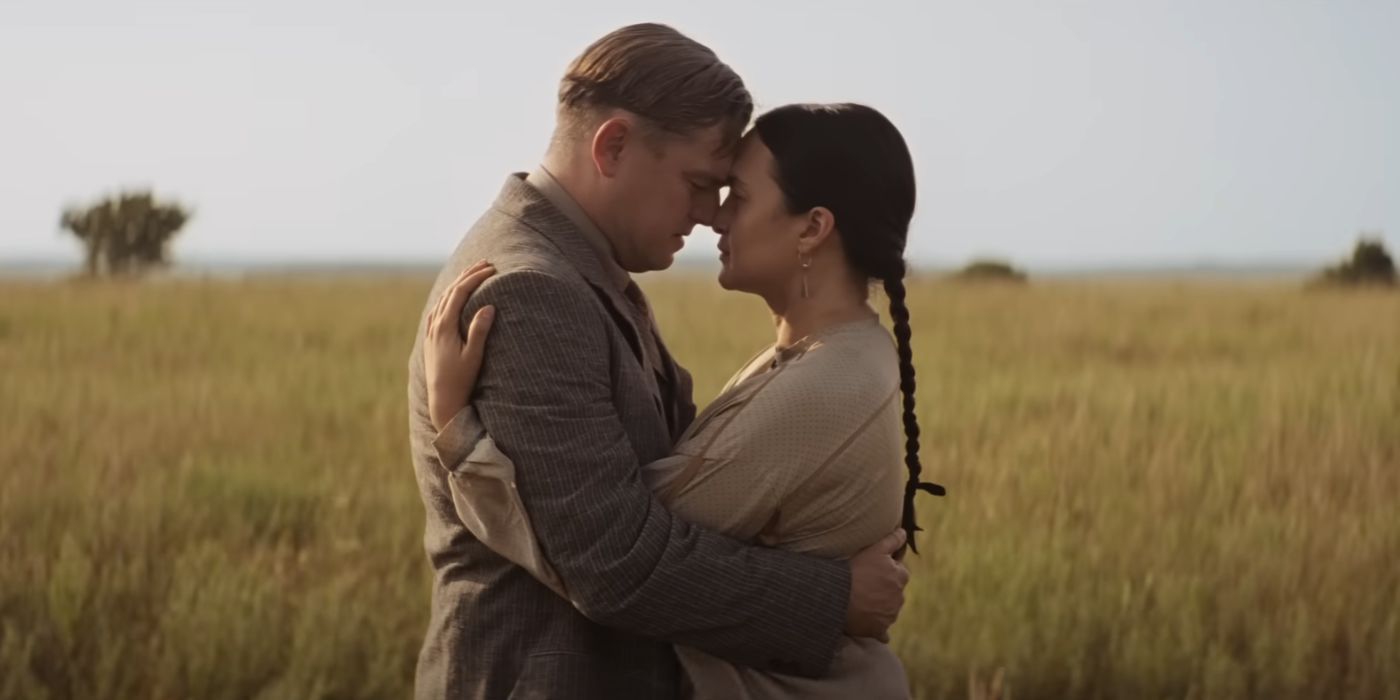 Killers of the Flower Moon made its premiere earlier this year at the 76th Cannes Film Festival, where the film was met with both critical acclaim and a standing ovation by the audience. The film's global release will also include IMAX theaters, for which the film will be digitally remastered.
Killers of the Flower Moon will be released to theaters worldwide on October 20. Check out the new posters and the film's trailer below: