The Big Picture
Leo, a 74-year-old lizard, is determined to escape the confines of his terrarium and explore the world in Netflix's animated feature.
The trailer showcases the toll of being a class pet on Leo and his turtle companion, but also highlights the joy Leo finds in connecting with the students.
Written by Adam Sandler, Leo features a star-studded voice cast and premieres on November 21 on Netflix. Watch the trailer here.
Getting caught in a monotonous routine takes its toll — especially when you're a lizard trapped within the confines of a small terrarium. In Netflix's upcoming animated feature Leo, viewers get a glimpse of the glass box life of its title character. But Leo is ready to experience more for himself, determined to make the most of what life he has left. Ahead of the movie's premiere on November 21, Netflix shared the official trailer.
Leo centers on a 74-year-old lizard named Leo (Adam Sandler) and his turtle terrarium-mate Squirtle (Bill Burr), two animals who have been a class pet for the same Florida elementary school classroom for decades. Seventy-four years is a long life for a lizard, so when Leo learns he only has one year left to live, he plans to make the most of it. The only way to live the remainder of his life to the fullest is to escape and see what else the world has to offer. However, in his attempts to carpe the diem, Leo gets caught up in the anxieties of his students, instead going on an unexpected — and unexpectedly fulfilling — journey.
The new trailer wastes no time in establishing the toll of years being a class pet has on Leo and Squirtle. Sure, they put on a friendly face for the kids (who are not amused by the creatures), but it's more going through the motions than anything else. Leo may be a lizard, but he even faces the same struggles as humans, including being faced with his own mortality after a remark about how old he looks. Things seem to turn around for him in his slightly botched escape plan, in which one student learns that he can talk. The second half of the trailer takes a wholesome turn as Leo realizes that talking to the kids is the best way to connect with them, leading to all sorts of shenanigans that bring a little joy to everyone.
The Humans Behind 'Leo'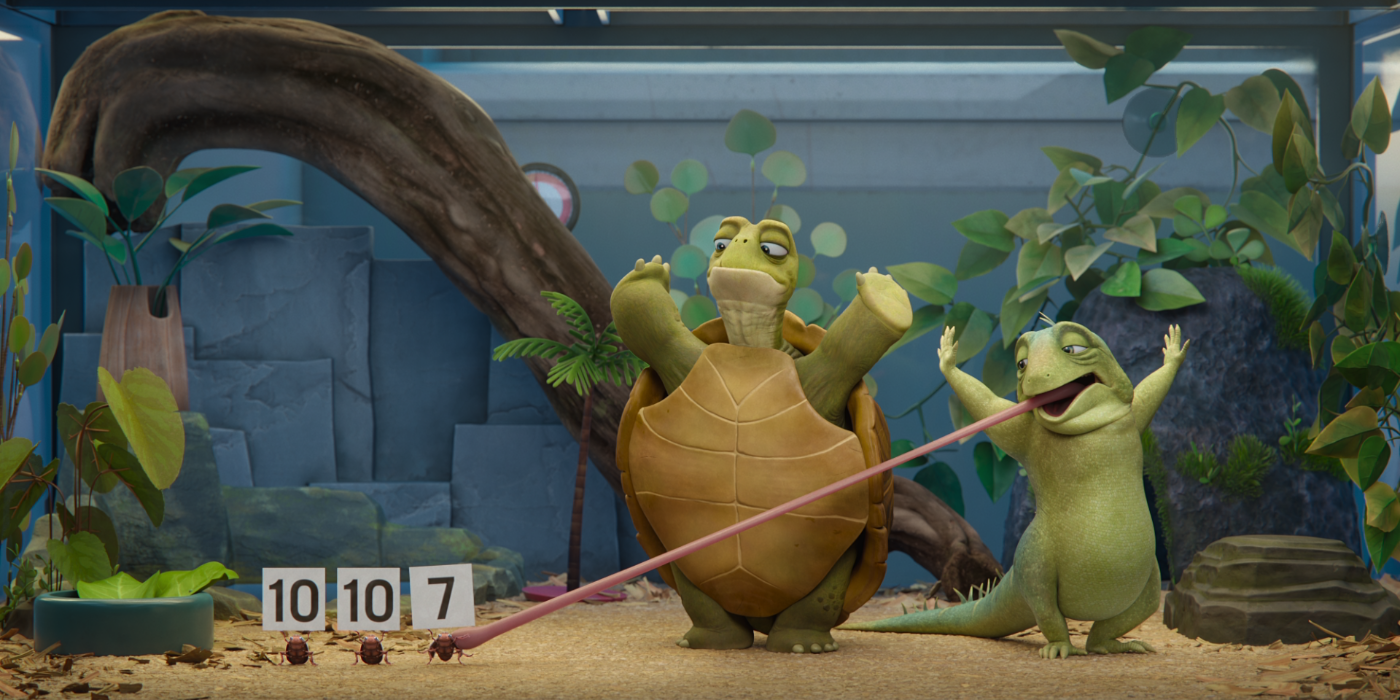 Leo was written by Sandler alongside frequent collaborators Robert Smigel (Saturday Night Live, Hotel Transylvania 2) and Paul Sado (The Cobbler, Sandy Wexler). Smigel, Robert Marianetti (Saturday Night Live), and David Wachtenheim (Saturday Night Live) directed the feature. Sandler's Happy Madison Productions banner produced. Alongside Sandler and Burr, Leo boasts a star-studded voice cast with the likes of Smigel, Cecily Strong, Rob Schneider, Jason Alexander, Stephanie Hsu, Jo Koy, Heidi Gardner, Nick Swardson, Nicholas Turturro, and Sandler's family members Sadie Sandler, Sunny Sandler, and Jackie Sandler.
Leo premieres November 21 on Netflix. Watch the new trailer below: