The Big Picture
Last Stop Larrimah: Murder Down Under explores the mysterious murder of Paddy Moriarty in a small Australian town with just 10 suspects.
This true crime documentary takes us to Larrimah, a remote town with quirky residents, a pet crocodile, and a history of infighting.
Premiering on Max on October 8, the film sheds light on the dark secrets and strange happenings that led to Moriarty's demise in this close-knit community.
True Crime documentaries are all the rage, but what happens when you combine our fascination with murder with a small-town slaying that makes everyone a suspect? In comes Last Stop Larrimah: Murder Down Under. The Max documentary from Mark Duplass, Jay Duplass, and Mel Eslyn of Duplass Brothers Productions is directed by Thomas Tancred. And in a newly released trailer, we get to explore what happens when one small town goes down in infamy. The city of Larrimah in Australia has a population of 11. Or better, had — when Paddy Moriarty was murdered, there were suddenly 10 suspects in his death. Premiering on Max on October 8, the trailer for the film shows us a glimpse into the chaotic town that Moriarty lived in and just how odd Larrimah really is.
With only 11 people living there, no cell phone reception, one pub, and what looks like one sort of hotel (with a town crocodile for a pet), the town itself gives "the middle of nowhere" new meaning. But the trailer doesn't poke fun at any of the locals which include "Barry Sharpe, the owner of the Larrimah Hotel & Pub and a beefy pet crocodile; Fran Hodgetts, a quirky outcast and shop owner specializing in exotic meat pies; Karl and Bobbie Roth, husband and wife who ran the local fire and rescue team and bitter rivals of Barry; Billy Hodgetts, Fran's ex-husband, all skin, bones, and tattoos with stories to tell; Cookie Burke, a mellow old fellow who loves juicy gossip; Karen and Mark Rayner, the two newest and youngest residents of Larrimah; Richard Simpson, the bartender who works for Barry; and Lenny Hodson, Larrimah's oldest resident at 81-years-old."
The official synopsis for Last Stop Larrimah: Murder Down Under reads:
"Nestled deep in the Australian Outback is the remote town of Larrimah and its 11 eccentric residents. When Paddy Moriarty and his dog Kellie left the local pub and vanished in December of 2017, a long history of infighting is unveiled as the remaining residents become suspects in an unfolding investigation that leads to Paddy being declared dead. The documentary, told in five chapters, shines a light on Larrimah's quirky history and how the town's once close-knit and jubilant residents brought about their own fate."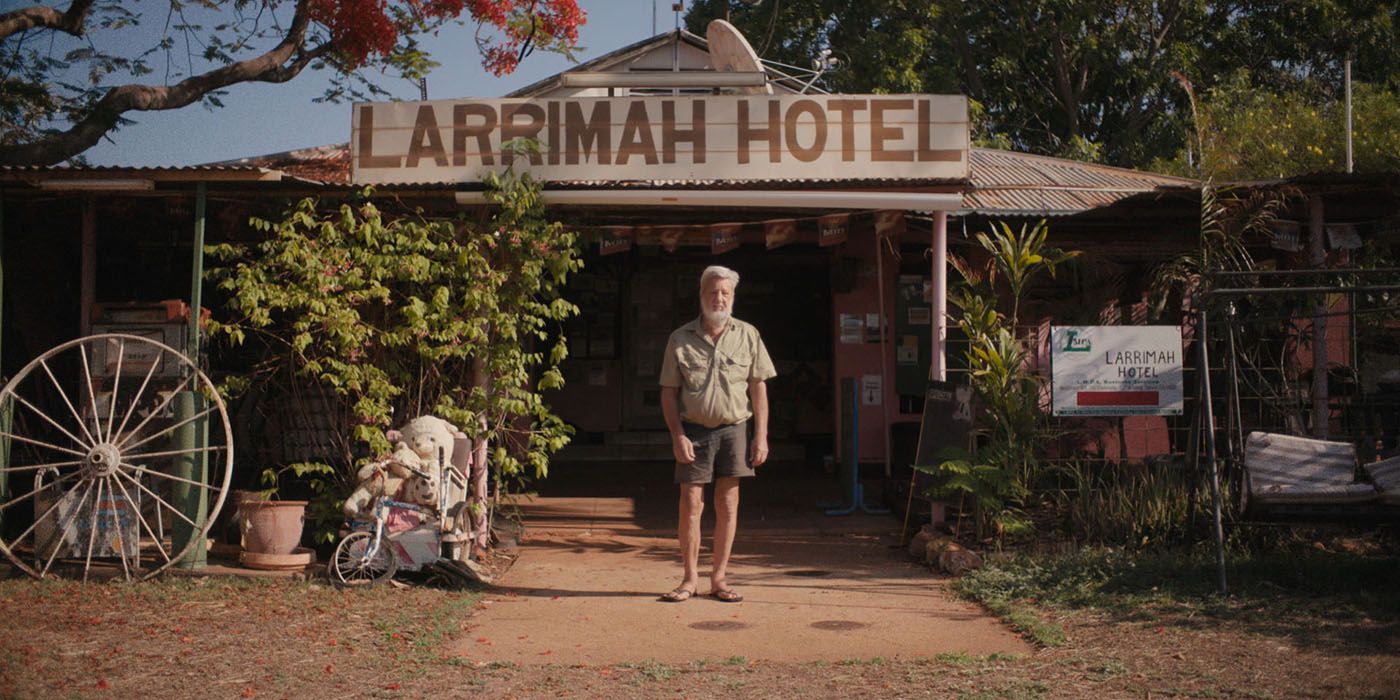 The Mystery of Larrimah
Towns like Larrimah are always a fascination for anyone who didn't grow up in such a place. As we can see in the trailer, they're all perfectly happy with each other even with local rivalries. But not everything is happy and perfect in Larrimah as someone clearly murdered Moriarty back in 2017. It'll be fascinating to see what happened here when Last Stop Larrimah: Murder Down Under premieres on Max on October 8. Check out the trailer for the documentary down below