The Big Picture
Director Martin Scorsese explores the 1920s Oklahoma murders in Killers of the Flower Moon with a sensitive lens, shedding light on the loss of indigenous lives.
The new image depicts the intimate and emotional connection between the characters played by Leonardo DiCaprio and Lily Gladstone, raising curiosity about their story and world.
The film revisits the historical tragedy, with the cast emphasizing the sensitivity and dignity maintained during production.
Director Martin Scorsese is well known for his gangster movies but now with his upcoming feature, Killers of the Flower Moon, the auteur is looking at 1920's Oklahoma murders in the Osage Nation through a sensitive lens. The feature is based on the 2017 book of the same name by David Grann and chronicles a series of murders perpetrated by colonizers who sought to claim the oil-rich land.
Total Film has released a new look at Leonardo DiCaprio and Lily Gladstone from the upcoming feature that sees them in bed as Leo's character Ernest seems to console his wife Mollie (Gladstone) about something. The frame not only conveys the intimacy between the characters but also their concerns, fears, and sense of belonging as well. The image intrigues fans to know more about the characters and their world.
What to Expect From the 'Killers of the Flower Moon?'
Set in the 1920s the movie will deliver a look at the loss of the indigenous lives and the terror they lived through. However, Gladstone, who is Blackfeet and Niimíipuu heritage, revealed that the feature is in no way a "Martin Scorsese's Western" but "a great American tragedy." She said, "With natives and Westerns, we are so dehumanized that it just kind of feels like we're part of the landscape – instead of humans that are telling a story." So fans can expect to see a humane depiction of the tragedy from Scorsese's imaginative lens.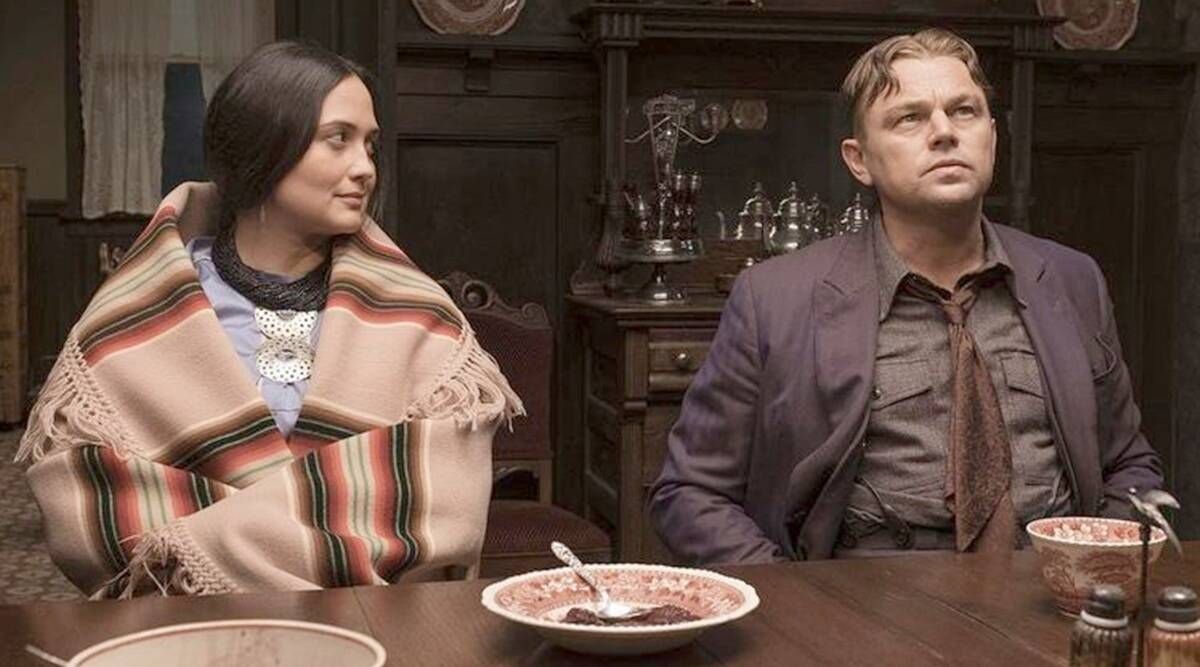 Furthermore, DiCaprio also spoke of the sensitivity and dignity maintained while making the film. He previously revealed that during the making of the movie, they were trying to incorporate the truth by talking to the community and hearing the real stories every day. And certainly by the looks of the promotional material one can see intense research and care has gone into making of the feature.
Along with DiCaprio as Ernest Burkhart, and Gladstone as Mollie Burkhart, the movie also features Robert De Niro as William Hale, Jesse Plemons as Tom White, BOI agent investigating Hale, Tantoo Cardinal as Mollie's mother Lizzie Q, John Lithgow as Prosecutor Leaward, Brendan Fraser as W. S. Hamilton, Hale's corrupt attorney. The cast also includes Cara Jade Myers, JaNae Collins, Jillian Dion, Jason Isbell, Louis Cancelmi, Scott Shepherd, Everett Waller, Talee Redcorn, and many more.
Killers of the Flower Moon has been scheduled to release in theaters on October 20. You can check out the new image below: