The Big Picture
Killer Croc shows his softer side as he rushes to the aid of a child cornered by the Grimm in the upcoming Justice League x RWBY crossover film.
Earth is under siege by Grimm in Part Two, requiring the Justice League and Team RWBY to combine their powers once again to save the day.
The release of Part Two comes with special features that explore how the characters of RWBY adapt to Earth and the bonds they form with the Justice League.
It's not often that Killer Croc and Batman find themselves fighting for the same cause. The monstrous villain formerly known as Waylon Jones is a regular fixture in the Caped Crusader's rogues gallery. Still, a softer side to him is occasionally shown within DC Comics. In the upcoming crossover film Justice League x RWBY: Super Heroes & Huntsmen Part Two, his more empathetic traits are on display thanks to a new clip Collider can exclusively share. Titled "I'm Helping," the footage shows Croc rushing to the aid of a child cornered by the invading Grimm.
Justice League x RWBY Part Two picks up in the aftermath of Part One which saw iconic Justice League figures like Batman, Wonder Woman, and Superman whisked away to Remnant and turned back into teenagers with their powers altered. During their time, they joined forces with Team RWBY and the other heroes of Remnant to investigate why their world has suddenly and mysteriously changed. The newfound friendship between DC's finest and Rooster Teeth's colorful huntresses carries over into Part Two as Earth is under siege by Grimm upon the superheroes' return. Their venture into the Justice League's world comes with new and dangerous powers that require the two hero teams to combine their might once again to save the day.
The footage shows how frightening the situation on Earth has gotten as a child is hunted down by the monstrous Grimm before Killer Croc shows up and holds one of the beasts off to give them a path to escape. When another massive tentacled creature looms, however, Croc whisks the child up in his arms and makes a run for it only to be caught in the creature's grasp. Before they can pounce on him, Batman arrives in the nick of time with a few batarangs to distract the monsters, telling his old foe to get the kid to safety. It's possible the sheer threat of Grimm could be enough to get even the Justice League's most bitter enemies to temporarily fight for good to save the world.
'Justice League x RWBY Part 2' Boasts a Superheroic Voice Cast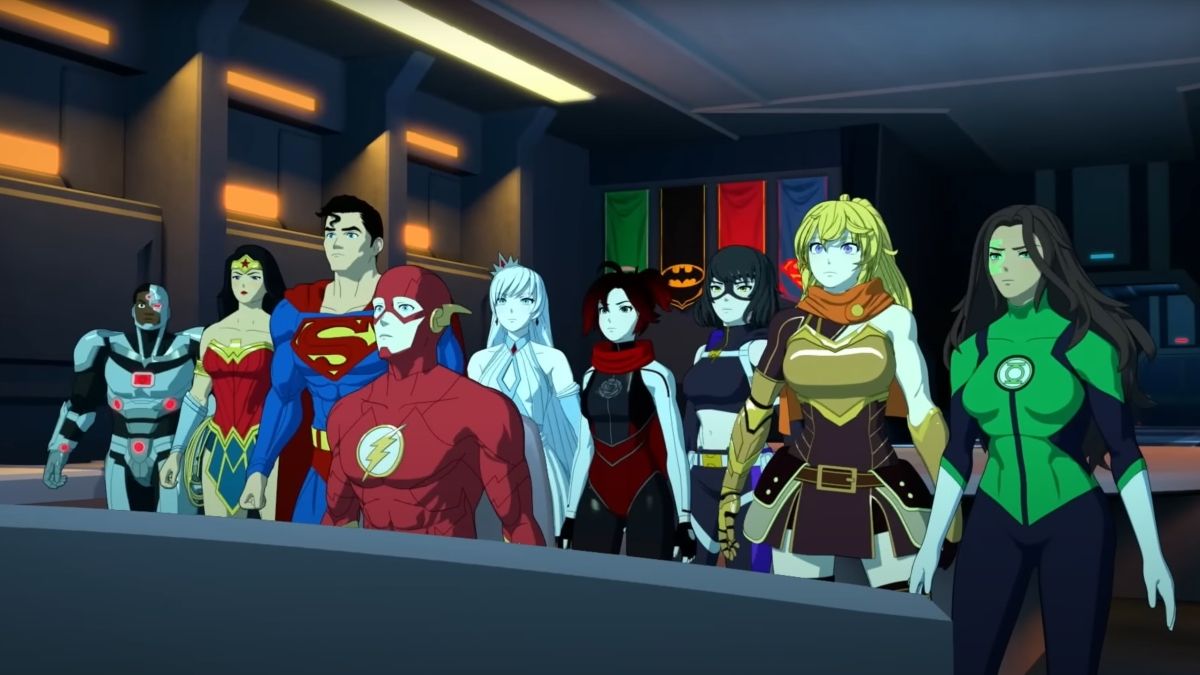 Rooster Teeth Animation, DC, and Warner Bros. Animation joined forces to make Justice League x RWBY a reality with directorial duties for both films falling to Camp Camp's Yssa Badiola and RWBY's Dustin Matthews. Justice League Society: WWII writer Meghan Fitzmartin returned to the animated DC world to pen the script.
Alongside them is a stellar cast featuring the original RWBY team of Lindsay Jones as Ruby, Kara Eberle as Weiss, Arryn Zech as Blake, and Babara Dunkelman as Yang with fellow repeat castmates Ozioma Akagha as Vixen, Jeannie Tirado as Green Lantern and Tru Valentino as Cyborg. The newcomers include some voice-acting heavyweights including Jamie Chung as Black Canary, David Dastmalchian as The Flash, Laura Bailey as Wonder Woman, Troy Baker as Batman, and Travis Willingham as Superman. Rounding out the bunch are AEW champion and upcoming The Iron Claw star Maxwell Friedman, Dragon Ball Z voice-acting legend Christopher Sabat, and RWBY veteran J. Michael Tatum.
In addition to the film, Part 2's release also comes with a host of special features including two featurettes that dive into how the characters of RWBY change upon reaching Earth and how these two very different teams of heroes mesh together:
You look…Different: RWBY on Earth – Earth is not exactly the same as Remnant, the world where Team RWBY lives. The enemies are different. The Justice League heroes are different. And Team RWBY's powers? They're all extremely different. In this featurette, we get a closer look at Team RWBY on Earth.
I've Got Your Back – In Part One, Justice League and RWBY members had to work together to save Remnant. Now in Part Two, on Earth, they all must work together to save each other. In this featurette, we get into the story behind so many of the characters saving each other both physically and emotionally.
Justice League x RWBY: Super Heroes & Huntsmen Part Two will be available to purchase digitally on October 17 before arriving physically on 4K Ultra HD and Blu-ray on October 31. Check out the exclusive clip below.