The Big Picture
Netflix drops the full-length trailer for Leave the World Behind, a gripping apocalyptic thriller with an A-list cast.
The film explores the tension between two families thrown together amidst a mysterious cyberattack and a collapsing world.
Directed by Sam Esmail, known for his critically acclaimed work on Mr. Robot, the film delves into character beats and themes of prejudice.
Netflix has just dropped the full-length trailer for their new film Leave the World Behind, which brings together a stunning A-list cast for a world-ending piece of filmmaking. Leave the World Behind is an adaptation of the National Book Award-nominated novel by Rumaan Alam and is produced by Esmail Corp, Red Om Films, with executive production by Higher Ground Productions.
In this gripping apocalyptic thriller, brought to life by the award-winning writer and director Sam Esmail, we follow the story of Amanda (portrayed by Academy Award winner Julia Roberts) and her husband Clay (Academy Award nominee Ethan Hawke). They've rented a lavish weekend retreat with their children, Archie (Charlie Evans) and Rose (Farrah Mackenzie). However, their idyllic vacation takes an unexpected turn when two strangers, G.H. (Academy Award winner Mahershala Ali) and his daughter Ruth (performed by Myha'la), arrive unannounced in the dead of night.
These newcomers bear unsettling news of a mysterious cyberattack and claim refuge in the very house the first family believes is theirs. As the two families grapple with a growing and terrifying disaster, the collapsing world forces everyone to confront their roles in this harrowing reality. The narrative doesn't only delve into the apocalyptic scenario but also explores the theme of prejudice.
The two markedly different families find themselves thrust together, despite Amanda and Clay's initial reservations about G.H. and Ruth. Amidst these tensions, the slow-burn thriller presents chilling and unsettling phenomena as the world deteriorates. These include bizarre occurrences like what seems to be a blood-red rain descending from a solitary point in the sky and the complete disruption of the natural order on Earth, as one would expect from a film in the post-apocalyptic genre.
Who Is Sam Esmail?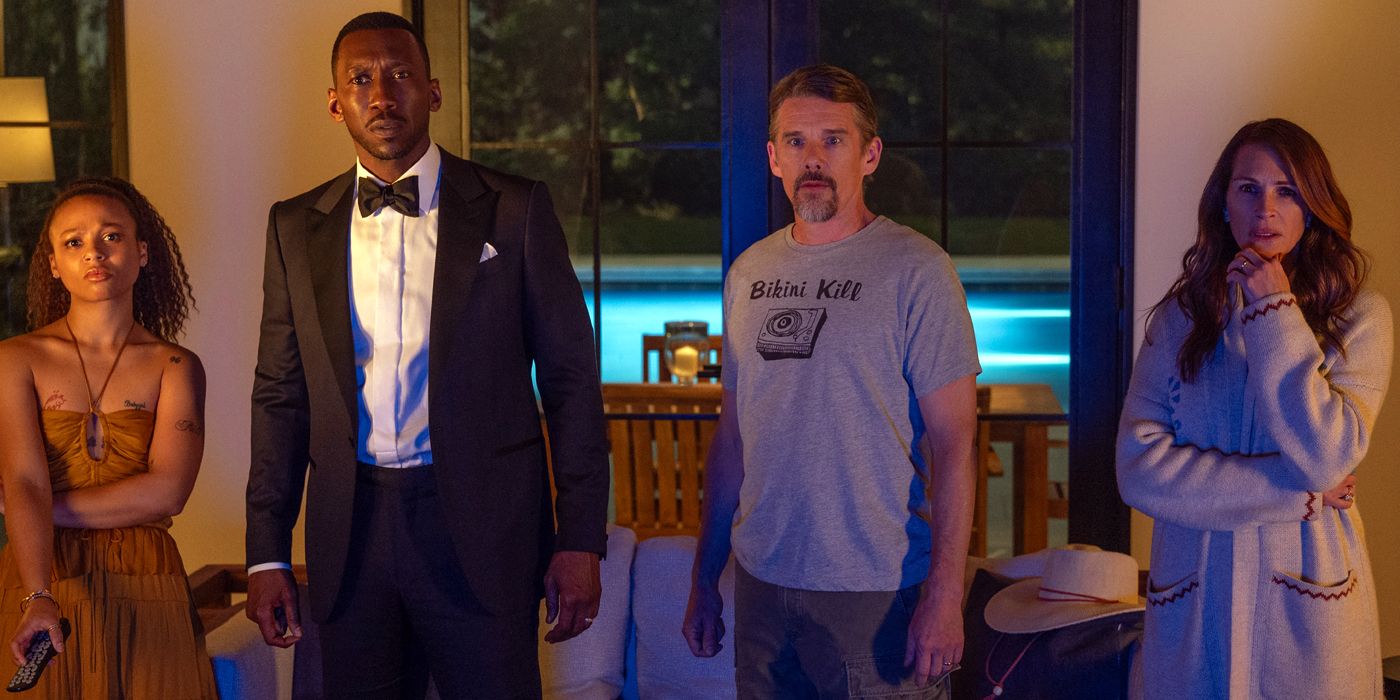 Sam Esmail has ascended rapidly to the A-list in Hollywood following his work creating the critically acclaimed Mr. Robot, which notched up three Emmy wins and a plethora of nominations over its run. Now, with his new apocalyptic thriller, he ventures into the realm of world-ending scenarios, delving into the small character beats that will entail. The film spotlights the characters and the tensions that brew among them as they grapple with a world devoid of electricity, forcing them to rely on one another. And it certainly isn't a burden to have such a glorious cast, including Roberts, with whom he worked on a previous series, Homecoming.
Leave the World Behind will be in select theaters on November 22 and will have its world premiere on Netflix on December 8. Check out the trailer for the film down below, and see our guide on how to watch the film here.