The Big Picture
Bollywood superstar Shah Rukh Khan is eschewing traditional promotional tactics for his new film Jawan, relying solely on the movie itself to generate buzz.
Jawan is a highly-anticipated action-thriller that combines over-the-top elements of south Indian movies with the iconic charm of SRK's three-decade career.
The film features multiple timelines, with SRK playing various roles such as a hijacker, soldier, police officer, and gangster, and includes a cameo by Deepika Padukone. It will be released primarily in Hindi, with dubbed versions in Tamil and Telugu.
While Hollywood studios continue to avoid negotiations with striking writers and actors instead of compensating them fairly, even if it means delaying their own movies because they don't have talent available to promote them, a Bollywood superstar is eschewing traditional promotional tactics of his own volition. With just a week to go for the release of his new film Jawan, Indian icon Shah Rukh Khan has finally debuted the action-thriller's first trailer, revealing the film's unique blend of tones and genres. Among the most popular movie stars in the world, SRK isn't participating in any press interviews ahead of the film's release, and is relying entirely on the movie itself to do the talking.
Described as "a high-octane action-thriller which outlines the emotional journey of a man who is set to rectify the wrongs in society," Jawan is SRK's highly-anticipated follow-up to the blockbuster hit Pathaan — the biggest hit of his career — from earlier this year. It is also his first real attempt to attract a nationwide audience, as opposed to his usual Hindi-speaking fan-base in India and across the world. Jawan, directed by Atlee Kumar, combines the over-the-top elements that would normally be associated with mainstream movies produced in the south of India with the iconic charm that SRK, as he is fondly known to his legions of South Asian fans, has cultivated over a three-decade career in the movies.
The trailer opens with SRK's character narrating a fable about a vengeful king. The mythical imagery is almost immediately replaced with a more realistic setting when we cut to a train hijacking in modern-day Mumbai. Another version of SRK's character — he appears in several different avatars in the movie, and is supposedly playing dual roles — shows up as the hijacker, a man who is hiding his identity under noticeable prosthetics, and taunting a police officer with his demands. "What do you want?" the cop asks the hijacker, who replies sarcastically, "I want Alia Bhatt" — the first of the many meta references to SRK's life and career. Later in the trailer, a reference is made to the incarceration of SRK's son Aryan a couple of years ago, which many saw as politically motivated. Wielding a formidable weapon, his character says in the trailer, "Before you touch my son, deal with his father."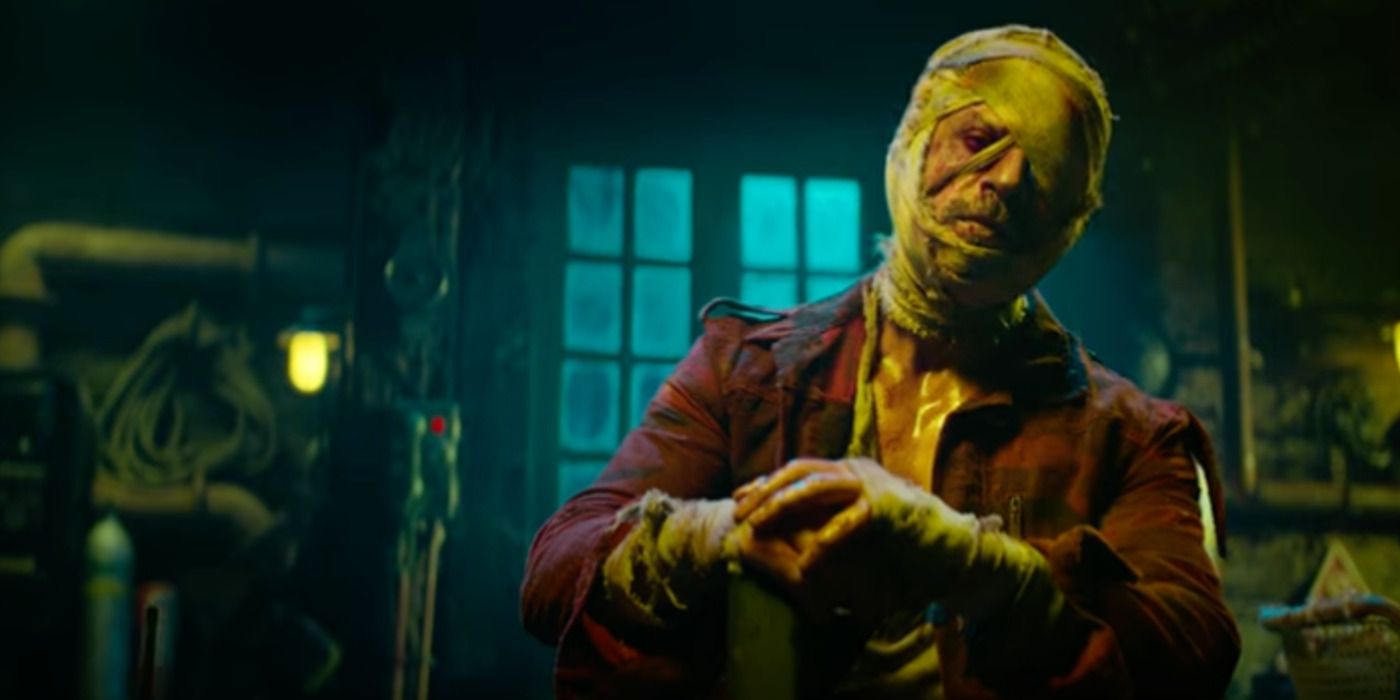 The Movie Combines the Aesthetics of South Indian Movies And Hindi-Language Epics
The movie appears to be taking place in several different timelines, with SRK appearing as not only the hijacker, but also as a soldier, a police officer, and a grizzled gangster. Seemingly in flashbacks, a de-aged SRK is seen in romantic settings with a mysterious character played by Deepika Padukone, who will appear in an extended cameo in the film. We also get a glimpse of the primary villain, played by Vijay Sethupathi, and the army of women that SRK's character seems to be leading in his mission of vengeance.
As is the norm with films from the south — India has several thriving film industries that operate independently of each other, divided by region and language — we get plenty of hero shots of SRK that are designed to get crowds to cheer in cinemas. Western audiences that experienced last year's cult phenomenon RRR would be familiar with the sort of larger-than-life depiction that movie stars are given in Indian films such as this. RRR was a Telugu-language film, although anybody who saw it on Netflix watched the dubbed Hindi version, but Jawan will be released primarily in Hindi, and also in dubbed Tamil and Telugu versions. The film's crew hails mostly from the southern state of Tamil Nadu, which is also where director Atlee is from. Jawan also stars Nayanthara, Sanya Malhotra, Priyamani, Sunil Grover, Riddhi Dogra and others. The film will be released across the world on September 7. You can watch the trailer here, and stay tuned to Collider for more updates.