The Big Picture
Shah Rukh Khan, known as SRK, has delivered massive box office hits with Pathaan and Jawan without traditional promotion, relying on his audience's anticipation.
Jawan is on the verge of becoming the second-highest-grossing Bollywood movie of all time, surpassing SRK's own film Pathaan.
SRK's recent success showcases his efforts to expand his fan base and regain his status as the biggest Indian movie star, with Jawan appealing to diverse audiences through its release in multiple languages.
While everybody appreciates the sheer goodwill that enabled The Equalizer 3 to deliver a solid box office opening despite star Denzel Washington having done zero publicity for it, it's worth noting that Bollywood icon Shah Rukh Khan has now delivered two of the biggest hits in the history of Hindi-language cinema — Pathaan and Jawan — without having promoted them in the traditional fashion. SRK, as he is fondly known among his fans, didn't participate in any pre-release press, choosing instead to rely on the audience's hunger to see him on the big screen. And the gamble paid off not once, but twice.
According to SRK's production company Red Chillies Entertainment, Jawan has grossed ₹1,043 crore worldwide, which converts to around $125 million. This means that Jawan is essentially a day away from overtaking Pathaan to become the second-biggest Bollywood movie of all time, behind Aamir Khan's Dangal. The 2016 sports drama made most of its money in China, where it became a word-of-mouth sensation. But neither Jawan nor Pathaan was released in the Middle Kingdom, which makes their achievement all the more special.
Pathaan ended its global run with around $130 million, and it held the title for the biggest Hindi-language movie of all time in India until recently, when it was overtaken by Jawan. Jawan also broke records for the biggest opening day, opening weekend, and opening week in Hindi movie history, in addition to earning SRK the unique distinction of becoming the only Bollywood actor to deliver two $100 million-plus grossers in one year. But while Jawan will soon become the second-biggest Hindi-language (or Bollywood) movie ever, it will still only be the fourth-biggest Indian film, behind the Kannada-language hit KGF: Chapter 2, and two Telugu-language blockbusters directed by S.S. Rajamouli: RRR and Baahubali 2: The Conclusion. Domestically, the film has grossed nearly $14 million so far, and is on the verge of passing the record set by RRR last year, although it's unclear if it will be able to pass Pathaan's $17 million domestic haul.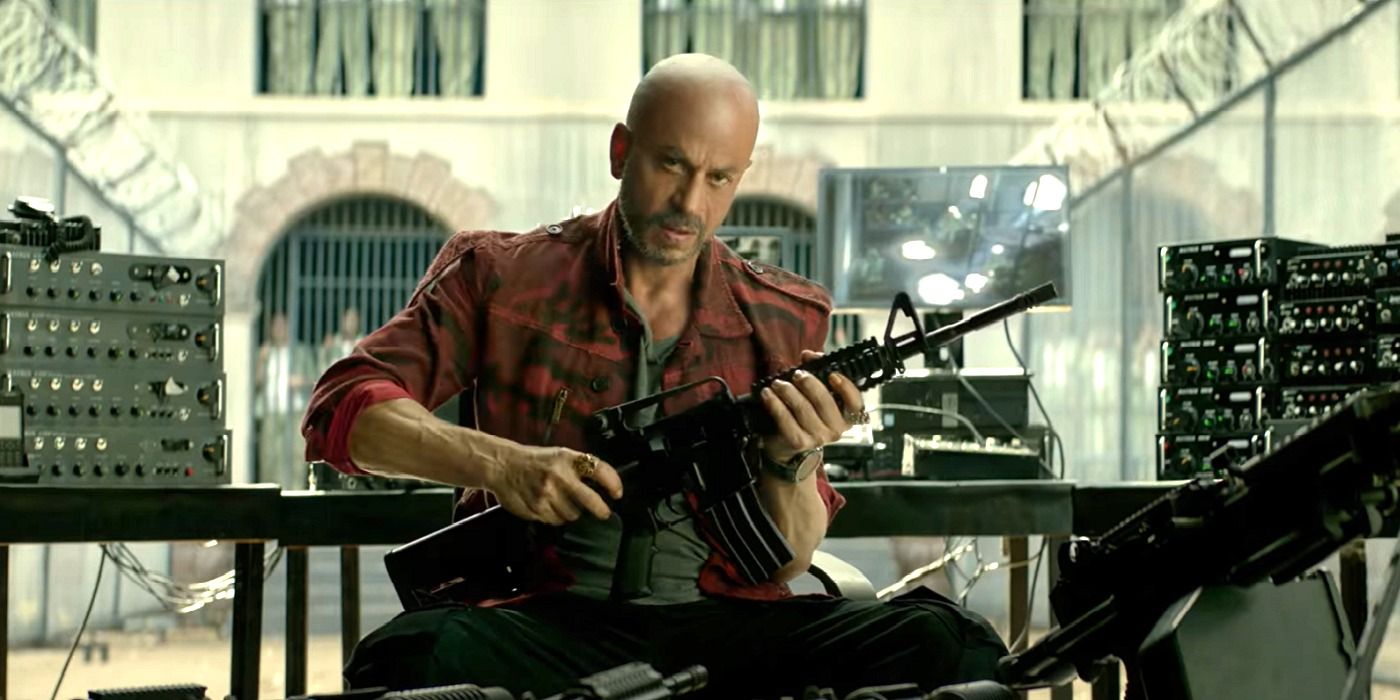 SRK's Efforts to Expand His Fan-base Have Paid Off
Having made a name for himself as a romantic hero in the '90s, SRK has since cemented his reputation as inarguably the biggest Indian movie star of his generation across a three-decade career. He experienced a series of set-backs in the 2010s, because of which he decided to take a step back from the spotlight and reevaluate his career. He returned in resounding fashion with Pathaan, leveled up with Jawan, and would hope to keep the streak going with his third film of the year, Dunki, due out around Christmas. In Jawan, he plays the dual roles of a vigilante cop and his army veteran father, who join hands to exact vengeance against an evil arms dealer, and expose corruption in Indian politics.
Directed by Atlee, who is best known for his Tamil-language blockbusters, Jawan was engineered to have crossover appeal in different regions across India. The country has several film industries that cater to independent audiences separated by geography and language, and to cast the widest net possible, Jawan was released not only in Hindi, but also dubbed in Tamil and Telugu. The movie also features Nayanthara, Vijay Sethupathi and Deepika Padukone. You can still catch it in theaters, and stay tuned to Collider for more updates.