The Big Picture
The upcoming holiday slasher film, It's a Wonderful Knife, is set to release in November with a star-studded cast and a twisted take on the classic holiday story.
The film's new images reveal a chilling look at the killer, "The Angel," who dons a white costume resembling Moon Knight, Green Arrow, and the Grim Reaper.
Combining elements of Scream and It's a Wonderful Life, this murder mystery slasher promises to be a frosty and gruesome addition to the genre, thanks to the writer's previous success with the film Freaky.
2023 has been another killer year for the slasher genre. M3GAN, Scream VI, and Sick all had horror fans screaming bloody murder. Even though we're in the final stretch of the year, there's still a ton of upcoming scares for moviegoers to partake in. Especially with the Christmas season quickly approaching arguably the best part of this sub-genre, the holiday slasher, will soon return. That's where Shudder and RLJE's new terror It's a Wonderful Knife comes in. This twisted take on the holiday classic directed by Tyler MacIntyre sleigh rides into theaters this November with the first trailer for the film premiering earlier this week. Now, the latest batch of snowy images for It's a Wonderful Knife brings The Angel of Death to this dreadful holiday season.
The new images provided by Bloody Disgusting give us the best look yet at the slasher's star-studded cast. Jane Widdop (Yellowjackets) is our "final girl" while Joel McHale (Community, Stargirl), Justin Long (Barbarian), Katharine Isabelle (Ginger Snaps), Jess McLeod, and Cassandra Naud (Influencer) fills the town of Angel Falls with genre vets. However, these images also give us some up close and personal time with horror's newest killer "The Angel". Dressed up all in white looking like a cross between Moon Knight, Green Arrow, and the Grim Reaper, this Angel of Death is not messing around with one of the images seeing the slasher villain covered in blood. The film's official poster even has The Angel's deadly eyes on Widdop, the killer's only way of surviving.
What's 'It's a Wonderful Knife' About?
In this horror reimagining of It's a Wonderful Life, this slasher follows Winnie Carruthers (Widdop) who saved her town from the serial killer only known as The Angel. However, while other slashers would label Winnie a hero, her town Angel Falls wants nothing to do with her. It gets to the point where Winnie wishes she was never born which causes her to be sent to a parallel universe where The Angel killer lives on because she wasn't there to stop them. Being pegged as Scream meets It's a Wonderful Life, this murder mystery slasher is about to deck horror fans halls.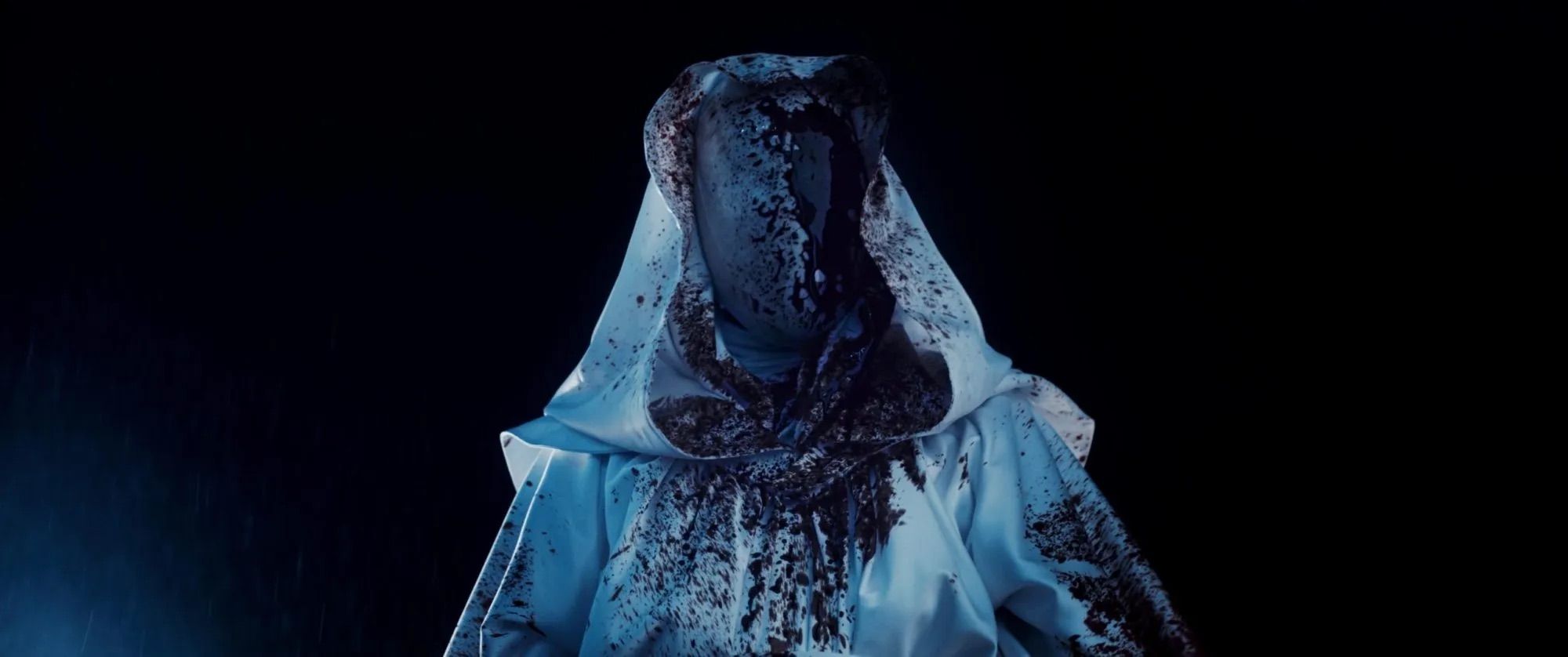 The Lasting Legacy of Holiday Horror
Horror and Christmas have been an unlikely recipe for bloody success. Some of the best horror films of all time have been centered around "the most wonderful time of year". Black Christmas, Silent Night, Deadly Night, Better Watch Out, and Anna and the Apocalypse are just some of the films every horror fan needs to watch. With a classic "what if" scenario and the backdrop of a holiday gem behind it, It's a Wonderful Knife looks to be the next great Christmas slasher. The trailer and these new images are filled to the top of the chimney with frosty atmosphere, morbid Christmas joy, and what appears to be a tone of gruesome kills. The film also has the added benefit of coming from writer Michael Kennedy who co-wrote the brilliant slasher Freaky which was another fun horror take on a classic story. Freaky had such a great blend of Scream-like slasher atmosphere, creative kills, heartfelt characters, and its own unique brand of outlandish humor. All signs point to Kennedy giving genre fans another slash-happy home run with It's a Wonderful Knife.
When Does 'It's a Wonderful Knife' Release?
It's a Wonderful Knife hits US theaters on November 10, 2023. It will be streaming on Shudder sometime after that. Until then, you can view the slasher's new images down below: