The Big Picture
Nicolas Cage stars as an aging action hero in "The Retirement Plan," facing off against Ron Perlman in a tough fight scene filmed in extreme heat and humidity.
Tim Brown, the director, emphasized the importance of maintaining continuity in fast-moving scenes and ensuring that the audience can't distinguish between the actors and their doubles.
After "The Retirement Plan," Cage will be seen in "Arcadian," where he plays a father protecting his teenage sons from nocturnal creatures, offering audiences another thrilling adventure.
The Retirement Plan is ready to tell a new story featuring Nicolas Cage as an action hero who might be a bit too old for an explosive lifestyle. And one of the biggest challenges he'll have to face during the new film will be a devastating fight against a character played by Ron Perlman. During a recent interview with Collider's Christina Radish, director Tim Brown talked about what it was like for him to film a battle sequence between the two actors, using their experience as seasoned action stars to work alongside them when creating the outline for the sequence:
That was a bit different because it involved a lot of stunt teams, and the doubles and stunt guys, so it was a bit more complex. They were just in. Ron was in, willing to go. You've gotta appreciate that the day we shot that fight scene between those two guys, it was about 94 or 95 degrees and probably 80 or 90% humidity. Nic was wearing a Hawaiian shirt and light pants, so he was okay, but Ron had to wear a heavy suit. So, we would keep Ron in an air-conditioned car, right by where he had to go for set, because the moment he'd walk out, the poor guy would be pouring with sweat.
The filmmaker also talked about how crucial continuity is when creating a scene that moves particularly fast: "To do those scenes, my concern was not that Ron wouldn't be soaked through his suit, literally. And they were fighting on sand, which is not great when it comes to sweat because sand sticks to everything. In those scenes, I was concerned about continuity and about making sure that the audience can't tell it's not Nic in certain points, and not Ron in certain points, and that it's a double."
In The Retirement Plan, Nicolas Cage portrays Matt, a man who disappeared without a trace a long time ago. But when his daughter, Ashley (Ashley Greene) finds herself trapped in the middle of a criminal scheme, she has no other choice but to go find him before something terrible happens to her. However, she will quickly realize that her father isn't the person she thought he was, as he was apparently hiding a secret past as a ruthless assassin. The family will have to team up if they want a chance to live, but they'll have to get through a bunch of dangerous criminals in order to do so.
What's Next for Nicolas Cage?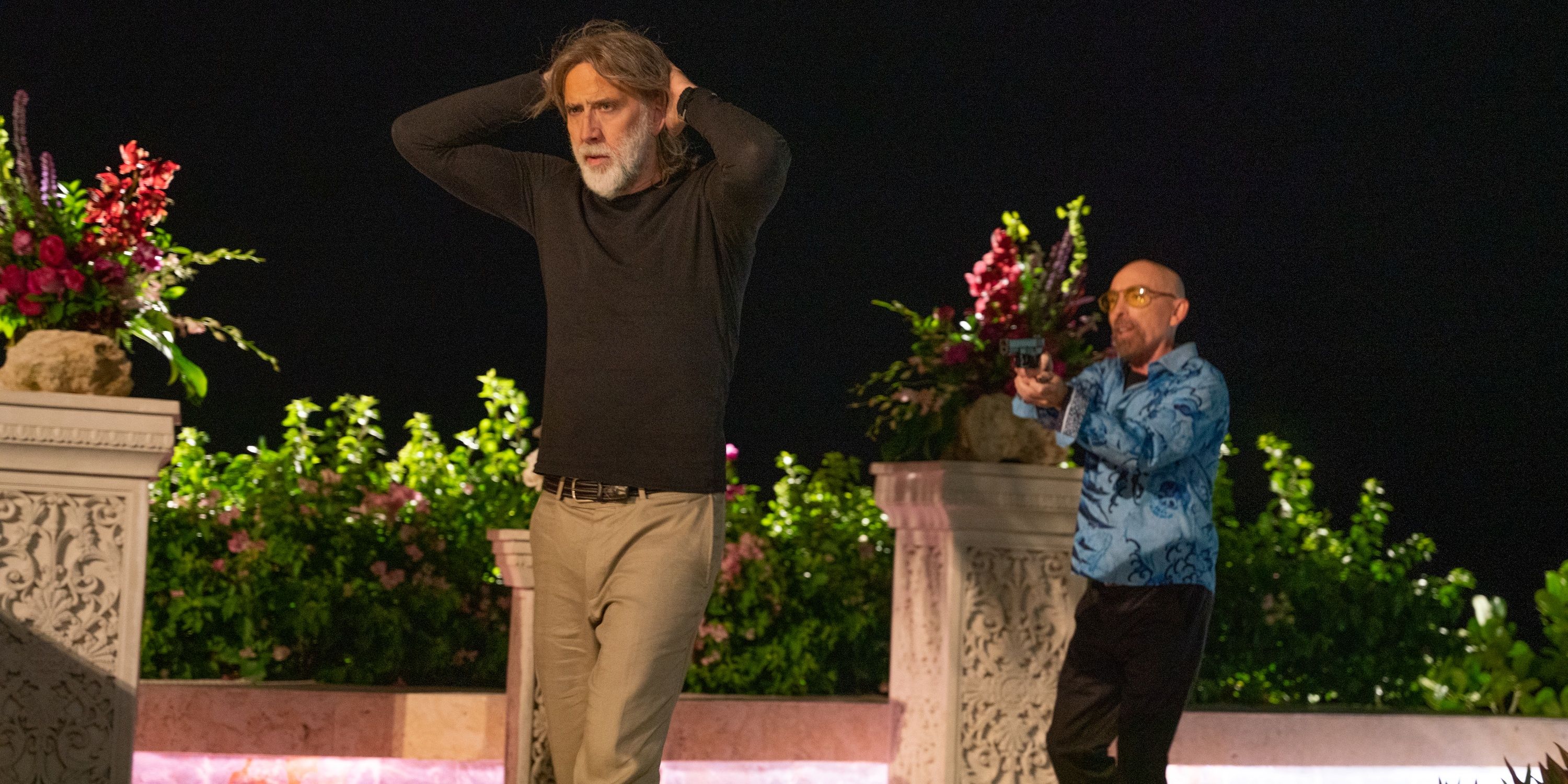 After he's done protecting this family from what would surely be an unfortunate fate, Nicolas Cage will be seen protecting an entirely different family from an unknown threat. In Arcadian, the actor will portray a father trying to keep his teenage sons safe from wild creatures that only come out at night. The upcoming movie hasn't set a release date for its debut yet, but with production already concluded, it won't be long before Nicolas Cage's next adventure can be enjoyed by audiences around the world. In the meantime, The Retirement Plan brings a version of the performer that hasn't been seen before.
You can check out the official trailer for The Retirement Plan below. The movie is already in theaters nationwide: