The Big Picture
Tommy Lee Jones is a highly acclaimed actor who carefully selects his projects, which director Brian Helgeland had to consider when trying to convince him to join Finestkind.
Helgeland had to convince Jones by providing a backstory for his character's presence in Massachusetts, with the lure of higher priced New England scallops being the tipping point.
Helgeland used his personal experience as a former fisherman and a serendipitous encounter with a Texas truck in New Bedford to further sway Jones' decision to take on the role in Finestkind.
Tommy Lee Jones is a tough nut to crack – at least when it comes to getting him on board for a new production. The recipient of esteemed honors including an Academy Award, an Emmy Award, a Golden Globe Award, and two Screen Actors Guild Awards, The Fugitive star has earned the right to be picky when it comes to what projects he'll add his name to. Knowing that he had only one chance to hook the big fish for his upcoming crime thriller Finestkind, director Brian Helgeland fully prepared for the task at hand. In an interview with Collider's Steve Weintraub ahead of the world premiere at TIFF, the screenplay writer and filmmaker shared exactly how it all went down.
"I sent [the script] to Tommy Lee, and he called me up, and basically he said, 'I read the script, liked it. Let me ask you something, what in the world is a guy from Texas doing in Massachusetts fishing?'" A fair question for anyone who's doing their due diligence before agreeing to a role, Helgeland said that he "anticipated the question" and was ready to fire back with a good answer. "'You had a shrimp boat in Galveston and it sunk. You came up to New Bedford to make enough money to buy another shrimp boat and then go back down, but you met this woman, you had a child, and you never went home,'" the director explained to an uncertain Jones.
While the answer was well-thought-out, it wasn't quite enough to set things right in Jones' mind, "Well, why did I come to New Bedford?" he asked. Sensing that his fish was on the line, and it was only a matter of reeling him in, Helgeland said, "Because the price of New England scallops is a lot higher than Gulf Coast shrimp." After mulling it over "for a second," Helgeland says that Jones was "in". However, the director believes that had he not been prepared with the entire backstory, the JFK star would've passed on the role. "He's always sort of testing you to see how deep you've thought things through."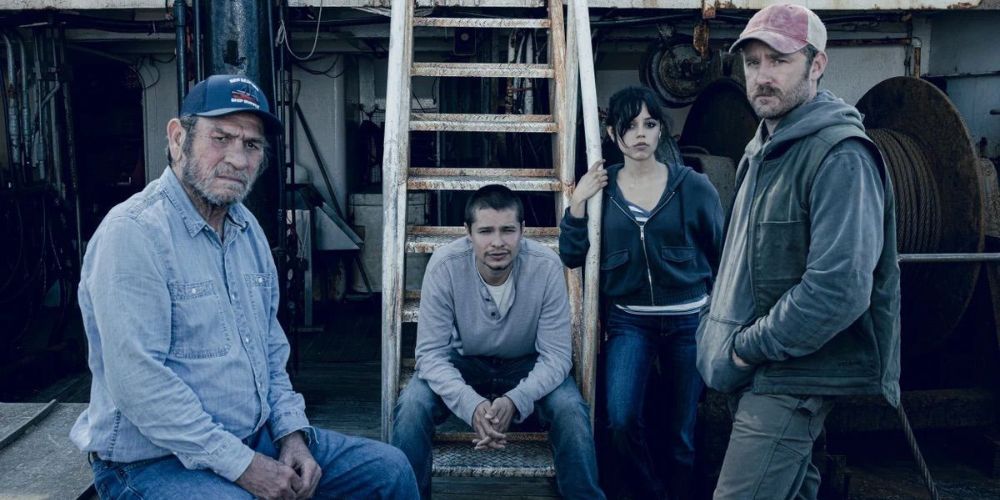 Art Imitating Life
When it comes to the life of a fisherman, Helgeland knows a thing or two – information that undoubtedly helped him sway the opinion of Jones for his latest project. "I fished when I was a kid," the writer and filmmaker explains, "and there were fishermen from all over the place that would come up to New Bedford because it's a huge fishing port. The first time we location-scouted, we got to a dock in New Bedford. I got out of the scout van, and I'm standing in front of a Dodge Challenger with Texas plates."
Taken aback by the sight of the Lonestar State truck that looked "like it's been driven through hell and back," Helgeland knew he had to get an image of it to Jones. "I got my iPhone and I did a video there. I started on the Texas plate, and then I pulled back, and I did a 360 of the New Bedford fishing fleet, and I sent it right to Tommy Lee and didn't hear back from him." Eager to get his leading man's feedback on this serendipitous moment, Helgeland says, "Then about a month later, when I finally met him face-to-face, I said, 'Did you ever get that video I sent you?' And he went, 'The one with the Texas license plate?' And I'm like, 'Yeah,' and he goes, "I got it." [Laughs] End the discussion."
As of right now, no release date or trailer has been set for Finestkind, which will stream on Paramount+, but the film premieres tomorrow at the Toronto International Film Festival.