The Big Picture
Napoleon, featruing large battle sequences and depicting key moments from the life of the French general, was shot in just 62 days.
Director Ridley Scott's quick filmmaking approach, influenced by his art school experience, allows him to efficiently capture each scene using unique camera staging.
Scott's upcoming projects, including the Gladiator sequel, will also have short shooting schedules, allowing him to focus on visual storytelling and utilize multiple cameras.
Apple Studios' Napoleon is set to feature some of the largest battle sequences ever put on screen, with the film slated to depict some of the most consequential wartime moments from the titular French general. Despite this, though, director Ridley Scott recently revealed that he was able to shoot the entire film in just 62 days — a remarkably short shooting schedule for a project whose runtime is over two and a half hours.
In an interview with Total Film, Scott said that he began focusing on filming Napoleon the same day his previous film, The Last Duel, wrapped shooting. The French general, portrayed in the film by Joaquin Phoenix, partook in a staggering 66 battles during his military career, though the film will depict only six of them. Despite this, Scott was able to quickly film each of these battle scenes using unique camera staging, with hundreds of extras to depict the large scale of each conquest. Scott told the outlet that his approach to quick filmmaking had been influenced by his time in art school:
"The best thing for my career I could ever have done was to go to the art schools I went to. I can really draw. After seven years of art school, you bloody better well be able to. I'll draw all my own storyboards. Every frame is drawn from close-up to medium shots. The locations I haven't found yet – I'll imagine the location. So we'll look for that location. Visual narrative is my strength. I find it very easy, therefore, to handle eight or 11 cameras at once."
Quick shoots have become something of a hallmark for Scott, and he's not stopping with Napoleon. The acclaimed director is also in the midst of helming the highly anticipated sequel to Gladiator, and he told Total Film that shoot will take him even less time than Napoleon:
"By having 11 to 14 cameras, we shot Napoleon in 62 days. I'm doing Gladiator 2 now in 54 days, because I'm not doing 50 takes with one camera, on one shot, and then turning around. This normal fight [scene] that could take anything up to a month, I'll take six days."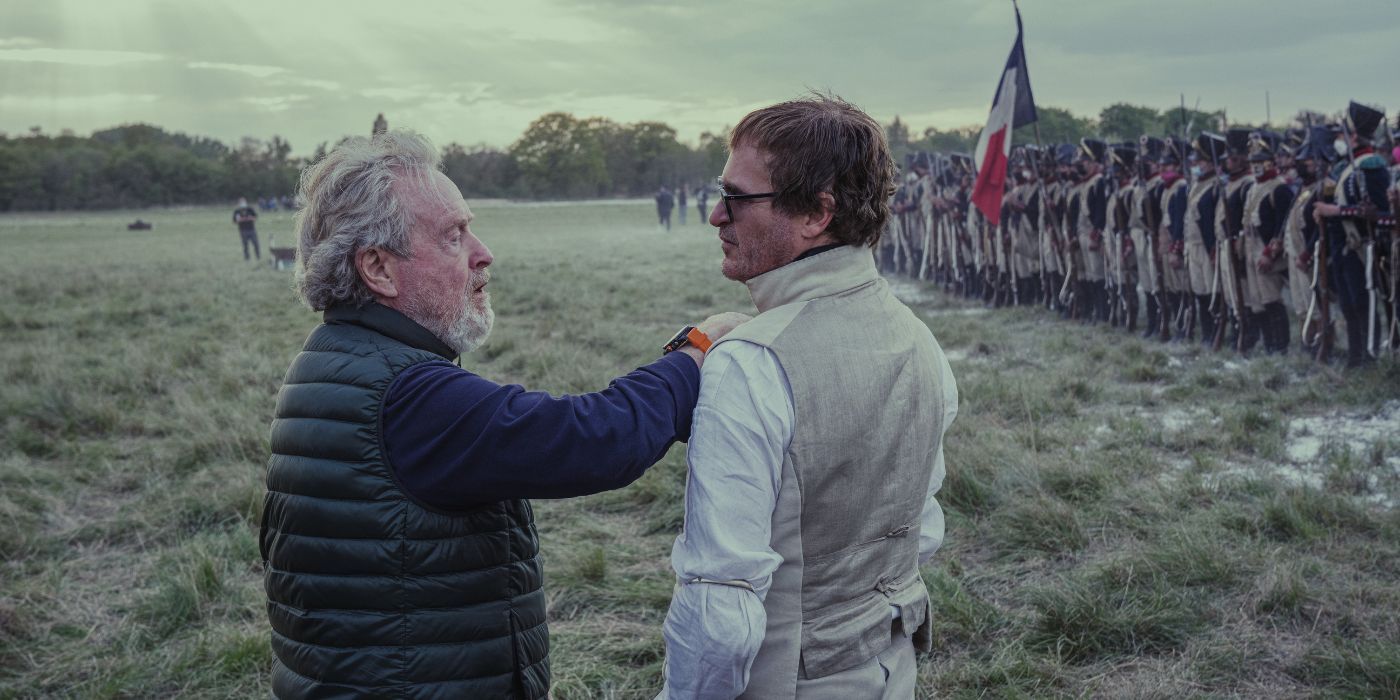 Napoleon Will Depict The Life of the Mad French General
Scott's biopic will depict the life of the famed Frenchman as he rises through the ranks of the military to become a general, and eventually the emperor of France. Beyond Phoenix, the film also stars Vanessa Kirby as Napoleon's wife and consort Joséphine, Tahir Rahim as politician Paul Barras, Ben Miles as Napoleon's top advisor Caulaincort, Ludivine Sangier as the socialite Madame Tallien, Catherine Walker as Marie-Antoinette, Youssef Kerkour as Napoleon's commander Louis-Nicolas Davout, and Matthew Needham as Napoleon's brother Lucien.
Scott directed Napoleon from a screenplay by David Scarpa. He also produced the film through his Scott Free Productions banner alongside Phoenix, Kevin J. Walsh and Mark Huffam. Executive producers include Aidan Elliot and Michael Pruss. Though the film is an Apple production, the studio has partnered with Sony Pictures to distribute it in theaters prior to a streaming release at a later date.
Napoleon's trailer can be seen below: