The Big Picture
Casting a big star who doesn't speak in the lead role of a film can lead to creative storytelling through body language and expressions.
Bill Skarsgård embraced the challenge of playing the deaf and mute Boy in Boy Kills World, working closely with the director to perfect his nonverbal cues.
Boy Kills World is a dystopian thriller action film following Skarsgård's character on a revenge quest in a corrupt future, joined by a talented cast.
Casting a big star in the lead role of a film as a character who doesn't speak is a bold choice. While there are unique challenges to not allowing them to use their voice, the limitations can birth creativity in how scenes are written and how the actor conveys their emotions through their body language. For the upcoming dystopian thriller action film Boy Kills World, it was left up to Bill Skarsgård to make the project sing despite playing the deaf and mute Boy. Speaking with Collider's Perri Nemiroff at our TIFF media studio at the Cinema Center at MARBL, the film's director Moritz Mohr and producer Simon Swart revealed how their star embraced his role and the obstacles that came with it.
Fresh off of stealing the show as Marquis Vincent de Gramont in John Wick Chapter 4 and a brilliant performance in Zach Cregger's horror breakout Barbarian, Boy Kills World takes Skarsgård in a vastly different direction from his recent work. Although he saw plenty of action playing opposite Keanu Reeves's Baba Yaga, Chad Stahelski's stylish gun-fu blockbuster is more of a traditional action film with a hero that, while he doesn't say much, delivers memorable lines that build up his legend. Mohr wanted his action film to stand out and having a character physically communicate through his expressions while his inner voice narrates was among the first ideas he based the original concept trailer around:
"I mean, that was basically from the beginning, the very first moment we started when we shot the proof of concept trailer in 2016. That was one of the core ideas that we had to make this movie different, to add something that is not usually in an action movie. That's where it started. That was one of the first ideas we had."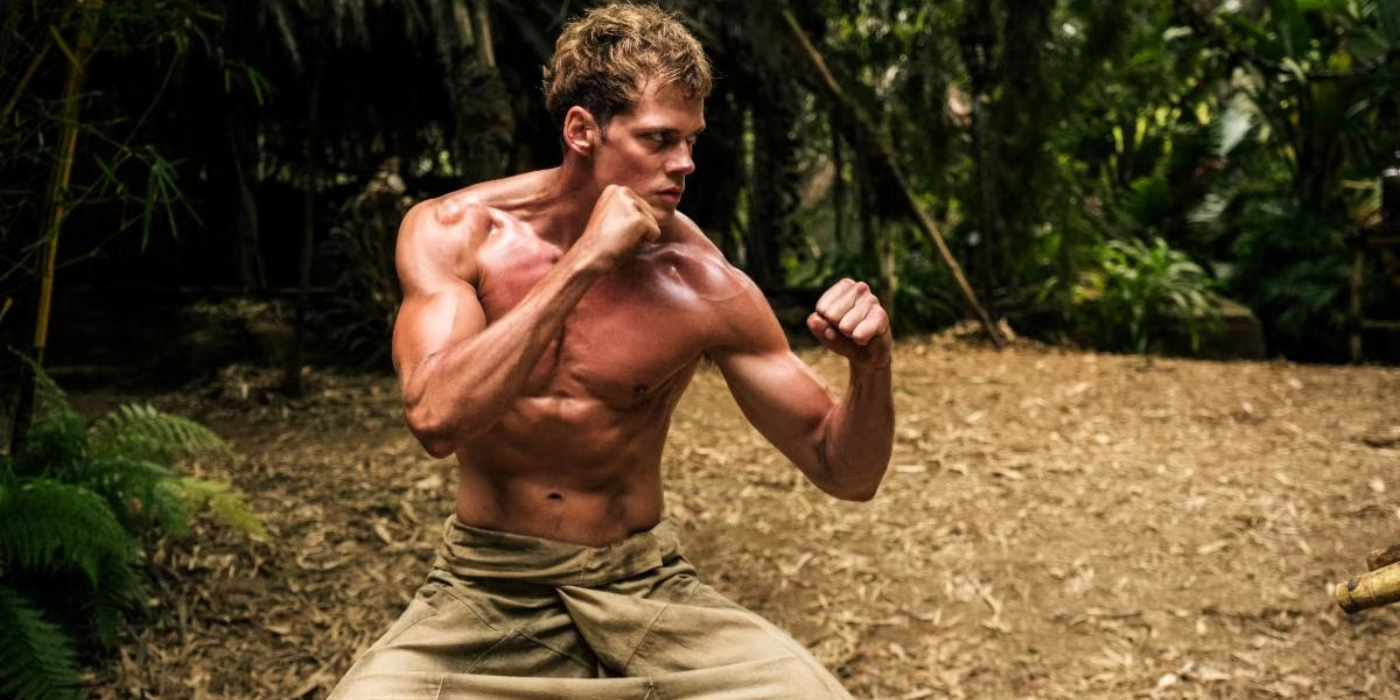 Bill Skarsgård Was Dedicated to Perfecting His Expressions for 'Boy Kills World'
For his part, Skarsgård was totally on board with such a challenge. Such a casting has worked before – Willy's Wonderland thrived with a wonderful yet wordless Nicolas Cage acting like a video game character who requires power-ups and health pick-ups before each fight. His nonverbal cues elevated the charming weirdness of the animatronic horror film. There's a certain arcade game energy to the concept of Boy Kills World too and Swart said Skarsgård and Mohr spent plenty of time together to ensure his expressions, posture, and more also enhanced whatever was happening on screen whether it was an action sequence or not:
"That was the importance of Bill. Bill was drawn to the action, but he loved the idea that he was gonna have this additional challenge of having to show and express everything while he's in the middle of a fight or in the middle of a scene. And yes, the voiceover all helped that, but really his on-screen performance, the way he and Moritz worked together to make sure we captured that… The lead actor has to be looking in the direction of a sound or somebody who's talking to him if he's gonna react to it. Things like that. Little things."
Boy Kills World follows Skarsgård's Boy on a fever dream of a revenge quest set in a far-flung dystopian future. When his parents are killed, and he's left deafened and mute by the corrupt dynasty in power, he trains under a mysterious shaman who harnesses all of his trauma to turn him into an unstoppable killing machine. He eventually joins a resistance group hell-bent on taking down the dynasty and its corrupt leader, only stopping in his fight to argue with the ghost of his dead sister. Skarsgård is joined by Jessica Rothe, Yayan Ruhian, Andrew Koji, Isaiah Mustafa, Famke Janssen, Brett Gelman, and Sharlto Copley. Arend Remmers and Tyler Burton Smith penned the script.
Boy Kills World premiered as part of the Toronto International Film Festival's Midnight Madness lineup. The film doesn't have a theatrical release date yet. Stay tuned here at Collider for more of our coverage from TIFF 2023.