The Big Picture
Cinematographer Haris Zambarloukos describes Beetlejuice 2 as a dream project with a focus on practical effects and Tim Burton's filmmaking style.
The sequel will continue the theme of family and explore the intricacies of keeping a family together in a crazy world, according to Zambarloukos.
The film will feature three generations of women, including Winona Ryder, Catherine O'Hara, and Jenna Ortega, and will be released on September 6, 2024
Bettlejuice 2 is still a year away from its premiere date but, for a lot of movies, this would be enough for fans to know some details about the story. That's not the case here. Returning director and producer Tim Burton (Dumbo) is keeping the story of the highly anticipated sequel under wraps, and this is why every bit of information that comes our way is valuable at this point. During a press junket for A Haunting in Venice, cinematographer Haris Zambarloukos talked a little bit to Collider's Steve Weintraub about Burton's new movie and revealed some exciting news.
The cinematographer called Beetlejuice 2 "a dream project" and told Weintraub that he had the best time working with Burton because the filmmaker made a point of trying to work on the movie the old-fashioned way. Meaning: Practical effects, a lot of special make-up effects and camera tricks, much like in the original film. He stated he "enjoyed immensely" relying on Tim Burton's style of filmmaking.
It's a delicate moment for special effects in Hollywood, with VFX workers pushing to unionize the category after being systematically overworked, so projects that champion practical effects are earning a newfound respect from fans and filmmakers. Zambarloukos went on to say that "the authenticity of the experience" makes all the difference in the world for everyone, and that Tim Burton of all people fully understands that:
"[W]e certainly are shooting things in-camera and for real. That's part of the charm. I mean, he's a great filmmaker in that respect. He's both a visionary and a very classical filmmaker at the same time. We did a lot of that on 'Haunting in Venice' as well. What you see in the film is very much in-camera. So, yes, I think I enjoyed that aspect of the filmmaking of these last two films I've made. I think I've enjoyed immensely that reliance on practical techniques. I think you get a very, very different kind of performance out of actors when things are done in-camera, and I think you get a very different audience reaction out of in-camera effects.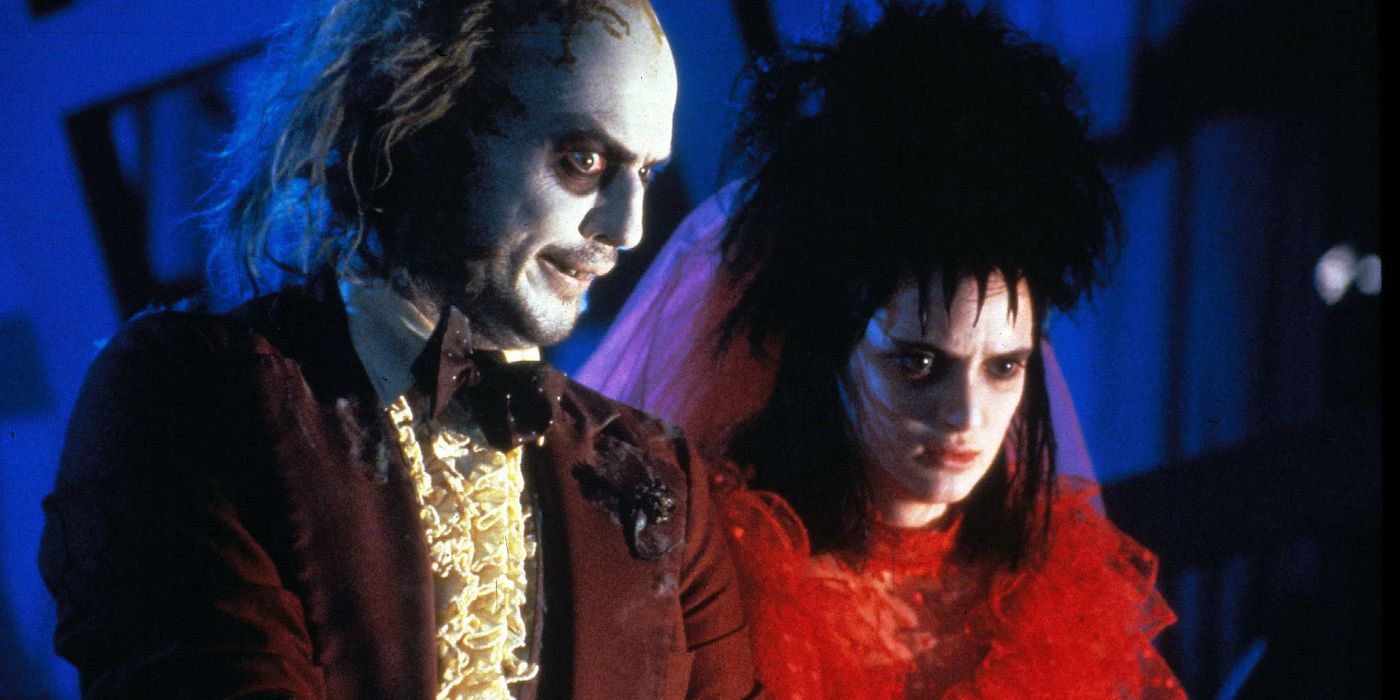 Three Generations of 'Beetlejuice' Women Are Gathered
Zambarloukos also talked to The Wrap about Beetlejuice, and ended up revealing what is the overall theme of the sequel. Zambarloukos, who also worked on Meg 2: The Trench and Belfast, revealed that the core theme of Beetlejuice 2 mirrors the first movie and is what usually attracts him to new projects:
"At its heart 'Beetlejuice [2]' is a story about a family. And now it's 30 years later and what are the intricacies and the human condition in keeping a family together all that time set in the craziest world possible? That's why I choose projects. That human connection for me is always at the forefront."
It's safe to assume that this family is Winona Ryder's (Stranger Things) character Lydia Deetz's. The actor is reprising her role and some set photos have already confirmed that she's retaining her goth look 35 years later. Catherine O'Hara's (Schitt's Creek) Delia Deetz is also making a comeback, which reinforces the idea of the family arc that Zambarloukos mentioned. Last but certainly not least, Jenna Ortega (Wednesday) is making her Bettlejuice debut as Lydia's daughter. So we'll see three generations of women trying to keep their family together in the unhinged Beetlejuice underworld. Buckle up!
Beetlejuice will, of course, be once again played by Michael Keaton. The title character is one of Keaton's most iconic roles, and the kind that can't be played by anyone else. Earlier this year, Keaton did a successful comeback to another famous role – Bruce Wayne/Batman in The Flash so we know that he's pretty much still got it. New cast members of Beetlejuice 2 include Monica Bellucci (Mafia Mamma), Willem Dafoe (Asteroid City) and Justin Theroux (The Leftovers).
Beetlejuice 2 is set to premiere in theaters on September 6, 2024. Plot details, official images, trailers and sneak peeks are yet to be unveiled.