Michael Myers, Regan, Chucky, and more join demonic forces.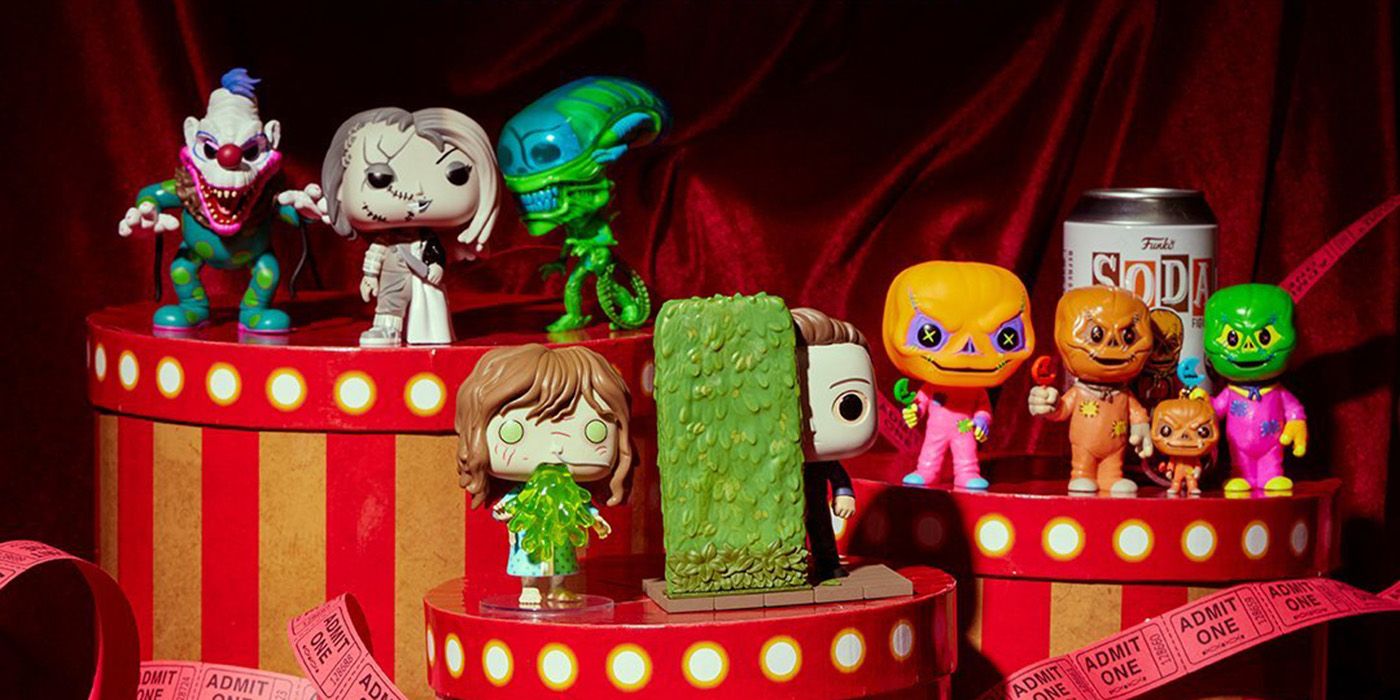 The Big Picture
Hot Topic has released a new line of horror Funko Pops as part of their Scare Fair collection, featuring iconic characters from Halloween and The Exorcist.
Horror movies have been successful at the box office, with popular killers like Michael Myers and Ghostface remaining popular and attracting new fans to the genre.
The release of new merchandise like these Funko Pops helps to keep the legacy of these horror icons alive until they return to the big screen.
It's finally Friday the 13th. If that wasn't spooky enough this year the killer date landed in October. This day is usually reserved for Friday the 13th marathon and watching Jason Voorhees commit blood-soaked murder at Camp Crystal Lake. However, Jason's not the only horror icon having fun today as Funko has just debuted a new line of horror Pops.
This Hot Topic collection of exclusive figures, a part of their Scare Fair line, includes Michael Myers from Halloween stalking behind his infamous hedge, The Exorcist's Regan projectile vomiting, Jojo the Klownzilla from Killer Klowns From Outer Space, and a Blacklight Xenomorph from Aliens. There's also a special Bride of Chucky Pop which combines Chucky and Tiffany into one chilling doll. Lastly, if you're a Trick r' Treat fan, Hot Topic has three new versions of Sam. The vengeful spirit of Halloween comes in a Blacklight, keychain, and Funko Soda form. The keychain features Sam unmasked while their Soda's Chase is in Blacklight. While most of these characters have had multiple Pops in the past, Michael Myers, Chucky, and Sam being Funko's most used horror characters, it's still great seeing our favorite killers in these new molds. Especially Michael Myers who's new Pop recreates one of the most famous shots from the John Carpenter classic. Even if the Pop itself features the hilarious mistake of Michael's iconic white mask not covering his entire face.
Horror Remains Killer
While big-budget blockbusters have been struggling at the box office over the last couple of years, horror has been thriving. Horror's best killers like Michael Myers and Ghostface are as popular as ever thanks to their new films. Because of that, new genre fans have been going back to discover horror's bona fide classics and cult hidden gems. Trick r' Treat for example just celebrated its 15th-anniversary last year and received its first theatrical release ever for the festive occasion. It's one of the best anthology movies of all time with Sam now reaching legendary genre status. They stand tall with Michael Myers and Jason Voorhees as one of the genre's best mascots. Then there's The Exorcist which is celebrating its 50th anniversary this year. Still regarded as the scariest film ever made, the film just came to 4K for the first time, and its legacy sequel, The Exorcist: Believer, hit theaters earlier this month. Horror, at both the box office and critically, has proven time and time again that this genre is king. It defines the movie-going experience. Also, merchandise like these new Funko Pops keeps these monsters' legends alive until they terrorize us on the big screen again.
When Can I Get Hot Topic's Horror Pops?
Hot Topic's Scare Fair 2023 exclusives are available now to buy in stores or online on their website. You can preview the new horror figures down below.