The Big Picture
Hocus Pocus, a cult classic witch movie, is returning to theaters on October 6 to celebrate its 30th anniversary. Don't miss the chance to see it on the big screen!
The movie follows the story of the Sanderson sisters, who were brought back to life after 300 years and must drain the life force of a child before sunrise to avoid permanently becoming dust.
Disney+ released Hocus Pocus 2, which continues the sisters' adventures and can be streamed on the platform.
Just in time for Halloween, Disney is making sure some of its most famous witches get to spend a few days on the big screen, decades after their spell was first cast in cinemas around the world. On October 6, Hocus Pocus will be coming back to theaters to celebrate its 30th anniversary, bringing the Sanderson sisters together once again to celebrate the milestone. Get your best cloak and cauldron ready for the opportunity to experience the cult classic on the big screen, as audiences who missed it the first time it was released get the chance to see it at the movies.
Problems for the Sanderson sisters began three centuries before the main plot of the movie took place, when they drained the life force out of a young girl. Winifred (Bette Midler), Sarah (Sarah Jessica Parker) and Mary (Kathy Najimi) needed to perform the spell every once in a while to keep their youth, but unfortunately, they were caught by the sibling of the girl they forced to disappear. Before the people of their town could hang them for their crimes, they placed a curse on their cottage, meaning that under the right conditions, they could be revived at some point in the future.
Three hundred years after their deaths, the Sanderson sisters are brought back to life by Max (Omri Katz) and Dani (Thora Birch), but danger looms for the powerful sorcerers. If they don't drain the life of another child before the sun rises, they will be turned to dust permanently. The chase begins, as the witches attempt to do anything they can to stay alive, while adapting to the culture and technology of a world that's very different from the one they left behind during their first life. And that wouldn't turn out to be their final adventure.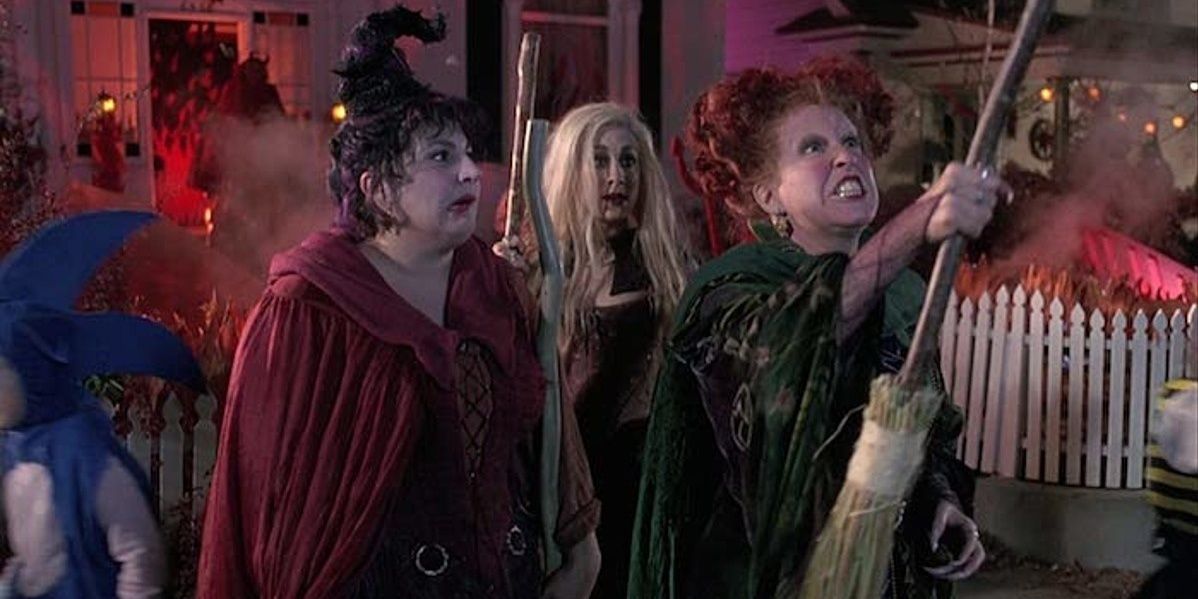 The Sanderson Sisters Return
Disney+ gave the company the ability to work on projects that, while they wouldn't attempt to place them on the big screen, could gain an audience through streaming. After years of popular demand from audiences who grew to love Hocus Pocus thanks to home media, Hocus Pocus 2 was released on Disney+. The sisters came back to launch their revenge on the people of Salem, in a new adventure that brought the witches to a modern setting. Tickets for the Hocus Pocus anniversary screenings are now available through the usual outlets for ticket purchasing.
Hocus Pocus flies into theaters on October 6.