The Big Picture
RSVLTS has released a new clothing collection based on Hocus Pocus, featuring three festive button-up shirts with the Sanderson Sisters and other iconic elements from the movie. Each shirt is priced at $70.
Hocus Pocus remains a beloved Halloween film for all ages, with its fall color palette, fun characters, and clever adult humor.
The RSVLTS collection captures the magic of Hocus Pocus with its art style and vibrant colors, reflecting the popularity of the franchise. The original film is also returning to theaters for its 30th anniversary.
Halloween is quickly approaching. That means most Disney fans have already watched Hocus Pocus at least ten times already. The spooky family classic turned 30 years old in 2023 and to celebrate Disney, along with a handful of other companies, had released an endless witch cauldron of new merchandise. This had included Funko Pops, toys, and various clothing lines. Now RSVLTS have just unveiled their latest clothing collection based on Hocus Pocus which is sure to put a spell on you.
The line includes three festive button ups. There's "Magic and Mayhem" which sees the Sanderson Sisters surrounded by broomsticks, jack-o-lanterns, bats, the full moon, and Binx the cat. Then there's "Bolts and Broomsticks" which has the Sanderson Sisters flying on broomsticks in a lightning storm with Old Burial Hill behind them. Finally, the last design "This Spells Trouble" sees the witchy sisters' floating heads surrounded by potions, ingredients, and their famous caldron. Like the first design, Binx also makes a spooky appearance on this particular button up. Every shirt in this collection is $70.
Hocus Pocus has remained a genre classic for the last 30 years because it's the perfect Halloween film for all ages. It captured the spirit of the chilling holiday with a blissful fall color palette, fun characters, and enough clever adult humor that will go over any trick or treater's head. From the great music to the iconic performances, it's hard not to crack a smile whenever the Sanderson Sisters conjure up on your television screen. Bette Midler, Sarah Jessica Parker, Kathy Najimy made these sisters' horror icons with their spellbinding chemistry and pitch perfect line delivery.
The RSVLTS' Collection Captures the Magic of the Sanderson Sisters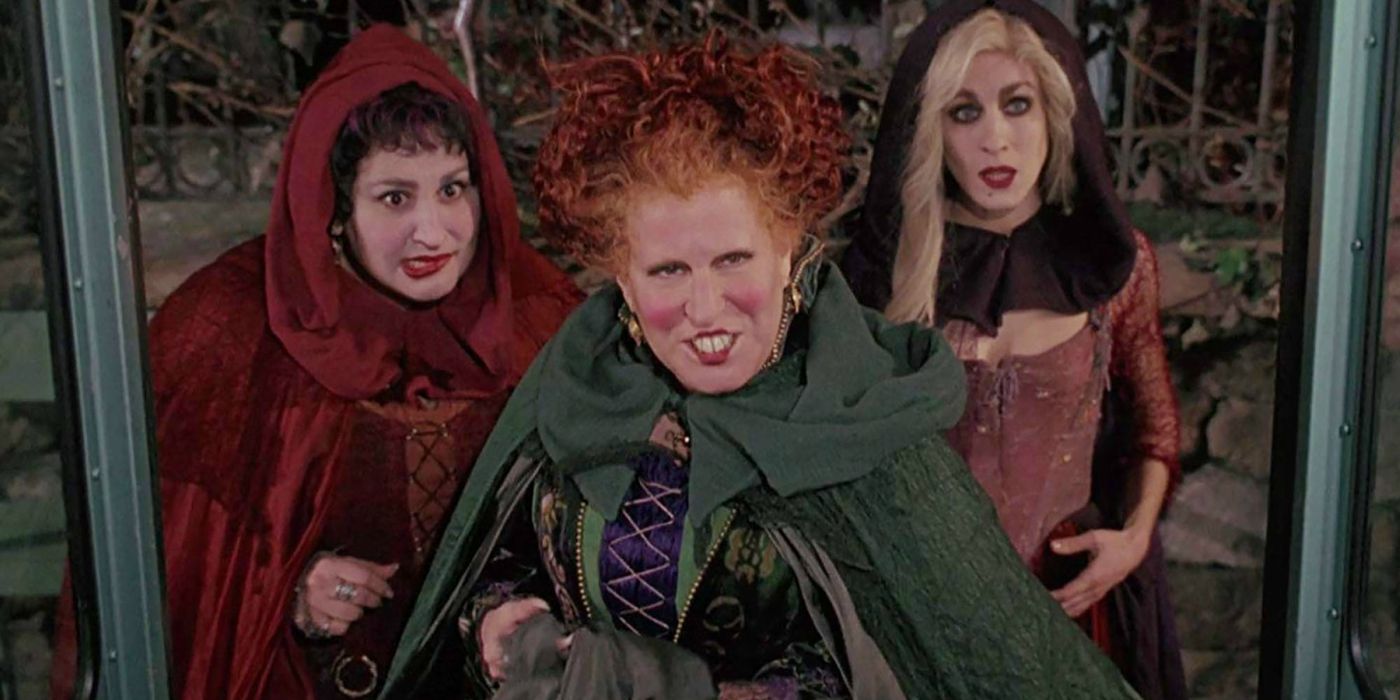 RSVLTS' Collection devilishly captures their and the franchise's spirit with a fun cartoon Scooby-Doo-esc art style and eye-popping colors that heighten the best parts of the Hocus Pocus brand. It was just this time last year when the Sanderson Sisters finally returned for their long awaited sequel Hocus Pocus 2 and, because of that, Hocus Pocus is more popular than ever. Retailers like Hot Topic have been stocking their shelves for years with the Sanderson Sisters' witchcraft which has helped make the series become one of those rare generational franchises that has brought joy to the masses.
Both Hocus Pocus films are currently streaming on Disney+, but the original adventure is heading back to theaters for its 30th anniversary this October. While Disney fans wait for the Sanderson Sisters to return to theaters and the recently announced Hocus Pocus 3, you can buy your RSVLTS Hocus Pocus shirts on their website. Check out the collection below: