The Big Picture
Finn Wolfhard and Billy Bryk were inspired by films like Shaun of the Dead and Wes Anderson's early work when creating horror comedy Hell of a Summer.
The team wanted to give their actors a point of reference for the film's tone and characters, emphasizing the importance of depth and realism in the performances.
Co-stars Abby Quinn and Fred Hechinger also drew inspiration from films and TV shows like Freaks and Geeks and Adventureland in preparing for their roles in the movie.
After making names for themselves in legacy sequels and throwback horror series, Finn Wolfhard and Billy Bryk brought their own stab at horror comedy, Hell of a Summer, to this year's Toronto International Film Festival. Inspired by films like Friday the 13th and Shaun of the Dead, the film follows stereotypical slasher camp counselors who, in the short time before campers arrive, are beset by a killer. The team brought that focus on nostalgia to the set where they'd watch classic films to get in the right headspace for the slasher comedy. While speaking with Collider's Steve Weintraub at our TIFF media studio at the Cinema Center at MARBL, they revealed some of the films they regularly referenced when filming.
Wolfhard and Bryk specifically wanted to share films that inspired them when writing in order to give their actors a point of reference as to what they wanted for Hell of a Summer. That meant all-time horror comedy greats like the aforementioned Shaun of the Dead, but there was also a strong focus on characters and standalone comedy. Although many of the characters play off of slasher stereotypes, the writer/directors wanted to demonstrate the kind of depth they wanted from their characters. A name that came up often when sharing films was Wes Anderson with Bryk highlighting some of his earlier work among other films:
"I think what we kind of tried to do was just share the kind of films that Finn and I referenced so much in the writing of it and in the preparation for directing it, specifically with comedy, just kind of what we were looking for. We always wanted everything to feel very real and character-based. I mean, we had such an incredible group of actors, so that wasn't really gonna be a concern for us, but a lot of the ones we referenced were Shaun of the Dead is one, Super Bad is one, we talked a lot about Bottle Rocket and Rushmore and sort of the comedy of early Wes Anderson films. We talked a lot about movies but I don't know if there's anything specific."
'Hell of a Summer's Team Shared Films and Their Love of Them on Set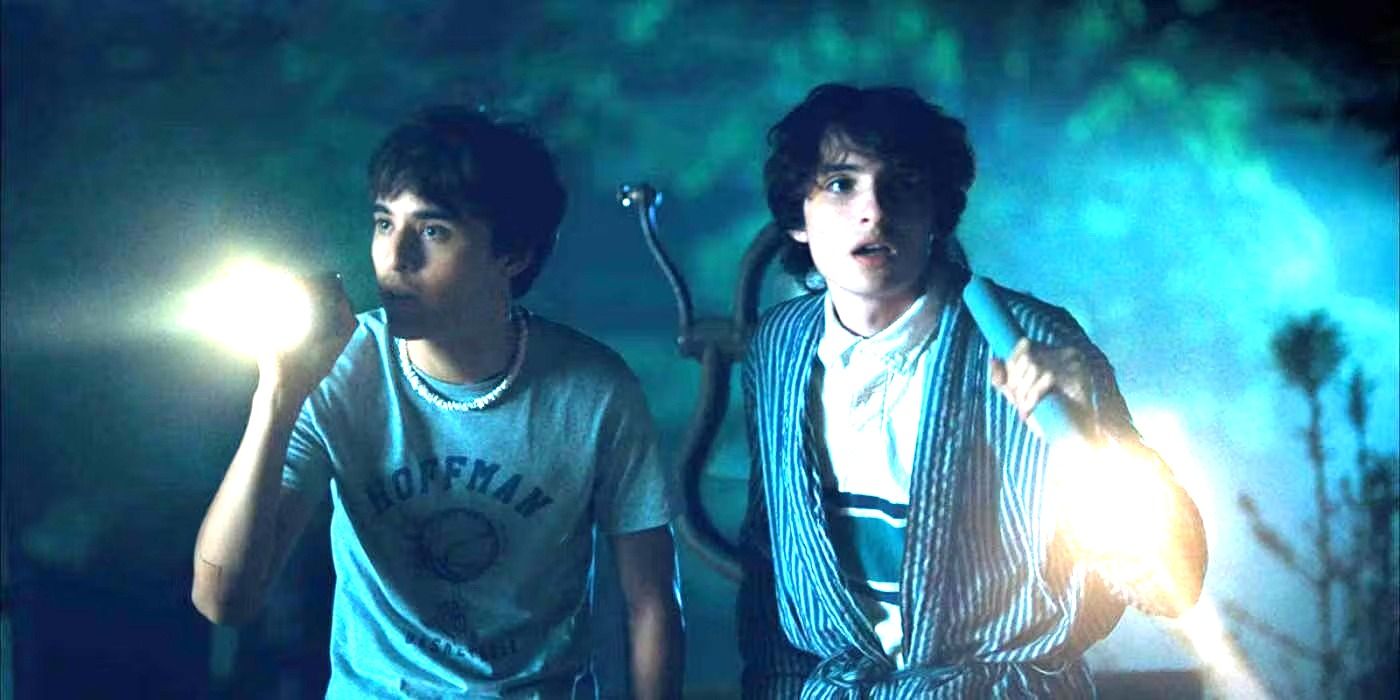 Wolfhard and Bryk's co-stars Abby Quinn and Fred Hechinger also had a few titles they looked back on as they planned out their respective roles. For Quinn, it was not a film, but rather a series in Paul Feig's Freaks and Geeks that she dove back into thanks to a little push from Wolfhard. "You sent me a picture of Linda Cardellini because of her jacket, but then I thought, 'This would be a good thing to rewatch.'" Considering Hell of a Summer is also about the travails of teenagers, the series about high school burnouts and geeks navigating their respective social circles is a fitting watch.
Quinn also pointed out "the movie with Kristen Stewart and Jesse Eisenberg," to which Wolfhard jumped in with "Oh, Adventureland! That was a big one as well." The film, which follows a recent college grad who takes a loathsome job at the amusement park only to spark up a relationship with his co-worker, fits the themes of summertime rom-com that are present underneath the slasher story of Wolfhard and Bryk's debut. Between jokes about Entourage and the infamous viral video "Charlie Bit My Finger," Hechinger once again highlighted the two Anderson films and admitted that sharing movies was a big part of making Hell of a Summer. "No, Rushmore, and when we finished shooting they were showing Bottle Rocket again, I think it was some restoration, and then we went and saw it at the end, and that was amazing," he added. "We watched a lot of movies throughout."
Hell of a Summer also features Reservation Dogs breakout star D'Pharaoh Woon-A-Tai and Literally, Right Before Aaron's Pardis Saremi. There's currently no theatrical release date. Check out the interview with the cast and directors below and stay tuned here at Collider for more coverage from TIFF 2023.