The Big Picture
Hallmark Channel's Countdown to Christmas is back with 40 original movie premieres, including sequels to previous films and returning stars.
Fans can participate in giveaways and win prizes through social media during the Countdown to Christmas events.
The holiday season kicks off on October 20 and features beloved actors like Lacey Chabert and Jonathan Bennett, as well as newcomers like Jonathan Frakes and Chris Carmack.
As the first few chills begin to fall over the Northern Hemisphere, we know that winter is on the way. Yes, of course, Halloween fans have an exciting fall ahead of them with horror films like The Exorcist: Believer and Five Nights at Freddy's making their way into theaters but for one network, anything beyond Labor Day and until New Year's Day is Christmas. That's right, the Hallmark Channel's Countdown to Christmas is (almost) back with the platform's never-ending stream of festive content just around the corner. While the network will be giving the spooky season a brief window to get in its scares, the holidays officially kick off on Friday, October 20.
So, what's in store for those Hallmark loyalists out there who can't get enough of the holiday spirit? This year, the network boasts a whopping 40 original movie premieres during the Countdown to Christmas and Miracles of Christmas events. In the lineup, audiences can expect to see a handful of sequels to films of Christmas past as well as returning stars who have become synonymous with the network's annual event. Coming as great news to the not-so-sporty folks out there, Hallmark has you covered on Thanksgiving, promising a brand-new film to sink your teeth into and relax following a big day of turkey carving. And, the excitement doesn't stop there as the movies will keep on coming all weekend long to carry fans through a long weekend of holiday shopping.
Along with bringing the spirit of the holidays into living rooms, Hallmark also has an impressive lineup of giveaways to thank their fervent supporters. Throughout weekends during the Countdown to Christmas and Miracles of Christmas, fans can log on to social media for their chance to win a handful of prizes, each to be delivered by robots and drones. There will also be giveaways for both the campers and hotel-goers out there with the network teaming up with KOA and Hilton for exciting surprises.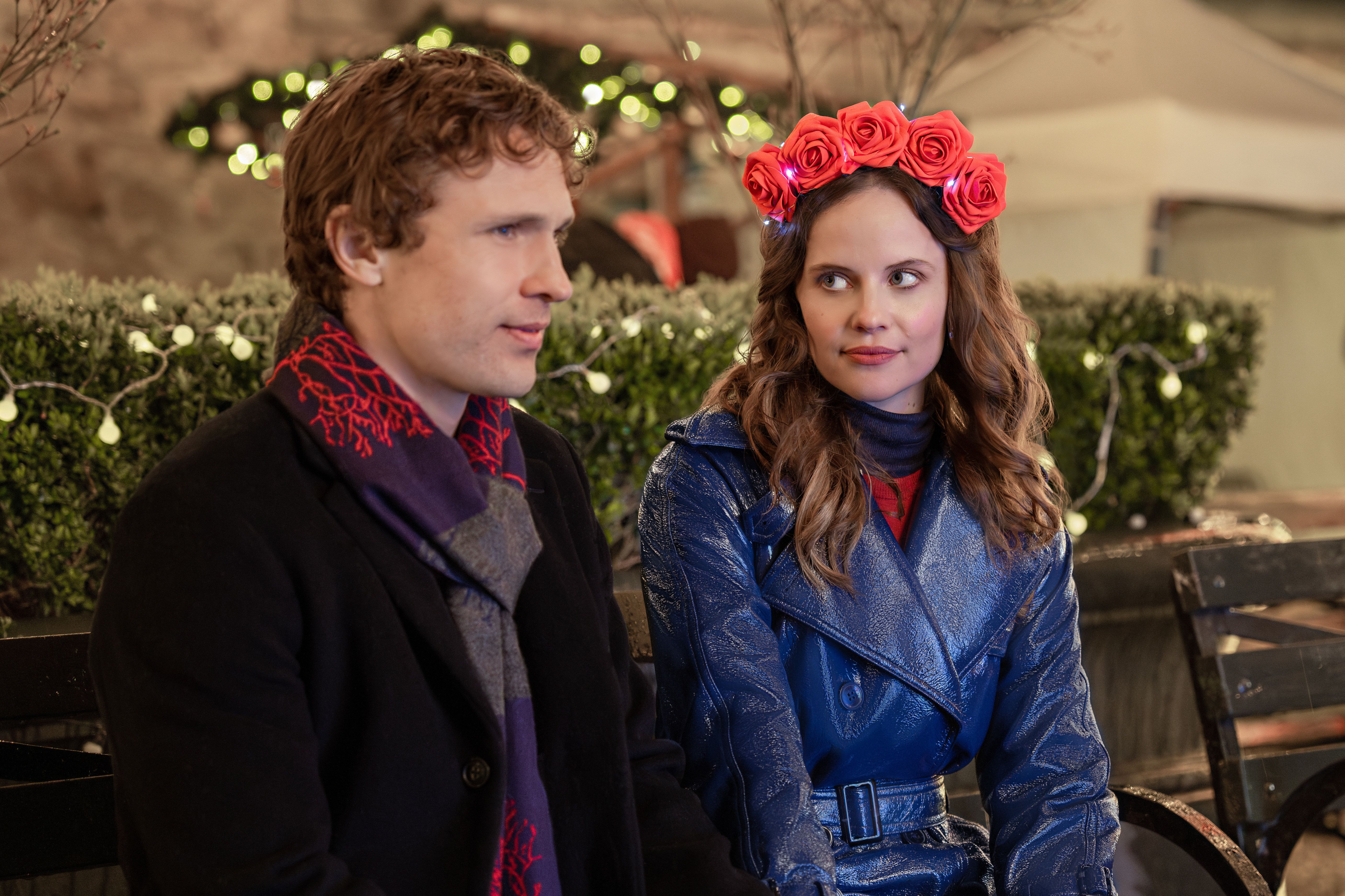 What New and Returning Faces Will Be Featured This Year?
Coming back for more holiday cheer will be the likes of Lacey Chabert (Mean Girls, Christmas Waltz), Benjamin Ayres (Saving Hope, A Blue Ridge Mountain Christmas), Catherine Bell (Good Witch, Home for Christmas Day), Krystal Joy Brown (Power Book III: Raising Kanan, Writing Around the Christmas Tree), Katherine Barrell (Wynona Earp, A Tale of Two Christmases), Jonathan Bennett (Mean Girls, The Christmas House), and so many more. Joining the festivities for the very first time includes Star Trek: Next Generation's Jonathan Frakes, Chris Carmack (The O.C.), Humberly Gonzalez (Ginny and Georgia), Erica Cerra (Eureka), and Rick Hoffman (Suits).
Get ready for the joy of the holiday season to kick off on the Hallmark Network in just one month. While we await the arrival of trailers from the upcoming films, check out new images from the upcoming movies below as well as the full Thanksgiving and Christmas Schedules below:
Merry Thanksgiving Weekend Schedule
Catch Me If You Claus
Stars: Italia Ricci, Luke Macfarlane.
Letters To Santa – 6 P.M. ET/PT
Stars: Katie Leclerc, Rafael De La Fuente
Holiday Road – 8 P.M. ET/PT
Stars: Warren Christie, Sara Canning
Christmas In Notting Hill – 6 P.M. ET/PT
Haul Out The Holly: Lit Up – 8 P.M. ET/PT
Stars: Lacey Chabert, Wes Brown, Stephen Tobolowsky, Melissa Peterman, Ellen Travolta, Seth Morris, Jennifer Aspen
Our Christmas Mural – 6 P.M. ET/PT
Stars: Alex Paxton-Beesley, Dan Jeannotte
A Biltmore Christmas – 8 P.M. ET/PT
Stars: Bethany Joy Lenz, Kristoffer Polaha, Jonathan Frakes, Robert Picardo
Hallmark Movies Now Movies & Mistletoe Christmas Schedule
Available to stream starting Thursday, November 2:
Time For Me To Come Home For Christmas
Stars: Josh Henderson, Megan Park
Time For You To Come Home For Christmas
Stars: Alison Sweeney, Lucas Bryant
Time For Us To Come Home For Christmas
Stars: Lacey Chabert, Stephen Huszar
Time For Them To Come Home For Christmas
Stars: Jessy Schram, Brendan Penny
Time For Him To Come Home For Christmas
Stars: Holland Roden, Tyler Hynes
Available To Stream Starting Thursday, November 9:
A World Record Christmas
Stars: Nikki Deloach, Lucas Bryant, Aias Dalman
Available To Stream Starting Thursday, November 16:
Time For Her To Come Home For Christmas
Stars: Shenae Grimes-Beech, Chris Carmack, Grace Leer
Available To Stream Starting Monday, November 27:
Three Wise Men And A Baby – Extended Cut
Stars: Paul Campbell, Tyler Hynes, Andrew Walker, Margaret Colin
Available To Stream Starting Thursday, December 7:
Rescuing Christmas
Stars: Rachael Leigh Cook, Sam Page, Patrick Thomas O'Brien, Bailey Stender, T. Mychael Rambo
Available To Stream Starting Thursday, December 14:
An Ice Palace Romance
Stars: Celeste Desjardins, Marcus Rosner
Available To Stream Starting Thursday, December 21:
A Holiday Spectacular – Extended Version
Stars: Ginna Claire Mason, Derek Klena, Ann-Margret