The Big Picture
William Friedkin's dedication to serving the source material and getting the best out of his actors left a lasting impression on Guillermo del Toro.
Friedkin's ability to push his team while also fostering a collegial and crew-loving atmosphere sets a valuable example for del Toro.
Del Toro plans to carry Friedkin's lessons with him as he tackles his next project, an adaptation of Frankenstein, with an A-list cast.
Late Academy Award-winning director William Friedkin commanded respect from his peers for years of excellent filmmaking including the landmark horror film The Exorcist and The French Connection. To fellow Oscar-winner Guillermo del Toro, however, the visionary was also a dear friend he idolized. As Friedkin sought to bring to life what would be his final film, The Caine Mutiny Court-Martial, he put his faith in del Toro by taking up the younger director's offer of being his insurance director should something happen to him during production. Despite not being in charge, del Toro showed up every day and sat by the director's side, during which he took in some lessons he hoped to apply to his work.
In a larger feature from IndieWire about Friedkin's court drama, del Toro shared what he learned from the veteran on-set. Although he's plenty successful in his own right, becoming the first to win Best Picture, Best Director, and Best Animated Feature with hits like The Shape of Water, Nightmare Alley, and Guillermo del Toro's Pinocchio, he says he's constantly studying film and art to keep growing. Getting to observe Friedkin up close while also doing him a major service, then, was something the beloved artist saw as a truly special opportunity, especially after the director's recent passing.
Among other things, del Toro observed how Friedkin lets source material breathe. The Caine Mutiny is an adaptation of Herman Wouk's Pulitzer Prize-winning novel and play about a naval officer facing mutiny charges as he claims he and the crew had to take command from their mentally unstable commanding officer. More than anything, the director wanted to do it justice and get the best out of his actors despite the time constraints and low budget:
"He said to me, 'This [is] about the actors and the words — and I have to service that.' This is a work by a Pulitzer Prize-winner and I am not gonna get in the way.' He knew he had a very limited budget and time and within that, he demanded 100 percent, and he did so 100 percent of the time. He changed the sets down to the last possible minute and pushed his crew but always for a good reason: He would find a painting or a prop distracting and he wanted it out or changed."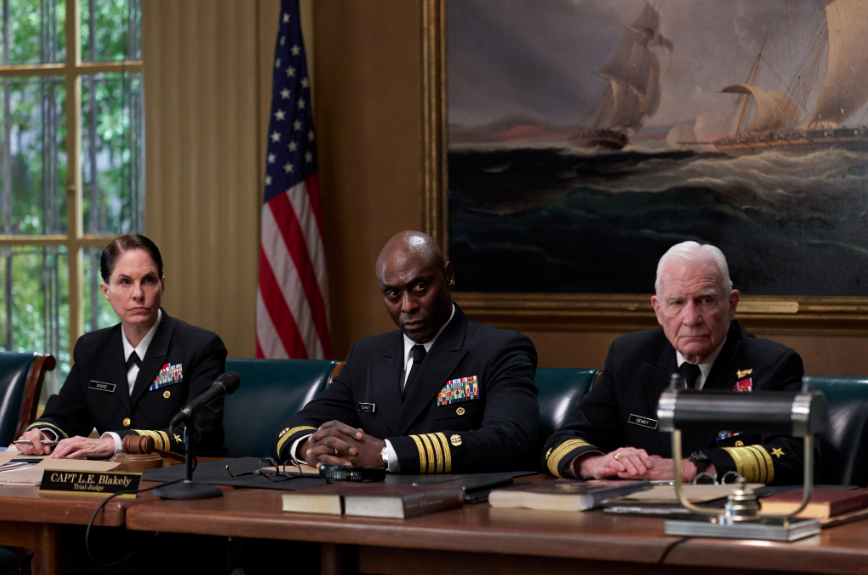 Friedkin Knew How to Push His Team to Get the Best Results
Friedkin got to work with a dream cast for The Caine Mutiny with the stars of the show being Kiefer Sutherland, Jason Clarke, and Monica Raymund alongside Jake Lacy, Lewis Pullman, Jay Duplass, Tom Riley, and the late Lance Reddick. Del Toro attested to Friedkin's ability to run with these big names, knowing exactly how their performances could change, so they'd become their respective characters. The result is a film that has been praised for the cast doing so much heavy lifting within the courtroom
What left the greatest impression on the Pan's Labyrinth helmer, however, was Friedkin's dedication not just to the film, but to his team over his own ego. "He was there to serve a piece of dramaturgy and make it live," del Toro added. "That was the main goal: not a career booster, not a power play, not an ego trip. He was the most collegiate, convivial, and crew-loving director but was also willing to push everyone to always being on their toes — this lesson I will carry with me forever."
Del Toro's next project is an adaptation of Frankenstein, a project he's been waiting to work on for years now. Already, he has an A-list cast set with Andrew Garfield, Mia Goth, Oscar Isaac, and Christoph Waltz with filming slated to begin in February 2024. He'll have plenty of opportunities to employ Friedkin's lessons as he brings to life the classic horror story with a unique spin.
The Cain Mutiny Court-Martial is now streaming exclusively on Paramount+ with Showtime. Check out the trailer below.