The Big Picture
Good Burger 2, the sequel to the beloved '90s movie, is set to premiere on November 22, exclusively on Paramount+ in the US and Canada.
The sequel brings back original cast members Kenan Thompson and Kel Mitchell, along with a new group of quirky employees.
Good Burger, originally a sketch on All That, gained a cult following and inspired the feature film released in 1997.
Paramount+ has just unveiled the official artwork and release date for Good Burger 2, the sequel to the beloved '90s movie, which was originally based on a sketch from the Nickelodeon comedy show All That. The sequel to the cult classic movie brings back familiar faces, such as Dexter Reed (played by Kenan Thompson) and the original Good Burger cashier, Ed (played by Kel Mitchell), who find themselves back at Good Burger in the present day, along with a new, quirky group of employees.
The movie is produced by Nickelodeon Studios and is set to debut just in time for the holiday season on Wednesday, November 22, exclusively on Paramount+ in the United States and Canada. For viewers in the UK and Australia, it will premiere on Thursday, November 23, 2023, on Paramount+.
Good Burger 2 also stars Lil Rel Howery (Get Out) as Cecil McNevin, Jillian Bell (Murder Mystery 2) as Katt Boswell, Kamaia Fairburn (Blockbuster) as Mia, Alex R. Hibbert (THE CHI) as Ed2, Fabrizio Guido (Perry Mason) as Mr. Jensen, Elizabeth Hinkler (The Good Doctor) and Emily Hinkler (The Good Doctor) as Cindy and Mindy and Anabel Graetz (Free Guy) as Ruth. The film will also feature surprise celebrity cameos as well as original Good Burger cast members who are reprising their roles: Josh Server as Fizz, Lori Beth Denberg as Connie Muldoon and Carmen Electra as Roxanne.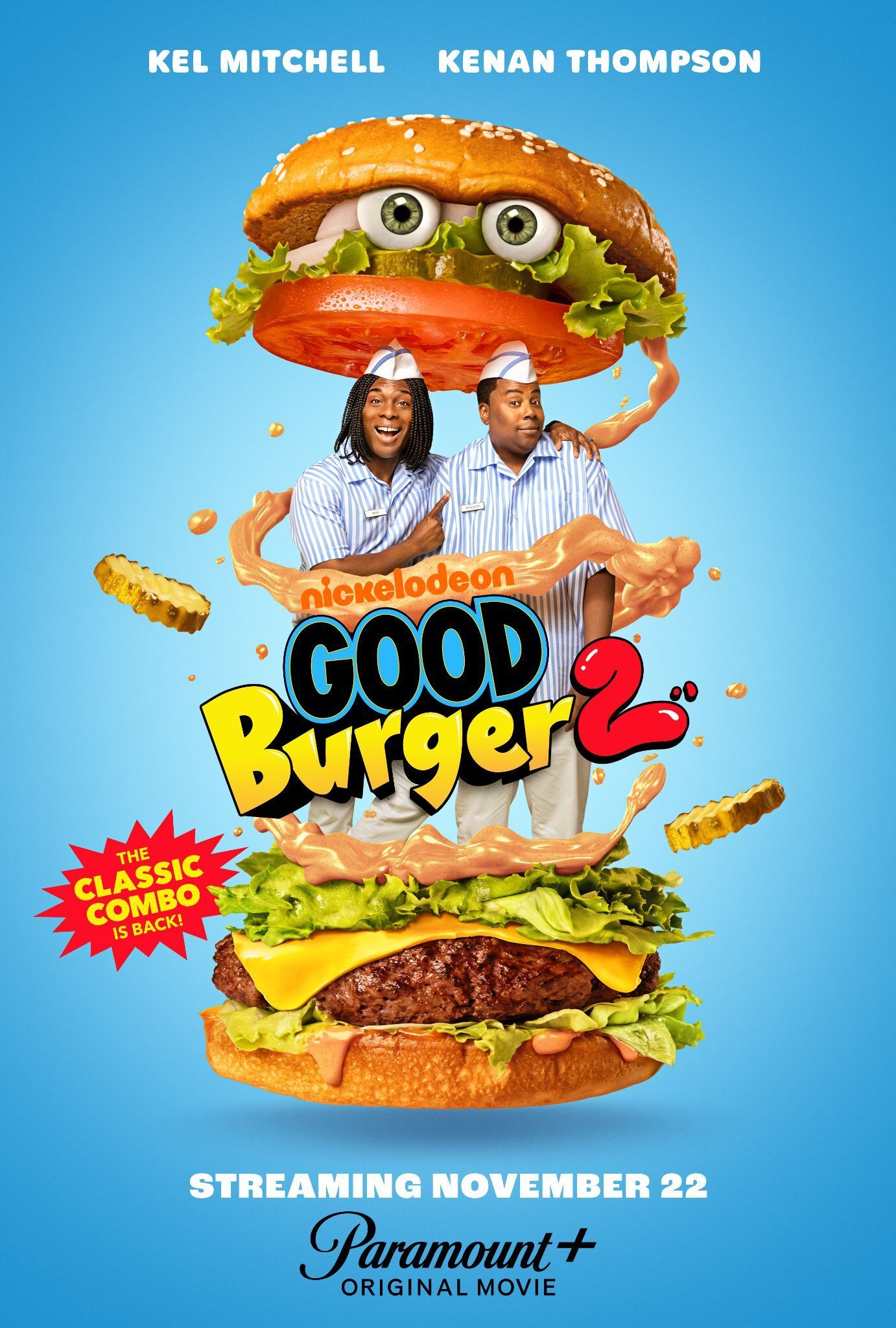 A Brief History of 'Good Burger'
The classic '90s sketch made its debut on All That back in 1994, revolving around the fast-food joint known as Good Burger and its endearingly oblivious cashier, Ed, portrayed by Mitchell throughout Seasons 1 to 5. This beloved sketch ultimately inspired the worldwide release of the feature film Good Burger on July 25, 1997, courtesy of Paramount Pictures.
The expanded feature focused on the character of Dexter Reed (Thompson), a high school student who accidentally crashes his mother's car into the car of his teacher. To pay for the repairs, Dexter takes a job at Good Burger. He ends up working alongside Ed and becomes entangled in the restaurant's eccentric and chaotic nonsense.
The central conflict in the movie arises when a rival fast-food chain, Mondo Burger, opens nearby. Mondo Burger is run by the arrogant and conniving Kurt (played by Jan Schweiterman), who is determined to put Good Burger out of business. Dexter and Ed must come up with a plan to save Good Burger from its impending doom while navigating a series of comical, absurd and chaotic situations. It was a popular film among children and teenagers in the late 1990s and has since gained a cult following.
In the 2019 revival series of All That, Mitchell made a triumphant return, reprising his role as Ed. In this iteration, Ed had climbed the ranks, becoming the seasoned manager of Good Burger after dedicating two decades to the establishment.
Good Burger 2 premieres Wednesday, November 22, exclusively on Paramount+ in the United States and Canada.