The Big Picture
Ridley Scott's highly anticipated film, Gladiator 2, is set to pick up two decades after the events of the original film, exploring the unresolved strands left hanging from its conclusion.
The sequel boasts an impressive cast, including Paul Mescal and Pedro Pascal in lead roles, with the surprising addition of Denzel Washington, reuniting with Scott for the first time since American Gangster.
Denzel Washington's character in Gladiator 2 represents an alternate reality for Russell Crowe's Maximus, as a gladiator who fought and earned his freedom, but still carries a deep grudge against those who wronged him.
Ridley Scott's return to Rome is one of the most eagerly awaited films of 2024, as audiences look ahead to Gladiator 2, the sequel from Scott's Oscar-winning masterpiece which starred Russell Crowe in 2000. That film followed Crowe's Maximus, who is a loyal and respected general in the Roman army under the rule of Emperor Marcus Aurelius. However, when the emperor's corrupt son, Commodus, played by Joaquin Phoenix, learns that his father intends to name Maximus as his successor instead of him, he orders the execution of Maximus and his family.
Maximus narrowly escapes execution but is captured and sold into slavery. He becomes a gladiator and rises through the ranks of the gladiatorial games, all the while seeking vengeance against Commodus for the murder of his family and the betrayal of his emperor. The sequel is set to follow strands left hanging from the conclusion of the film as we pick up two decades later.
An outstanding cast for the movie has already been assembled — Academy Award nominee Paul Mescal continues his meteoric rise to superstardom with the lead role, alongside global pop culture icon Pedro Pescal. A more surprising name to join the cast of the star-studded sequel, however, was that of Denzel Washington, who reunites with Scott for the first time since American Gangster in 2007.
A Glimpse Into What May Have Been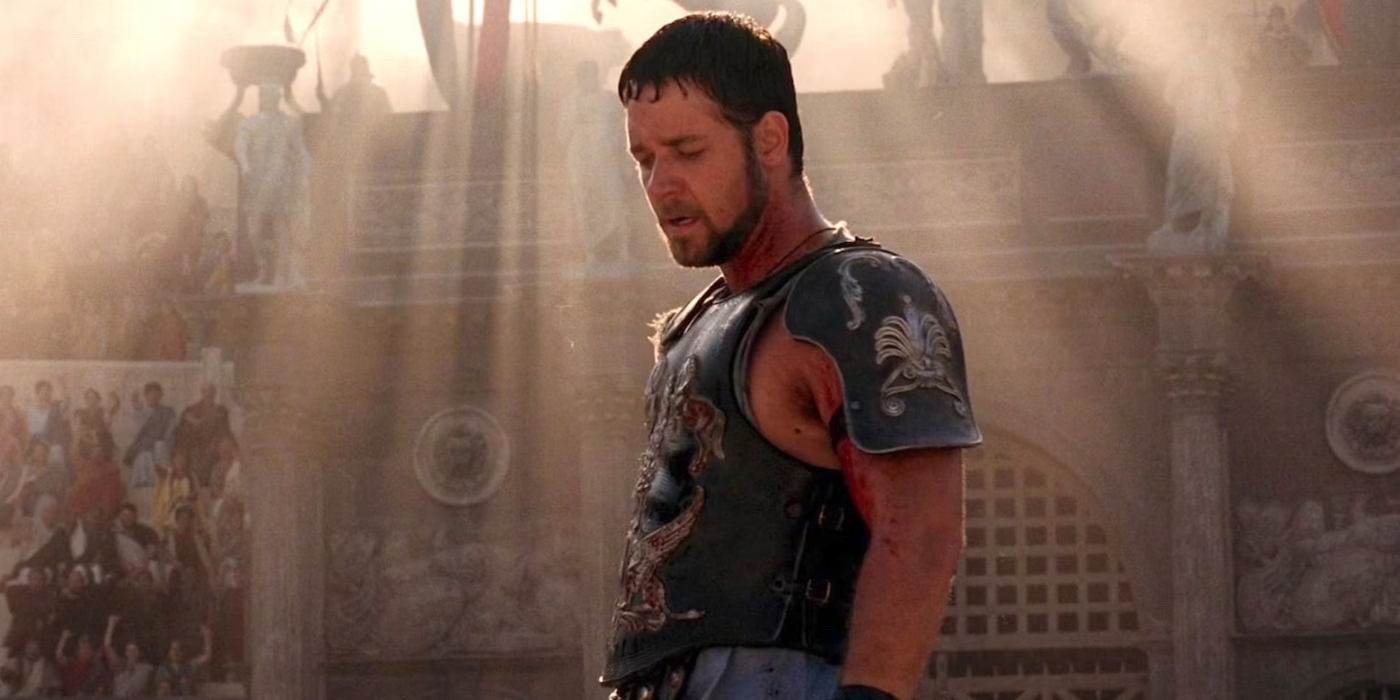 Washington's character will give us a glimpse into the life that was never allowed to happen for Crowe's Maximus, as a gladiator who took on the system and won his freedom, collecting the riches that went with it. But, as Scott reveals, he hasn't forgotten what happened to him and does not forgive so easily, as he told Total Film.
As for Denzel's character… There were businesses of gladiators who could indeed earn their freedom if they stayed alive. That was the deal. So we went right into that, in-depth. Where did he come from? How was he taken? He was branded with marks and registered with a brand on his chest as a slave. So that's how he comes into the story. He's a rich guy who's still carrying a grudge.
While we're yet to discover detailed plot points of Gladiator 2, which are still being kept strictly under wraps, initial signs point to Mescal playing a grown-up version of Lucius, who is the nephew of Commodus in the first film. The cast also features Joseph Quinn (Stranger Things), May Calamawy (Moon Knight), Connie Nielsen (Wonder Woman), Derek Jacobi (Gladiator), Fred Hechinger (The White Lotus), and Djimon Hounsou (Gran Turismo).
Gladiator 2 is due to release some time in 2024. Scott's next film, Napoleon, will be released in theaters on November 24th.