The Big Picture
Ghost Face from Scream VI dominated the box office and saw the franchise regain popularity with clothing collections and board games.
Fright-Rags has now unveiled a new Ghostface collection with deadly designs.
The new collection features designs based on the upcoming board game Ghost Face: Stop the Killer, including the Devil Ghost Face, classic Ghost Face, and a group of Ghost Face killers in a fog-covered graveyard.
2023 has been another dominant year for horror. Even though there's still a ton of highly anticipated frights to come, one of the top killers this year was Ghost Face whose latest film Scream VI covered the box office in blood when it released in March. The masked menace's regained fame has caused Ghost Face to pop up everywhere. New clothing collections, board games, and recently Scream 7 even found its director. Now to hold over fans till the next film, Fright-Rags has unveiled their new Ghostface collection with a deadly twist.
This new collection features designs based on the upcoming board game, Ghost Face: Stop the Killer. There are three main designs by artist Justin Osbourn. The Devil Ghost Face with a pitchfork, classic Ghost Face with their signature haunting knife, and three Ghost Face killers stalking a fog covered graveyard. They'll come in both the t-shirt and zip-up hoodie variety. While this is specifically a Ghost Face collection and not Scream related, the rights are separate, these shirts invoke the classic haunting atmosphere that would inspire the popular film franchise.
When Scream released in 1996 it took the horror world by bloody storm thanks to Wes Craven and Kevin Williamson's' fantastic blend of slasher thrills and meta sharp commentary. After making over $170 million at the worldwide box office, Scream 2 would release the following year and is still regarded as one of the best horror sequels ever made. The murder mystery refresh was exactly what the slasher sub-genre needed. Also, the end of the original Scream trilogy cemented Neve Campbell's Sidney Prescott as an all-time amazing final girl and the actress would play the character two more times in Scream 4 and Scream (2022). Campbell didn't return for this year's Scream VI due to a pay despite.
'Scream's VI Delivered a New Chapter in the Franchise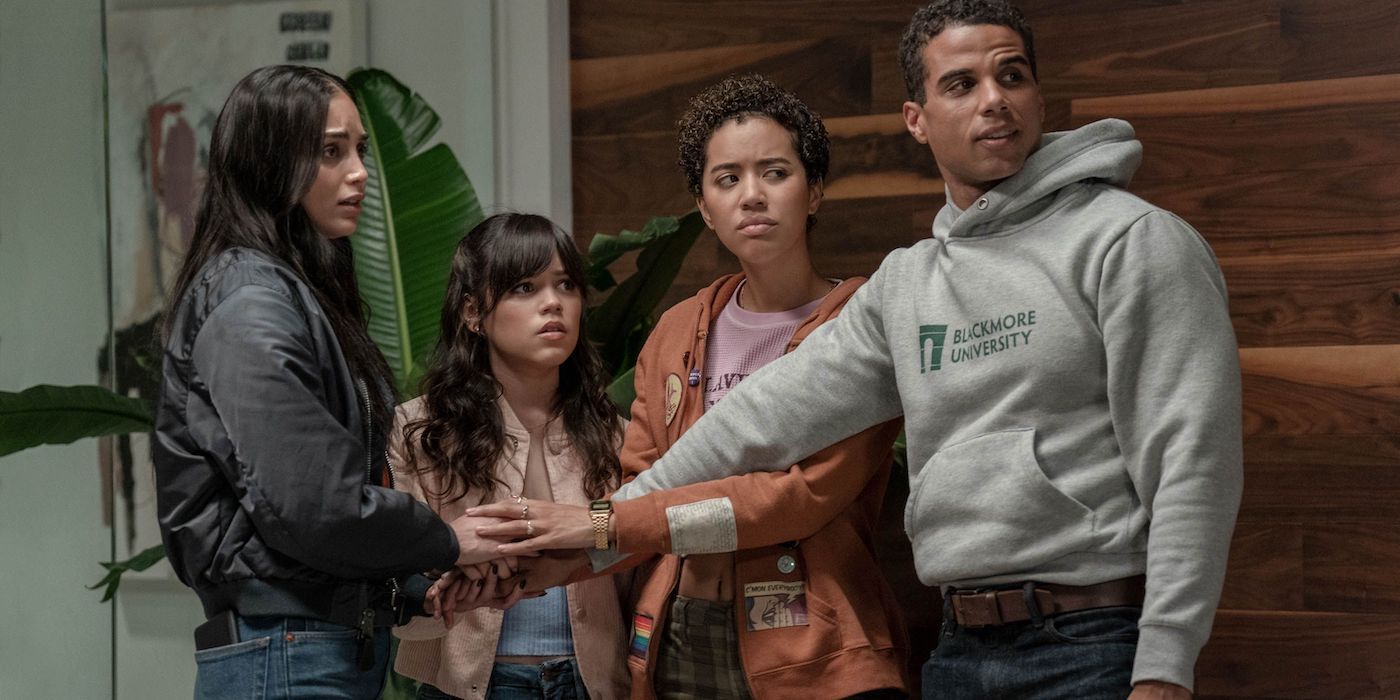 Scream VI focused new "Core Four" and Ghost Face's "carnage candy". The sequel also featured the most brutal Ghost Face to date as the killer used everything from Shotguns to ladders to enact their ghastly revenge. New York City was the perfect setting for this killer and added to the anxiety that Ghost Face could be anyone.
There's no exact plot for Scream 7 as there's not even a release date for the film yet. The setting or who's returning for the sequel has not been revealed, but Scream VI ended with Sam (Melissa Barrera), Tara (Jenna Ortega), Mindy (Jasmin Savoy Brown), Chad (Mason Gooding), Kirby (Hayden Panettiere), and Danny (Josh Segarra) all survive the latest Ghost Face attack. It's a safe bet most of them will be returning for the sequel and fingers crossed that both Campbell and Courtney Cox come back as well. However, the biggest piece of news coming from the sequel is that Christopher Landon (Paranormal Activity, Freaky, Happy Death Day) is taking over as director for Radio Silence. It's going to be exciting to see what Landon has in store for this seventh installment given his immense horror background.
You can stream all six Scream films on Paramount +. This new Fright-Rags Ghost Face is up for pre-order now on their website through Sunday, October 8, and It's set to ship the week of December 15. Until then, the entire collection can be previewed down below.