The Big Picture
Teenage Mutant Ninja Turtles: Mutant Mayhem is now available to buy or rent on-demand, complete with bonus features to enjoy.
The featurette focuses on Raphael, the tough guy, and Donatello, the tech whiz, providing insights into their characterizations and voice actors.
The movie has received praise from both critics and fans, with excellent animation, a great soundtrack, and a talented cast of actual teenagers voicing the iconic Turtles.
Moviegoers were introduced to the Heroes in a Half Shell all over again this summer with the release of the animated feature Teenage Mutant Ninja Turtles: Mutant Mayhem, and now their latest, and arguably greatest, adventure is coming home. The Turtles are coming in hot and ready for buying or renting on-demand starting today, September 1, complete with plenty of extra features to sink your teeth into. Collider is excited to share one such new featurette that gives a proper rundown of two of the brothers who are polar opposites – Raphael, the group's resident tough guy, and Donatello, the nerdy tech whiz.
Raphael is the brother with an attitude says producer Evan Goldberg who opens up the clip discussing the red mask-donning turtle with his friend and frequent collaborator Seth Rogen and producer James Weaver. In Mutant Mayhem, Raph is played by Brady Noon, one of the stars of the ill-fated The Mighty Ducks: Game Changers and the animated Diary of a Wimpy Kid movies whom Rogen was most familiar with thanks to his R-rated comedy turn for Good Boys which Rogen and Goldberg produced. Noon was at the top of Rogen's list when it came to casting the brashest brother of the group, and he was pleased to see the young star go all out again to bring to life a funny Raphael who sounds like he's trying his hardest to sound tough.
For Donnie, on the other hand, Rogen said the goal was to make him the perfect representation of the cocky nerd – a tech genius who knows his stuff, is remarkably confident in his abilities, and gets his chance to step up and be a hero. He's also the type to wear his fandom on his sleeve as director Jeff Rowe shares. Micah Abbey, a relative newcomer who previously appeared on Grey's Anatomy, gives the purple-masked turtle his voice which hits more high-pitched and squeaky notes than Noon's gruff vocals. Rogen credited Abbey for going into the recording booth "harder than anybody," which resulted in that perfect, distinct voice that Weaver had plenty of praise for.
'Mutant Mayhem' Puts the "Teenage" Back in 'TMNT'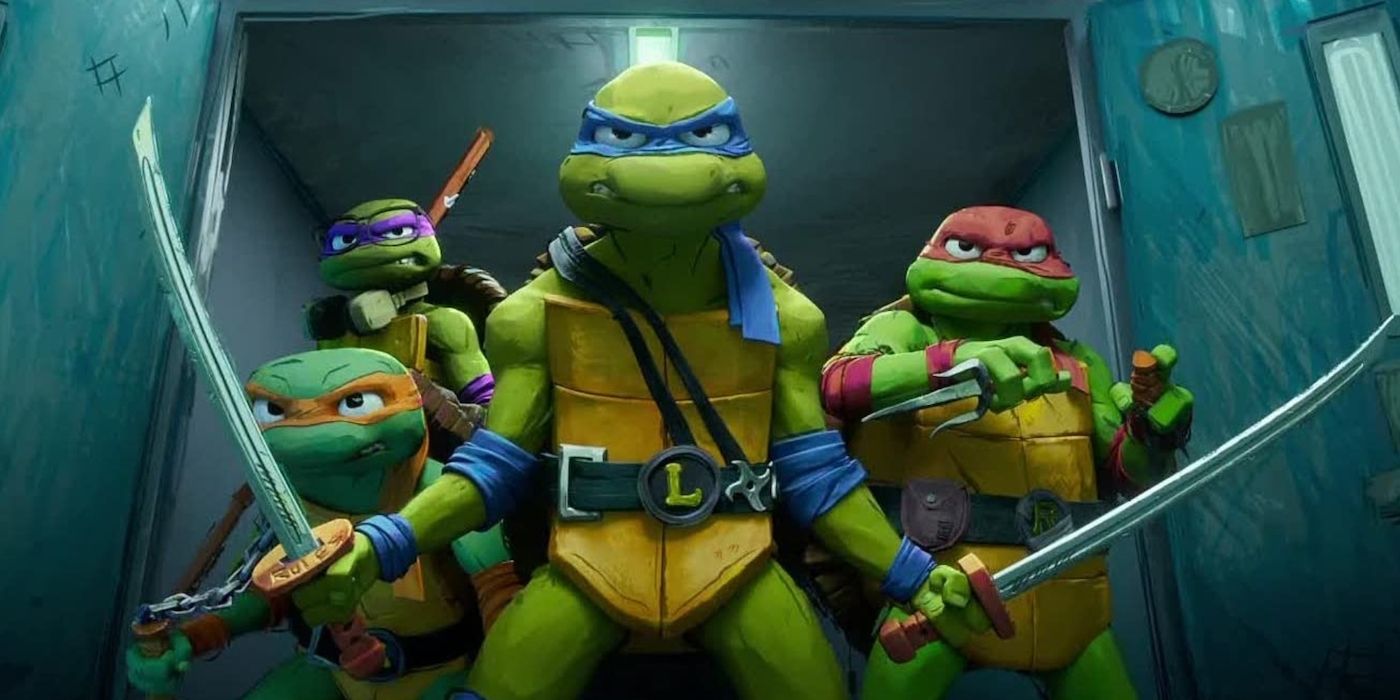 Despite a solid, if not great box office performance of $137 million globally, Mutant Mayhem has earned its flowers from critics and fans alike. Collider's Ross Bonaime went as far as calling it one of the Turtles' best outings ever on-screen in his review, praising the excellent animation directed by The Mitchells vs. the Machines helmer Rowe, the soundtrack by Trent Reznor and Atticus Ross, and, of course, the cast of actual teenagers behind the mutant heroes who, for once, truly feel like TEENAGE Mutant Ninja Turtles. Abbey and Noon are just part of the stellar cast which also includes Shamon Brown Jr. and Nicholas Cantu as their fellow Turtles Michelangelo and Leonardo respectively alongside Ayo Edebiri as April O'Neil. In addition to co-writing, Rogen is one of many stars rounding out the cast including John Cena, Hannibal Buress, Rose Byrne, Ice Cube, Post Malone, Paul Rudd, Maya Rudolph, Natasia Demetriou, and Giancarlo Esposito.
Mutant Mayhem follows the Turtles as they emerge from their sheltered existence in the sewers to win over the hearts of New Yorkers. Journalist April O'Neil makes friends with the "little turtle freaks" and joins forces with them as they take on a local crime syndicate to make a good impression. Things get out of control when an army of mutants descends upon them led by Ice Cube's Superfly.
From Paramount Home Entertainment, Teenage Mutant Ninja Turtles: Mutant Mayhem will be available to buy or rent on September 1. All bonus features including this clip will be available with a digital purchase. Check out the exclusive featurette below