The Big Picture
Director Garth Davis brings the heart of Foe to life through Saoirse Ronan's powerful performance as Hen – a character who fights for agency and reminds us to wake up and take note of our lives.
The tension between Hen and Junior, as well as their disconnect and questioning of their relationship, plays a significant role in the sci-fi thriller, as they navigate a grim future and prepare for Junior's space mission.
With Saoirse Ronan's talent and a strong supporting cast, Foe is a character-focused sci-fi film that combines powerful performances with a thought-provoking story. Now playing in theaters.
Seven years after creating his Academy Award-nominated darling Lion, director Garth Davis has brought to life another book with his new sci-fi thriller Foe. Based on the 2018 novel by Iain Reid, who also co-wrote the screenplay with Davis, it tells the story of husband and wife Junior (Paul Mescal) and Henrietta (Saoirse Ronan), aka Hen, whose peaceful life on a farm in the near future is interrupted by a stranger with a huge opportunity that will put their marriage to the test. There's a focus on Junior as an AI version of himself is set to stand in for him during his years-long mission in space, but during an interview with Collider's Steve Weintraub, the director expressed that Hen was the true soul of the film.
Davis was specifically asked why he came aboard Foe in the first place, and he specifically mentioned how he resonated with Hen's perspective "It was the heart of the story, and that's Hen and how she wants to live her life and be herself and find her agency," he revealed. "Hen, for me, represents somebody that appreciates that life is short, and it's precious, and she wants to not deny that part of herself. That's how I see the world, and I love what she fights for, and I believe in that. I feel like we're all a little bit asleep at the wheel in society, and Hen's telling us to wake up and to take note, and that's why I loved it."
One thing the trailer for Foe makes clear is Hen's desire for something more than what she has with Junior. Although he loves her dearly and doesn't want to leave her behind, he completely fails to understand her. Their disconnect is a big source of tension as Terrance (Aaron Pierre) gets to know them and prepares Junior and his AI counterpart for his trip to space. The story is just as much about her questioning the meaning of their relationship as it is about Junior fearing his reality isn't all that it seems in this grim future.
Saoirse Ronan Brings Her Talents to the Forefront as Hen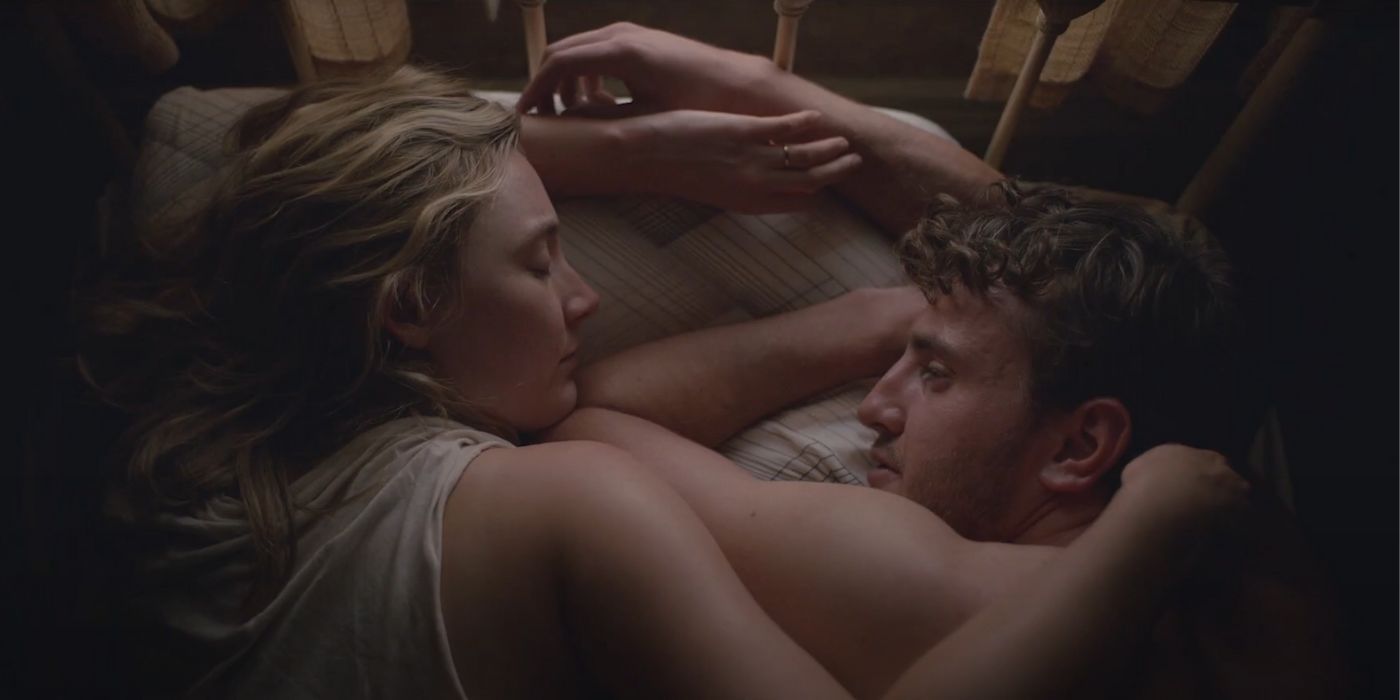 It also certainly helped that Davis had a true A-lister in Ronan aboard to play Hen. The four-time Oscar nominee earned plenty of attention with her first nominated supporting role in Atonement, but she's since proven herself a powerhouse lead between Brooklyn, Lady Bird, and Little Women among many other roles. She'll next be seen leading Nora Fingscheidt's The Outrun followed by a starring turn with Oscar-winning 12 Years a Slave director Steve McQueen on the WWII drama Blitz which follows Londoners amid the German bombings of the city. With Mescal, who recently garnered his first Oscar nomination from Aftersun, playing opposite her, Foe has a lot of firepower in place to lean on for such a character-focused sci-fi setting.
Foe is in theaters now.