The Big Picture
The Twits, a new animated adaptation of a beloved Roald Dahl story, will premiere on Netflix in 2025, but the first image has just been released.
The story follows the terrible Mr. and Mrs. Twit, who run the atrocious Twitlandia amusement park. Two orphans and magical animals team up to stop their reign of terror.
Director Phil Johnston is attracted to the Twits' awful nature and cites The Twits as his favorite childhood book.
Another Roald Dahl adaptation is heading to Netflix, but viewers still have quite the wait ahead before they can watch it. In 2025, The Twits will premiere on the streamer, an animated take on a beloved Dahl story. Despite the film still being well over a year away (at the very least), Netflix has just released the first image.
The Twits follows its title characters, Mr. and Mrs. Twit, two of the most terrible people in the world who own and operate an equally horrible amusement park called Twitlandia. And yes, it's as ridiculous as it sounds. As such, the Twits hold their fair share of power in their town, but it doesn't go unchallenged. So, two orphans, with the help of some magical animals, are forced to act, using the Twits' own tactics against them to stop their reign of terror and save the town.
The new image from The Twits offers a first look its two central characters, who look just as unwelcoming as they sound. On the left, Mrs. Twit holds a pie that doesn't look especially appetizing nor edible. A flamingo cane rests under arm, with a beak that is probably pointy enough to cause serious damage. Mr. Twit stands next to her wearing a menacing expression and holding what is hopefully a simple can of paint. They stand in front Twitlandia, which, at first glance, seems to break at least a dozen safety regulations. But credit where credit is due — Twitlandia's sign somehow manages to work with the mishmash of junk it's created from.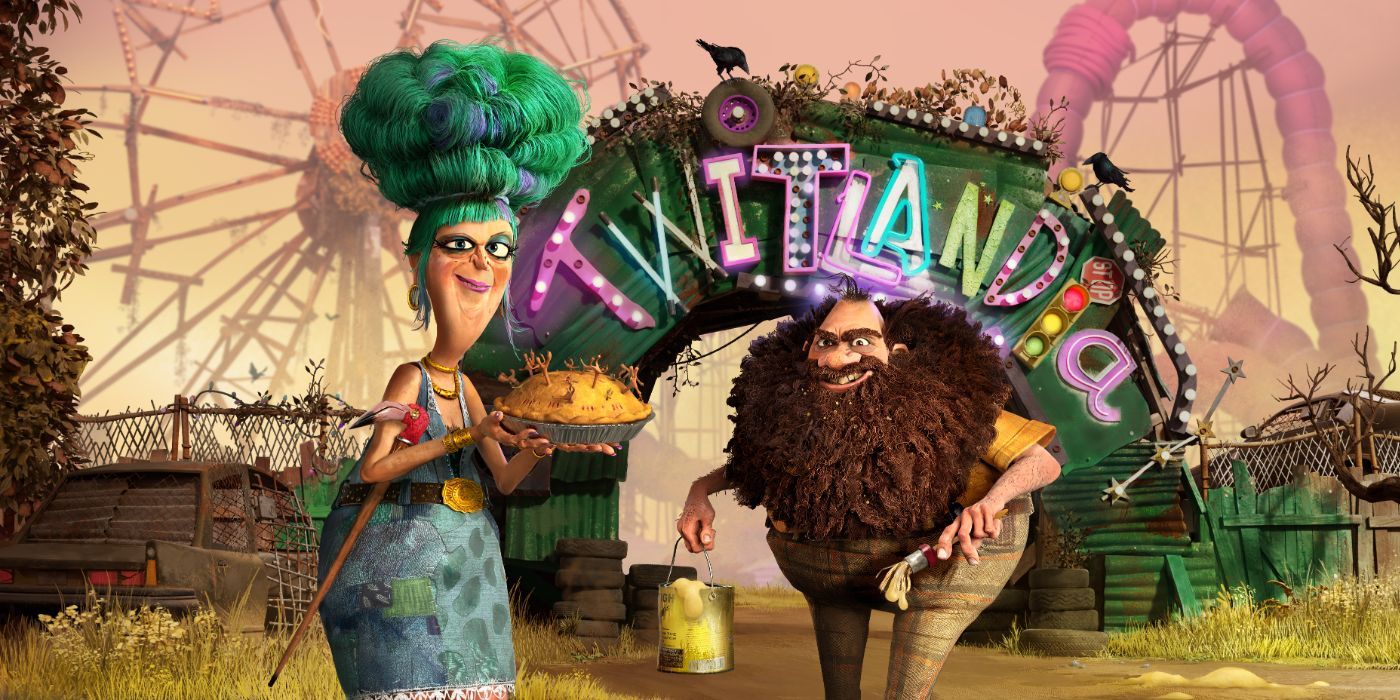 The Twits is written, directed, and produced by Zootopia and Wreck-It Ralph scribe Phil Johnston, who wrote the screenplay alongside Meg Favreau. The film is co-directed by Katie Shanahan (Milo Murphy's Law) and Todd Demong (How to Train Your Dragon: Hidden World), both of whom have worked as storyboard artists and additional roles within film and television art departments. Maggie Malone produced The Twits, with Daisy West as co-producer. Jellyfish Pictures, the company behind features such as The Boss Baby and The Bad Guys, is handling animation. The Twits joins a growing line-up of Dahl adaptations for Netflix and will be the first animated feature to release in an upcoming slate that includes The Wonderful World of Henry Sugar (live action) and a forthcoming animated Charlie and the Chocolate Factory.
Phil Johnston Is Drawn to the Twits' Awful Nature
When speaking with Netflix, director Phil Johnston shared that the Twits' terrible personalities are part of what drew him to the project. Not only that, he also cites The Twits as his favorite childhood book, which makes the adaptation a perfect film for him to tackle:
"I've always been attracted to reprehensible characters. I don't know what this says about me, and I really don't want to look into it. Point is, The Twits was my favorite book when I was a kid. I love the Twits and their terrible tricks. I love that they lack self-awareness and personal hygiene and any inkling of human decency. And I love this movie because it reminds us that twits like the Twits, whose default emotions are anger and vengeance, can't be allowed to win in our world."
Stay tuned to Collider for more updates about The Twits.