The Big Picture
Clawfoot offers a steamy yet dark glimpse into a world of darkness and intrigue with its vivid poster and first-look images.
With a clever blend of dark humor and pulse-racing tension, the film promises to challenge traditional horror archetypes.
The talented ensemble cast, including Francesca Eastwood, Milo Gibson, and Olivia Culpo, brings a fresh take to the revenge thriller genre.
In yet another blend of anticipation and horror this season, the upcoming thriller Clawfoot, written by April Wolfe and directed by Michael Day, has unveiled its sinister poster and several first-look images. The poster features Awake's Francesca Eastwood in a bathtub with blood on her hair while the first-look images, shared by Bloody Disgusting, are a combination of terror, seduction, and more blood, featuring Milo Gibson, Olivia Culpo, and Eastwood.
The vivid depiction of darkness and intrigue on the poster and initial images offer a very steamy yet dark glimpse into the eerie world of Yale Entertainment's Clawfoot. The film just had its premiere at the Newport Beach Film Festival on October 14, 2023, but the thriller is slated for a November release.
Clawfoot comes from the producers of the smash hit Becky and revolves around a suburban homemaker played by Eastwood. She's terrorized by a manipulative contractor, played by Gibson, who is remodeling her bathroom. But while Eastwood is playing a suburban wife, her BFF backup is ready, and they will turn the tables as the two give the contractor a taste of his own medicine by what is described as "a twisted battle of wits with deliciously unexpected results."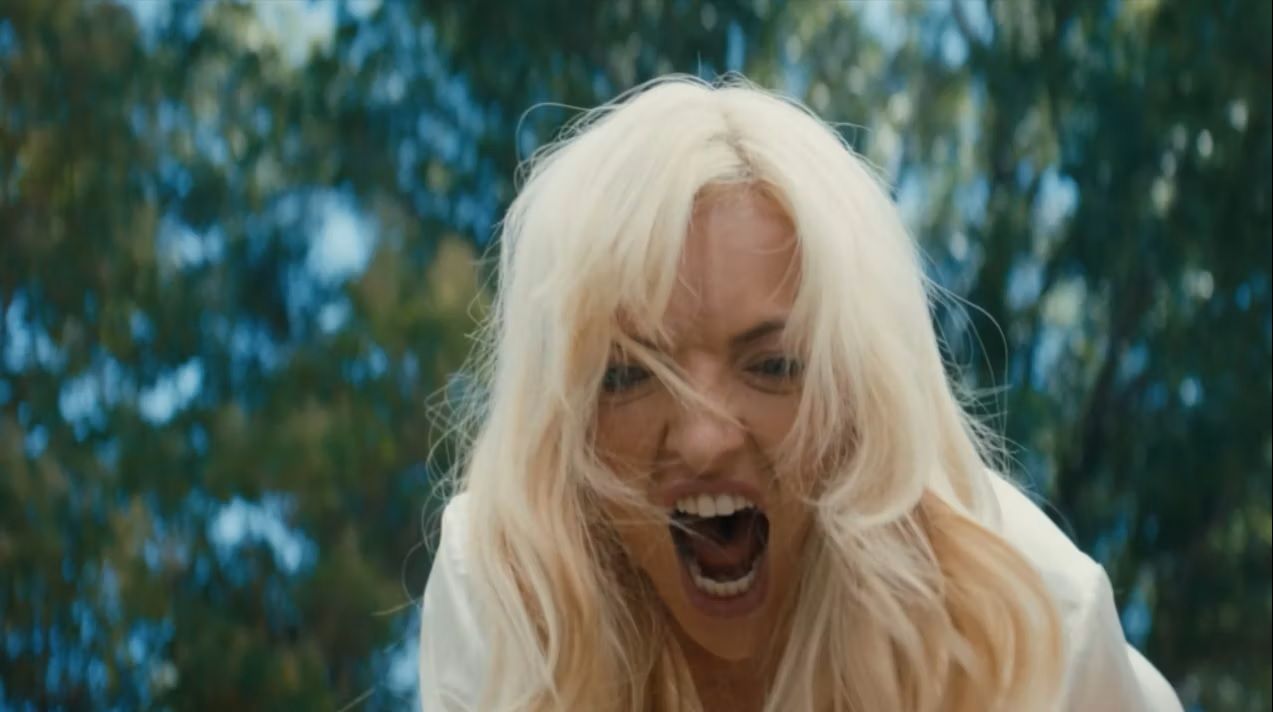 Although missing from the images, the movie also stars Oliver Cooper (Grown Ups 2). The film is being described as "a clever thrill ride brimming with darkly vicious humor and pulse-racing tension." Eastwood's portrayal of the suburban homemaker promises to back up this claim and challenge traditional horror archetypes. Her character refuses to be bullied and turns to her friend to help which is likely where the subtle dark comedy enters the movie.
Thanks to the talented ensemble, the film is slated to offer a fresh take on the revenge thriller trope. Gibson is known for his roles in Gangster Land, All the Devil's Men, and Hacksaw Ridge, while Culpo is known for her roles in films like I Feel Pretty alongside Amy Schumer. Cooper has also appeared in Project X, As We Know It, Baby Blue, and Helen's Dad. Bates Motel and Christopher Nolan's The Dark Knight's Nestor Carbonell is also a part of the impressive cast.
Day is co-helming the movie with Yale's Jordan Yale Levine and Jordan Beckerman, while Jason Kringstein, Kade Thomas, Scott Levenson, Lee Broda, and Colby Cote are on board as the executive producers. Yale's newly introduced sales division, Great Escape, overseen by Nick Donnermeyer, will manage global sales.
Clawfoot is all set to hit cinemas on November 16, 2023. Check out the poster and new images below.