The Big Picture
Thanksgiving will be a bloody and bonkers R-rated movie released in theaters, similar in style to Cabin Fever and Hostel.
The film aims to surprise audiences and exceed expectations by hitting them in unexpected ways, going beyond what was shown in the original fake trailer.
The decision to finally make Thanksgiving was delayed by rights issues and the pandemic, but the script has been developed to be a reboot of the original offensive movie concept.
Fifteen years after the fake trailer first appeared in Grindhouse horror aficionado Eli Roth is finally turning Thanksgiving into a feature-length movie. During a recent interview with Collider's Christina Radish for his upcoming animated YA horror series Fright Krewe, Roth was also able to share some delicious morsels about his upcoming feast of a film. With its origins in Grindhouse filled with gruesome decapitations and a truly brutal trampoline scene, naturally, Radish had to ask what kind of gore level we can expect from Thanksgiving. Roth explained that while it won't be quite as bloody as something like last year's Terrifier 2 which had audiences throwing up in the aisles, it'll be somewhere along the lines of his previous projects like Cabin In the Woods and Hostel. He explained:
"I wouldn't say it's as far as Terrifier 2. It's much more in the Cabin Fever and Hostel vein, where it's an R-rated movie that's being released in movie theaters by a mainstream studio, but it's still totally bonkers. I want everyone screaming and going, 'Oh, my God, I can't believe they did that.' It's that kind of movie, but it's also not gonna be in the way you'd expect. You want to outdo what you did in the fake trailer, but hit people in ways that they don't see coming. That's the trick."
The teaser trailer, released earlier this month, honors some of the classic imagery from that first trailer with unsettling turkey dinners, familiar holiday mascots, and an ominous homage to that trampoline scene — if you know, you know. But as Roth explains, he won't be simply retreading the same ground, he plans to keep fans on our toes when the movie finally hits the big screen, saying: "Because it's based on a fake trailer, I have to live up to the expectations, but I can't just recreate what I did before because then, weirdly, it becomes boring. So, you have to surprise people in ways that they don't see coming."
Why Did It Take 15 Years for 'Thanksgiving' to Become a Real Movie?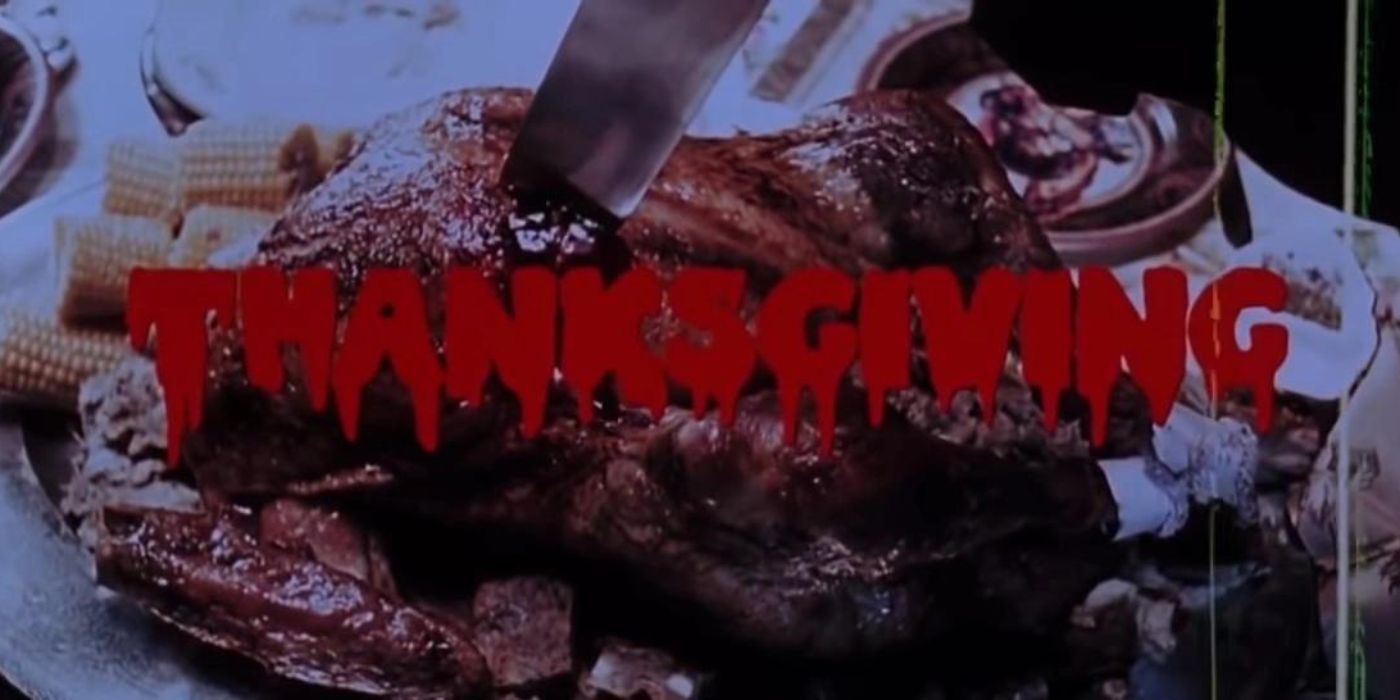 Thanksgiving isn't the first film made out of one of the fake trailers featured in Grindhouse Robert Rodriguez has made an entire franchise of beloved films out of his Machete trailer with the first film hitting screens back in 2010. And Jason Eisener brought Hobo With a Shotgun to life just a year later in 2011. When Radish asked Roth why now is the right time for Thanksgiving as opposed to even five years ago, he explained that they've been trying to make the movie for quite some time but were held up by rights issues and the pandemic. He also explained that they wanted to make sure the script was actually worth making before they went into production. "We tried to do it. There were rights issues, and then the pandemic hit," Roth explained, "We were trying to get the script right. For years, I was just connecting the dots between the trailer, and then I was like, 'Am I just filming the scenes in between what I already did before it?'"
Luckily, Roth's co-writer Jeff Rendell had some words of wisdom for Roth that allowed him to finally put the pieces together in a way that was worthy of the big screen. He told Collider:
"The big revelation was, he said, 'I have to just pretend that Thanksgiving 1980 exists and that it was so offensive that every print was destroyed, and the only thing that survived was the trailer. This is the reboot of what that movie was. Every copy of the script was burned. Every print was burned. The only thing that survived was that one trailer, on the darkest corners of the internet. So, we have to make a movie based on that. This is the reboot of what that was.' That freed me up creatively to go, 'I can use a couple of my favorite things in the trailer, but I don't have to worry about recreating the trailer.' That trailer was for a movie where every print was destroyed. Now, this is gonna be its own thing."
Thanksgiving hits the big screen on November 17 and you can watch the first teaser trailer for it right now. In the meantime, stay tuned at Collider for future updates and don't miss the rest of Radish's conversation with Roth.