The Big Picture
Antoine Fuqua and Denzel Washington have collaborated on multiple films, including the reboots The Magnificent Seven and The Equalizer series.
Fuqua initially had to convince Washington to join The Magnificent Seven, ultimately succeeding after a lengthy pitch.
The Magnificent Seven had a solid opening weekend and overall positive reception, grossing approximately $162.3 million globally.
The Equalizer 3 is officially out in the world, the final installment in Antoine Fuqua's series and the latest collaboration between him and Equalizer lead Denzel Washington. The pair first worked together in 2001 for Training Day and would go on to reunite multiple times throughout their careers. Prior to The Equalizer 2 and 3, Fuqua and Washington did another reboot together: The Magnificent Seven (2016). During Collider's IMAX screening and Q&A for The Equalizer 3, Fuqua revealed how he got Washington to say yes to The Magnificent Seven.
When talking with Collider Editor-in-Chief Steve Weintraub, Fuqua shared that while he has an easy line to contact Washington, convincing him to agree to The Magnificent Seven took a little more than a quick call. Fuqua reminisced on his initial meeting with Washington about the movie, revealing that they went for coffee so Fuqua could make his pitch, which began with, "So, the sun is coming up. This man on this black horse comes…" — but Washington was hesitant to accept. However, he let Fuqua continue, and the rest is history.
"[Washington] goes, 'Wait, what?' I said, 'A man on his horse,' and Denzel's like, 'I'm not gonna get on a horse.' [Laughs] I said, 'No, no, let me finish! Magnificent Seven…' And he just sat back and listened to me, let me get out my pitch. Like halfway through my pitch, I'm thinking, 'Denzel is gonna get up and walk away at any moment. He's gonna be like, 'No, I'm not getting on the damn horse playing a cowboy,' but he listened. He listened for a while. That took a while to get him to say yes to Magnificent Seven."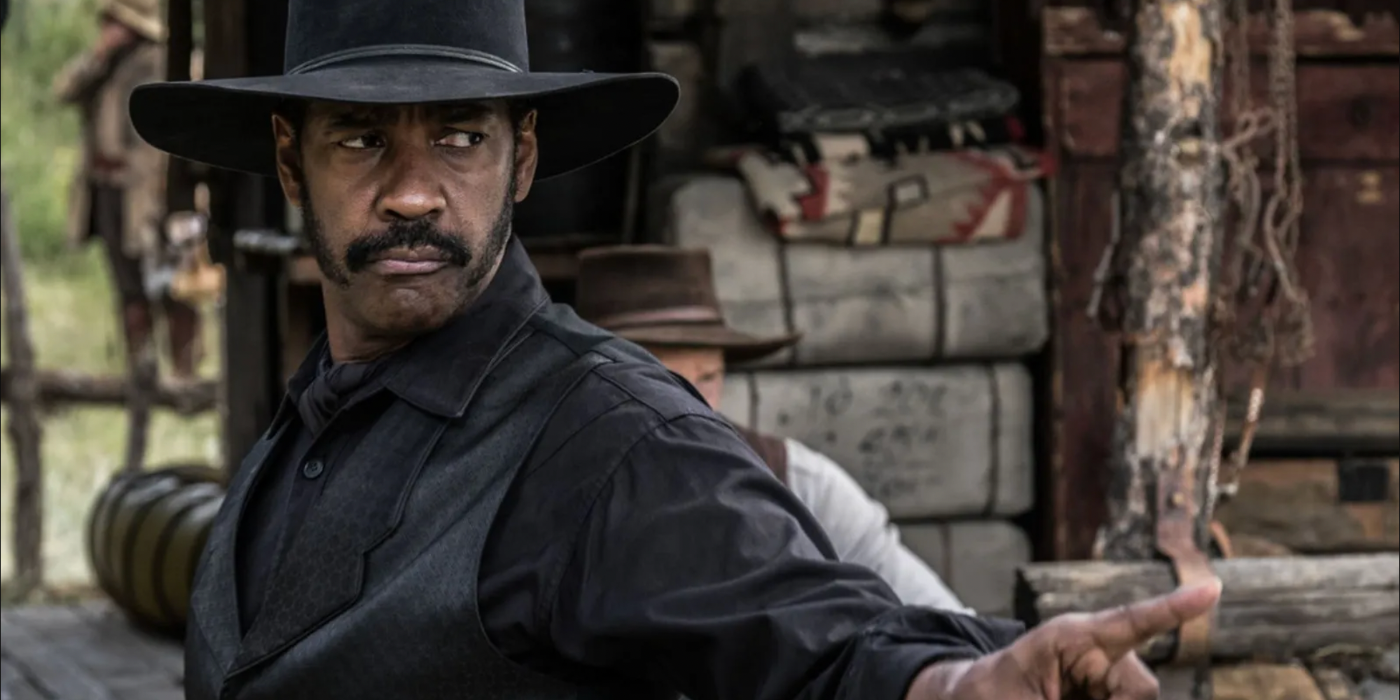 'The Magnificent Seven' Did Relatively Well for Itself
The Magnificent Seven reboots the classic 1960's western of the same name and centers on a similar premise. It follows the town of Rose Creek whose people struggle under the control of a dangerous industrialist. So, they recruit a group of seven gunmen with varying backgrounds to fight back. The feature had a solid opening weekend at $35 million domestically, ultimately grossing approximately $162.3 million globally. It was fairly well-received by critics and general audiences, with general audiences skewing more favorably towards it. Along with Washington, The Magnificent Seven starred Washington's Training Day co-star Ethan Hawke, Vincent D'Onofrio, Lee Byung-Hun, Manuel Garcia-Rulfo, Martin Sensmeier, Chris Pratt, Peter Sarsgaard, and Haley Bennett.
Be sure to catch Denzel Washington back in action in The Equalizer 3 (sans horses), now playing in theaters. For more with Fuqua, watch the full IMAX Q&A below.