The Big Picture
Bayard Rustin, the true architect of the March on Washington, is often overlooked, but this new film aims to shed light on his vital role in the civil rights movement.
Colman Domingo delivers a powerful performance as Rustin, showcasing his passion and enthusiasm for organizing protests and creating a united movement for change.
Rustin's bravery and dedication to the cause are highlighted in the trailer, along with a star-studded cast, making this film a highly anticipated award contender.
You've heard of Martin Luther King Jr., but it's about time to learn about the true architect of the March on Washington, Bayard Rustin. Netflix unveiled a new trailer for Rustin ahead of its release next month, and it shows the activist's tireless actions to organize protesters for the historic rally for civil rights. He brought a little bit of crazy and a lot of heart to a vital movement for the sake of the country, but as a gay Black man, his part in history is often erased. This film by George C. Wolfe will bring his story back to the light starting in theaters on November 3.
Rustin is portrayed by Colman Domingo who wastes no time showing off the civil rights leader's joy and enthusiasm in the trailer as he proposes another major march in the vein of A. Phillip Randolph's proposed March on Washington in 1941. He does all the legwork to spread the word, draw up a plan, and bring in young "angelic troublemakers" to present a colossal united movement the likes of which have never been seen before. The cherry on top is the Reverend Dr. King Jr. (Aml Ameen), Rustin's close friend whom he invites to help the event. Because he's, as Wolfe described, "about as out as a Black man could be in 1960s America," the old guard of civil rights leaders, including Randolph (Glynn Turman) and Roy Wilkins (Chris Rock), are wary about what impression he might give of their movement because of his sexuality. Even among his peers, he was seen by some as a pariah.
One thing the trailer emphasizes is the level of bravery, or craziness, needed to commit to such a movement. Rustin had both in spades, a fact noted by King when talking to his friend. All facets of the activist's life during that time will be explored with Rustin from the war room planning with his allies to spending time with the man he loved and everyone else in his life. Also on display in the trailer was much of the star-studded cast including Domingo, Rock, Turman, and Ameen alongside Gus Halper, CCH Pounder, Da'Vine Joy Randolph, Johnny Ramey, Michael Potts, Jeffrey Wright, and Audra McDonald among others.
'Rustin' Is One to Watch Coming Into Award Season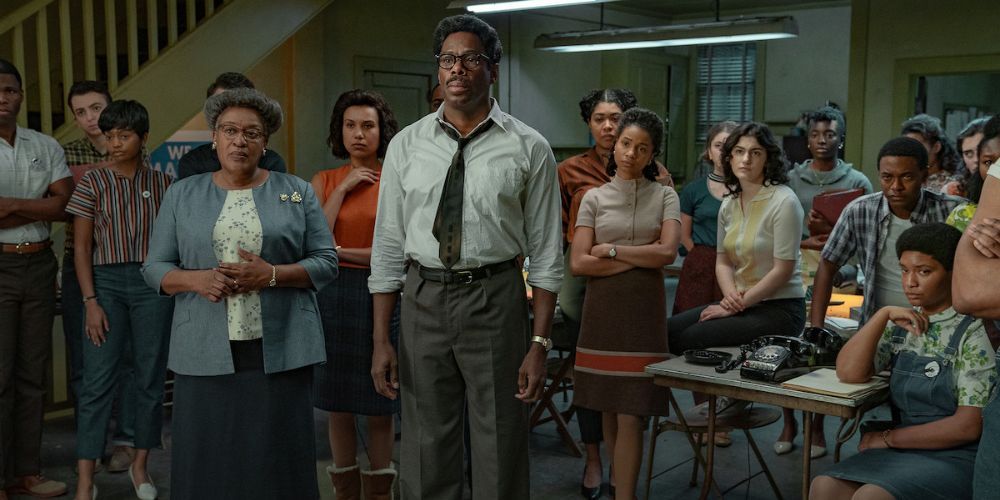 As the first feature production to come out of Barack and Michelle Obama's Higher Ground Productions banner, Rustin is one of the year's most anticipated films and is seen as a genuine award contender. A lot of praise in particular is pointed toward its star, Domingo, who finally gets a lead role after years of excellence between Lincoln, Zola, Euphoria, and so much more. Prolific casting director Avy Kaufman previously told Perri Nemiroff during an interview for Collider Ladies Night that she believed Domingo's performance as Rustin is Oscar-worthy.
Critics got their first look at Rustin during this year's Toronto International Film Festival where it earned plenty of love from those in attendance. Although Collider's Ross Bonaime only gave the film a C, the Emmy-winning Domingo was his main point of praise, saying "Colman Domingo is certainly the reason to see Rustin, and the film knows that this is a spotlight for him as an actor."
Rustin will enjoy only a limited theatrical run in theaters starting November 3 before arriving on Netflix on November 17. Check out the trailer below.