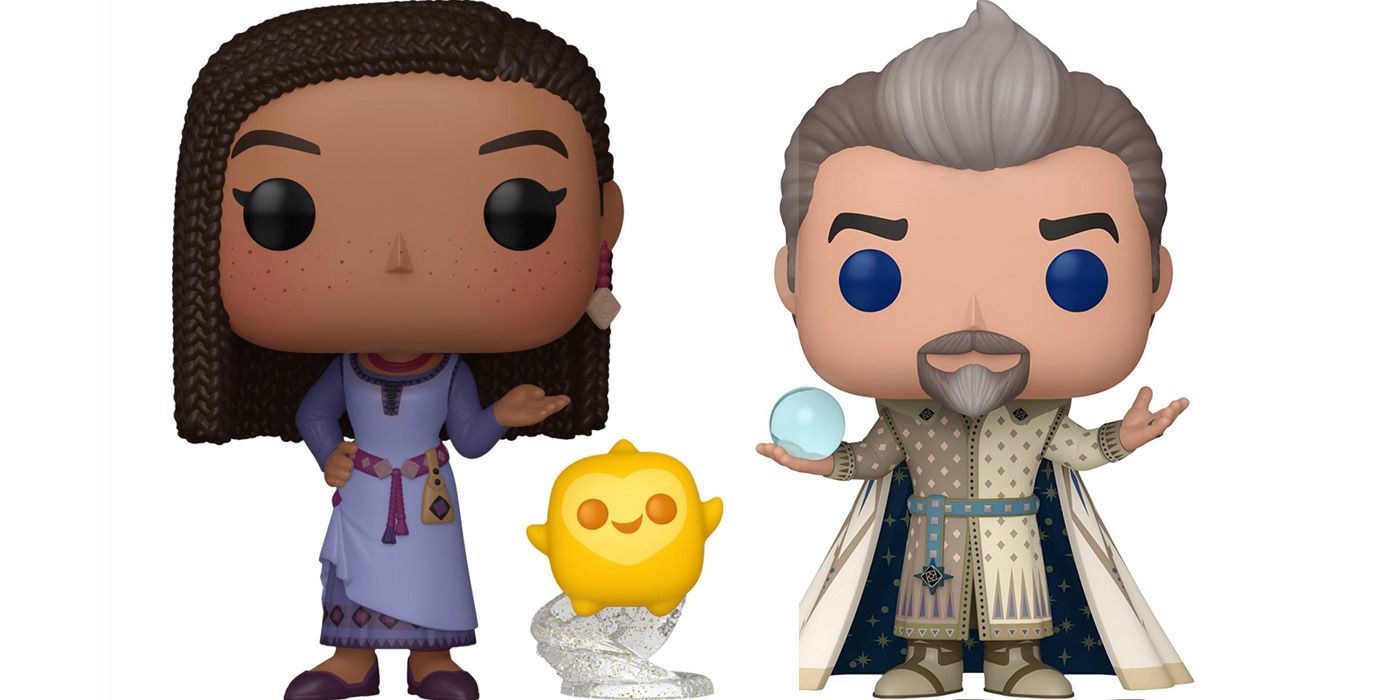 The Big Picture
Disney collectors can add new Pop! figures based on the upcoming film Wish to their collection, with most figures being released this month.
The figures include characters like Asha, the protagonist voiced by Ariana DeBose, and the villain King Magnifico voiced by Chris Pine.
The film features an all-star voice cast including Victor Garber, Natasha Rothwell, Evan Peters, and was directed by Chris Buck and Fawn Veerasunthorn.
Disney collectors will soon be able to add several of the characters from the studio's next animated feature film to their collection. Funko (via Entertainment Earth) has unveiled new Pop! figures based on the upcoming film Wish. Most of the figures are set to be released this month. The Wish movie is scheduled to be released in theaters on November 22.
One of the figures available will be Asha, the character voiced by Ariana DeBose. The figure also comes with her friend Star, a little ball of boundless energy, who comes to Asha after she makes an extremely powerful wish. Another figure available is the villain King Magnifico, who is voiced by Chris Pine in the movie. King Magnifico is the ruler of the kingdom of Rosas and is able to grant wishes. A figure of King Magnifico's wife, Queen Amaya, will also be available — Queen Amaya is voiced by Angelique Cabral. One of the other figures is Dahlia, who is Asha's best friend, voiced by Jennifer Kumiyama. Finally, you'll be able to get a Pop! figure of Asha's pet goat, Valentino. The trailers for the film show that Star gives Valentino the ability to speak, and he's voiced by Alan Tudyk, who has voiced other characters in several Disney animated films. Unlike the rest of the figures, the Valentino Funko Pop! is set to be released in November.
Wish follows Asha, who becomes King Magnifico's apprentice. However, the king later reveals to her that he has no intention of making most of the kingdom's wishes come true. This leads to Asha making a wish upon a star. When King Magnifico believes that his power over the kingdom has been threatened, he declares Asha a traitor, which forces her to go on the run with Star and Valentino.
'Wish' Features An All-Star Cast
Wish features a long list of notable cast members. Victor Garber voices Sabino, Asha's grandfather who is 100 years old. Natasha Rothwell voices Asha's mother Sakina. The film's voice cast also includes Evan Peters as Simon, Harvey Guillén as Gabo, Ramy Youseff as Safi, Niko Vargas as Hal, Della Saba as Bazeema, and John Rudnitsky as Dario. The film was directed by Chris Buck and Fawn Veerasunthorn. Buck previously co-directed both Frozen films, as well as Disney's 1999 animated film Tarzan.
Most of the Wish Funko Pop! figures are set to be released this month, while the Valentino figure will be released in November.