The Big Picture
After generating buzz in early 2022, Pain Hustlers finally offers a glimpse into its dark comedy story with new images released by Netflix.
The film explores the opioid crisis through the lens of two profit-seeking individuals, played by Chris Evans and Emily Blunt, who showcase charisma despite being morally corrupt.
It feels like we've been waiting to check out Pain Hustlers for a long time: The movie started to get a buzz going in early 2022. So far, however, we still haven't seen a trailer. As Netflix gears up to release the movie in theaters, we can finally start keeping an eye out for new information on the dark comedy movie. Today, the streamer released through Entertainment Weekly some images that showcase the incredible cast.
Pain Hustlers tells the story of two different individuals who found a way of profiting off the opioid crisis in America: Zanna Therapeutics sales rep Pete Brenner (Chris Evans) and Liza Drake (Emily Blunt) – a single mom with a keen eye for business who manages to land a job at the company when she proves her prowess to the team.
The new images reiterate the idea that Pain Hustlers will dabble on cynicism and play up the characters' charisma even though they're horrible people. The cast also features Andy Garcia (Book Club: The Next Chapter) and Catherine O'Hara (Schitt's Creek), both of whom can also be seen in the images. Garcia plays billionaire Jack Neel, the doctor who developed a new pain medication that Zanna Therapeutics is trying to popularize in the market. O'Hara plays Jackie, Blunt's character's mother – a woman who also eventually ends up becoming a sales rep.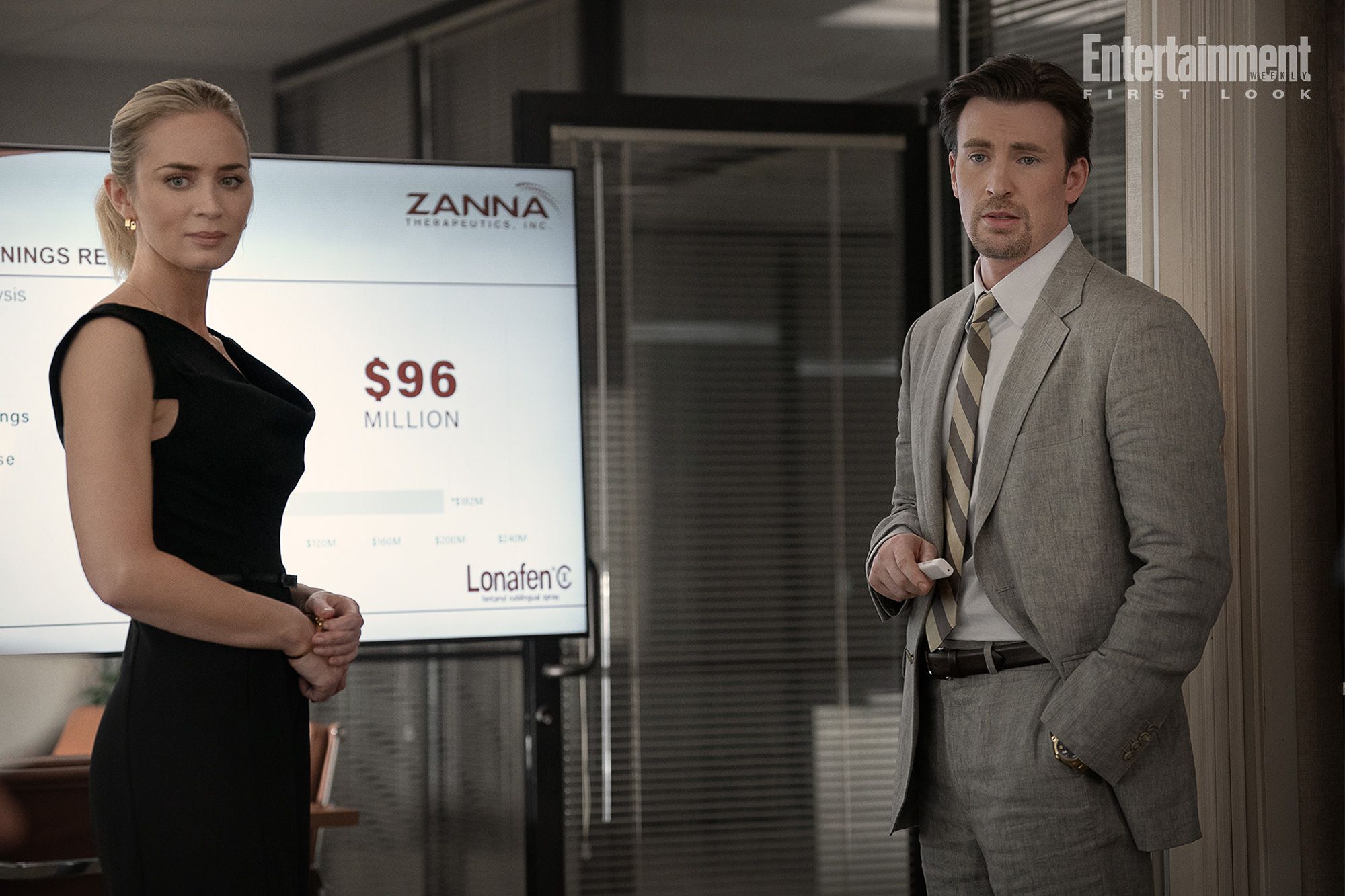 David Yates Wanted a Break From Harry Potter Universe
Pain Hustlers is directed by David Yates, who's coming back for a dose of realism after spending the better part of the last 15 years in the Harry Potter and Fantastic Beasts universes. In an interview to EW, Yates talked about the change in gears and mentioned that obviously he "spent such a long time on green-screen studios" that he decided to go back to his roots as a filmmaker:
"So the beauty of 'Pain Hustlers' for me was to come back to those roots, to come back to where the most exciting thing in a scene is an authentic moment between two actors rather than a big special effect. It was a welcome return to doing things that I'd done a lot of previous to entering the 'Harry Potter' world."
Pain Hustlers will be the third high-profile title released about America's opioid crisis: In the last couple of years we've seen Hulu series Dopesick and Netflix miniseries Painkiller. The movie is based on the book Pain Hustlers: Crime and Punishment at an Opioid Startup by author Evan Hughes.
Pain Hustlers will have a limited theatrical release starting on October 20, followed by a Netflix premiere a week later on October 27. Check out the images below: