The Big Picture
Gael García Bernal and Bad Bunny share a passionate kiss in the latest clip from Cassandro, showcasing their on-screen chemistry.
Bad Bunny's role in the film demonstrates his acting range beyond being just a music superstar, as he takes on emotional and dramatic scenes.
Cassandro explores the story of Saúl Armendáriz, a real-life Mexican wrestler who challenges societal norms in both his wrestling career and personal life.
Things are sizzling between Gael García Bernal and Bad Bunny in the latest clip from Roger Ross Williams's Lucha Libre drama Cassandro. The Werewolf By Night star portrays real-life wrestler Saúl Armendáriz who overcomes his status as the runt of Mexican wrestling with the introduction of his subversive exótico persona "Cassandro," upending both the macho wrestling world and his home life. While rising to stardom and overcoming the challenges he faces in and out of the ring, he's introduced to Bad Bunny's Felipe, a drug dealer who feels a connection with the man behind Cassandro. Although he's unsure about his feelings, the clip finally lets him embrace them.
Where a previous scene shared by Prime Video saw the two flirting and building their chemistry, things boil over in a back room in this clip where they share some drinks and a tender moment before Armendáriz leans in. In the heat of the moment, Felipe openly accepts his advances, and the two finally collide with a kiss of pure passion. Before things can go any further, though, Felipe stops him saying that he can't do this. Armendáriz reassures him everything's okay and apologizes before leaving Felipe with a "see you around, stud" as he weighs his complicated feelings about the wrestler.
The kiss between Bernal and Bad Bunny has been much discussed since Cassandro made its debut at Sundance earlier this year and the Grammy-winning artist was all for the romantic moment for the sake of showing the pure passion between their characters. "If you're acting, you're being someone you're not," he said in a Time cover story earlier this year. "So when they asked me for that, I said, 'Yes, I'm here for whatever you want.' I think it was very cool; I didn't feel uncomfortable." Their on-screen bond between the two stars will be a big part of Armendáriz's story as the joyful wrestler rises to fame and notoriety.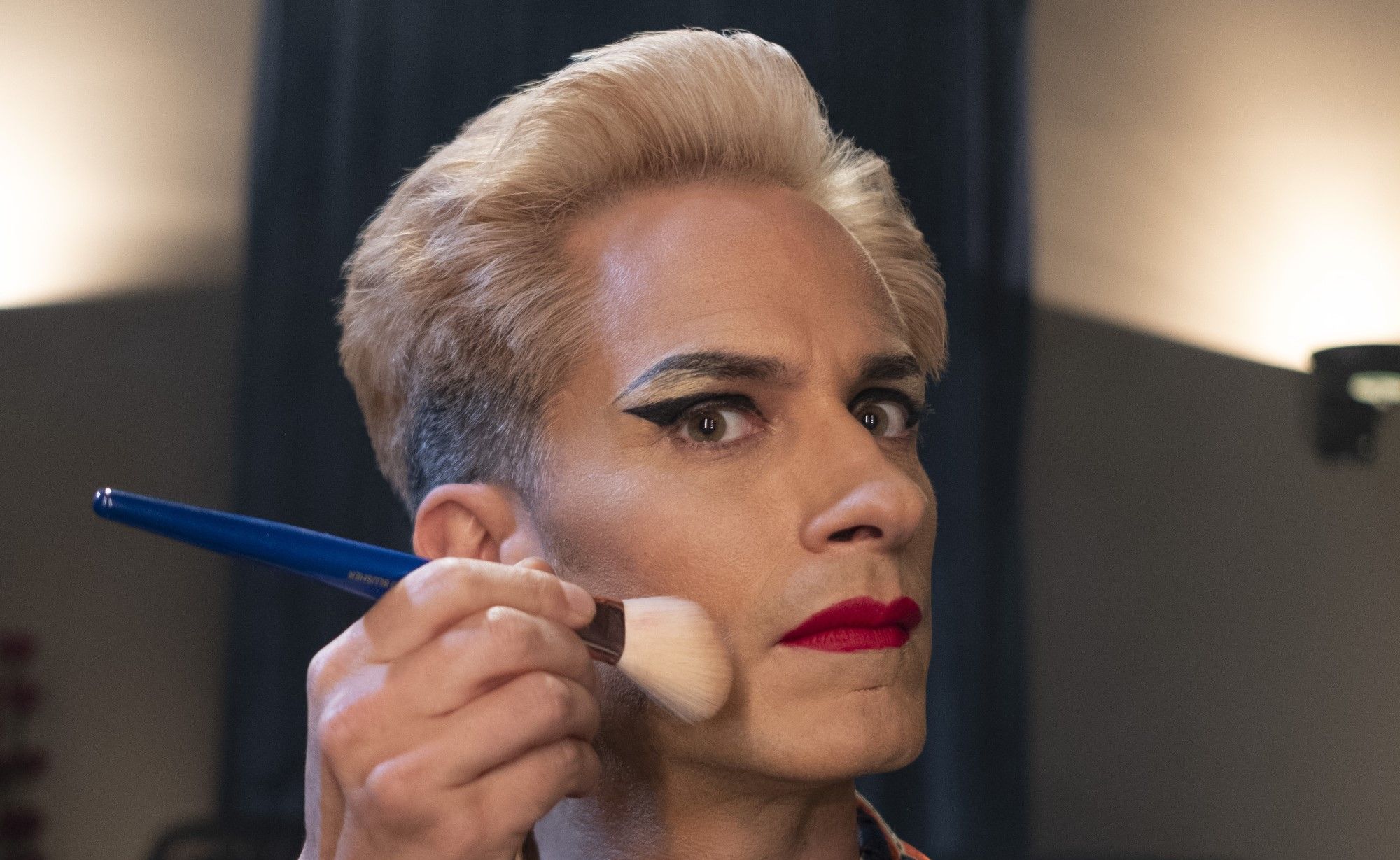 Bad Bunny Is Much More than a Music Superstar
While many know him for hits like "Yo Perreo Sola" and "La Romana," Bad Bunny has shown he's much more than a recording artist of late. Cassandro shows his range as he takes on a more emotional, dramatic role, but audiences were also made aware of his action chops in last year's excellent Bullet Train. He also enjoyed a recurring role in Narcos: Mexico as well as an appearance in F9: The Fast Saga and was originally planned to star in the Sony Spider-Man movie El Muerto, though the project and his presence in it are in limbo. Wrestling is familiar territory for him too, as he's also made multiple appearances in the WWE.
Bad Bunny and Bernal share the screen in Cassandro with Roberta Colindrez, Perla De La Rosa, Joaquín Cosío, Raúl Castillo, and the legendary El Hijo del Santo.
Cassandro is in theaters now for a limited release before arriving on Prime Video next week on September 23. Check out the clip below.