The Big Picture
The upcoming Bruce Lee biopic faces the challenge of condensing his iconic life story into a two-and-a-half-hour movie, considering his martial arts legacy and numerous achievements.
Producer Lawrence Grey reveals that the initial 350-page script was considered to be turned into a limited series, but they ultimately decided to focus on the cinematic experience and to recreate Bruce Lee's unique movements on the big screen.
With Ang Lee set to direct and Mason Lee, playing the lead role, there is high anticipation for the biopic to be a potential masterpiece, honoring the legacy of the martial arts icon.
The toughest thing for a director and screenwriter to do when making a biopic is to find key events in the subject's life to make a compelling story without jumping between moments so that it feels too episodic. In an interview with Collider's Steve Weintraub at our TIFF media studio at the Cinema Center at MARBL, producer Lawrence Grey (Pain Hustlers) talked about finding that balance in the upcoming Bruce Lee biopic, whose production is in early stages with Ang Lee (Brokeback Mountain) set to direct.
Bruce Lee is an iconic Hollywood figure whose domain of martial arts made him the go-to reference when it comes to action movies. Proficient in several martial arts to the point that he was able to create his own style, Lee is still referenced throughout the genre today, and he's even getting an homage in the anime treatment with the House of Lee series. So how do you cover his legacy, and how long should a movie on such an icon be? As Grey told our Editor-in-Chief Weintraub, they first had to decide what to trim down in a 350-page script, which initially they didn't want to cut anything from. He explained:
"That script might have been something like 350 pages long, and we were seriously contemplating whether this could be a limited series. The reason we evolved away from it was Ang wanted to do something with the action, with being able to recreate the movements of Bruce Lee, which are so specific and unique to the movement of that man, the way that Michael Jackson dancing might be, or something like that. He didn't feel he could fully realize that on the small screen, so we knew we were in this medium, and had to then be very diligent about finding creative ways to tell a story that, yes, we would have loved to tell over many, many more hours. But right now, I think we're hovering at about two and a half."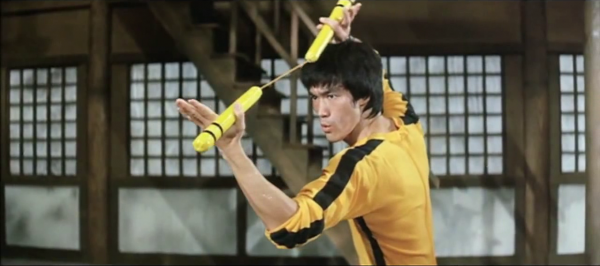 Bruce Lee's Legacy is Larger Than Life
Of course, it'll be an impressive feat to cover Bruce Lee's story in just two and a half hours — for comparison's sake, the Ip Man franchise, which chronicles the story of Bruce Lee's master Yip Wai-Shun (played by Donnie Yen in the movies), is gearing up to put out its fifth installment. Martial arts fans might not get as many hours worth of footage in the upcoming biopic, but with Ang Lee at the helm, there's a good chance that this is a masterpiece in the making.
Lee starred in a slate of famous titles including the Green Hornet TV series and Fist of Fury, but his most celebrated movie is Enter the Dragon, a 1973 action movie that became a massive hit and is one of the most influential martial arts movies ever made. It was also the final film that Lee starred in – the actor and martial arts expert died prematurely at 32 due to a fatal cerebral edema.
While details are still slim on the upcoming biopic, we already know that Mason Lee will play the legendary figure in the story directed by his own father. Grey also suggested filming is on track to start as soon as the ongoing strikes come to an end. Stay tuned for Weintraub's full conversation with Grey and check out the rest of our coverage from TIFF 2023.