The Big Picture
A24 and AMC Theatres are teaming up for the October "Thrills and Chills" film series, featuring indie horror movies every Wednesday in October 2023.
Midsommar, Ari Aster's nightmarish horror film, will be returning to cinemas on October 25 with a director's cut that adds 23 extra minutes to the original runtime.
The director's cut of Midsommar delves deeper into the dynamics of the main characters' relationship, providing a more nuanced and multi-layered narrative for viewers to experience on the silver screen.
In the October, "Thrills and Chills" film series by A24, the titans of modern indie horror are partnering up with AMC Theaters to bring a handful of horror movies back to the big screen every Wednesday in October 2023. This is great news not just for the overall horror genre fanbase but particularly for Ari Aster's nightmarish, toxic, and gore-loaded sophomore feature Midsommar fans. Yes, Midsommar is back in Cinemas on October 25, 2023, with its 171-minute director's cut. This is 23 extra minutes on top of its original 143-minute runtime, which by the way, is more than enough if you're one with a faint heart.
For those who missed their chance to witness the extended cut, featuring the brilliance of Florence Pugh as Dani and Jack Reynor as Christian, and the rest of the cast during its limited initial release — and for those who didn't — this is the golden opportunity to experience Aster's unsettling version on the silver screen, and that too just in time for Halloween. Some of the other movies that will be screened are Jonathan Glazer's Under the Skin, Ti West's X, and Robert Eggers' The Witch featuring Anya Taylor-Joy in her film debut.
The Director's Cut of 'Midsommar' Cautiously Dismantles Dani and Christian's Relationship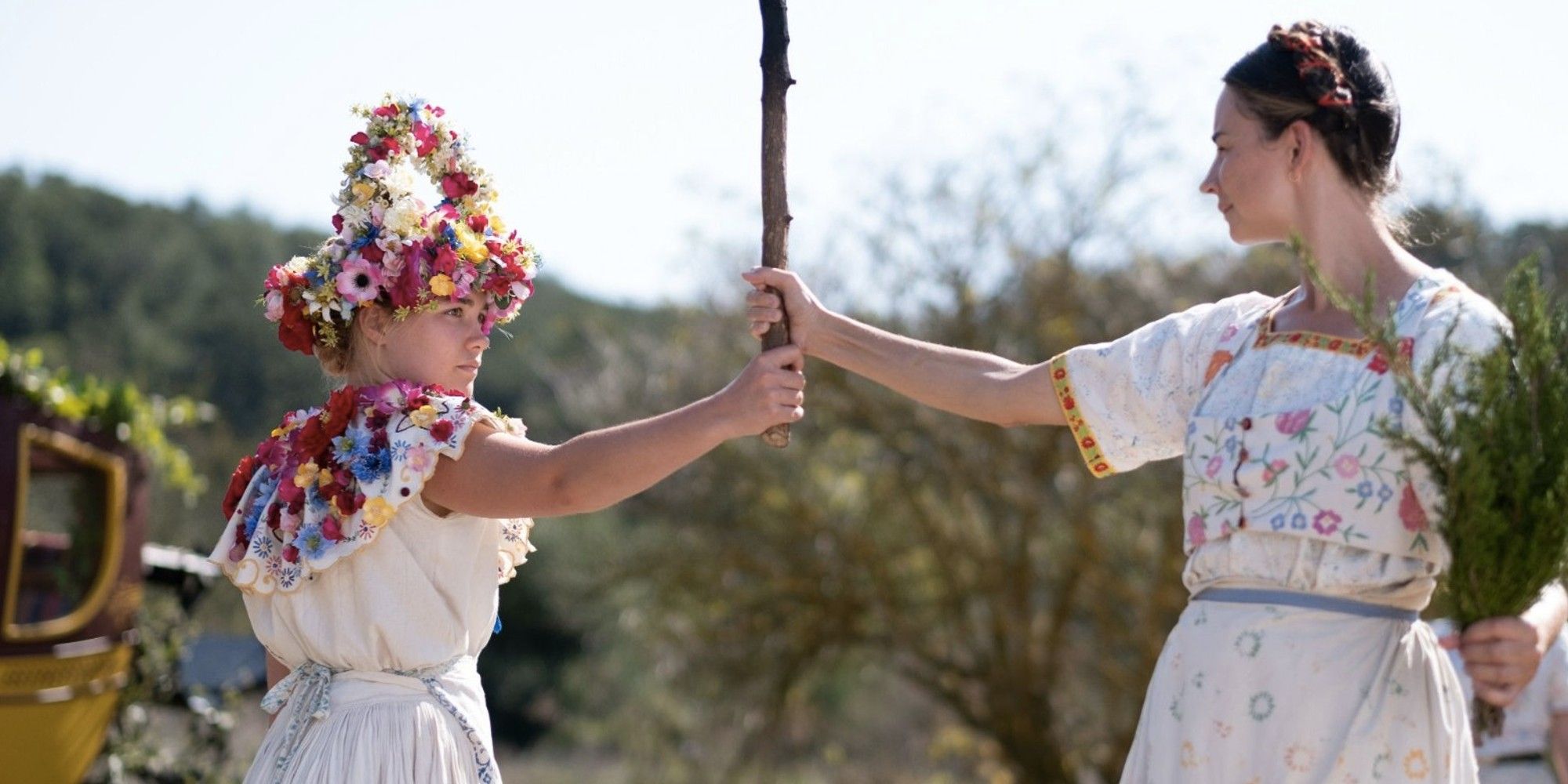 The plot revolves around a dysfunctional American couple, Dani (Pugh) and Christian (Reynor), who, along with their friends, travel to rural Sweden to attend a midsummer festival for study. The trip which initially seemed like a peaceful retreat, quickly takes a dark turn. As the group becomes immersed in the festival's traditions, they realize that the community they are visiting practices Scandinavian paganism with disturbing rituals. In the director's cut, in addition to some scenes presented from a different angle and sound effects sequence tweaks, audiences will get to learn more about the dynamics of Dani and Christian relationship and their individual journeys.
From the original theatrical run's cut, what develops an opinionated and subjective take for the audience, gets turned into a nuanced and multi-layered narrative through the director's cut. It's clear that Aster wanted to add an extra layer of depth to these characters. In an interview with Bloody Disgusting, Aster backed this up with, "The movie was extremely long, and we had a three hour and 45-minute long assembly cut, but that was an assembly cut that I saw, so this is not the whole movie. I'm happy with (the theatrical release) but there were things that were very painful to cut."
The cast of Midsommar also includes but is not limited to Will Poulter, Björn Andrésen, Archie Madekwe, Isabelle Grill, William Jackson Harper, and Vilhelm Blomgren. You can get your tickets for Midsommar and the other returning titles on AMC's website right now.