The Big Picture
Aquaman and the Lost Kingdom marks the final DC movie before the new and improved DC Universe.
The sequel intensifies the relationship between Arthur Curry and his half-brother Orm, bringing emotional depth to the film.
The movie features new underwater realms and absurdity, like Arthur riding his domesticated seahorse, Storm.
DC Studios has just dropped the new trailer for Aquaman and The Lost Kingdom which marks the final DC movie hitting theaters before James Gunn and Peter Safran initiate the new and improved DC Universe. This sequel brings back Jason Momoa as Arthur Curry, better known as Aquaman, our dashing muscular hero, and Patrick Wilson reprises his role as Orm, who is both Arthur's half-brother and occasional nemesis. He is also dashing and muscular.
In 2018's Aquaman, Arthur Curry embarks on a perilous quest to obtain a legendary trident and claim the throne of Atlantis. His mission is to prevent his brother Orm from declaring war on the Surface World. And, as you might recall, Aquaman successfully thwarts Orm's war plans, sending him off to his watery prison cell. But now? The pair have been forced into an uneasy alliance to face down the threat of Yahya Abdul-Mateen II's Black Manta, who's back and in the mood for vengeance.
It seems that the complex relationship between the two brothers will be a central theme in Aquaman and the Lost Kingdom, intensifying the emotional depth of the sequel. As director James Wan shared during the recent CinemaCon, "Orm was a villain in the first film, but this time around, Arthur needs him to stop a vengeful Black Manta from unleashing a powerful ancient evil." Arthur and Orm's journey will also introduce us to new, breathtaking underwater realms within DC's aquatic universe, much like the stunning visuals we saw in the previous movie.
Rise of the Octobots in 'Aquaman and the Lost Kingdom'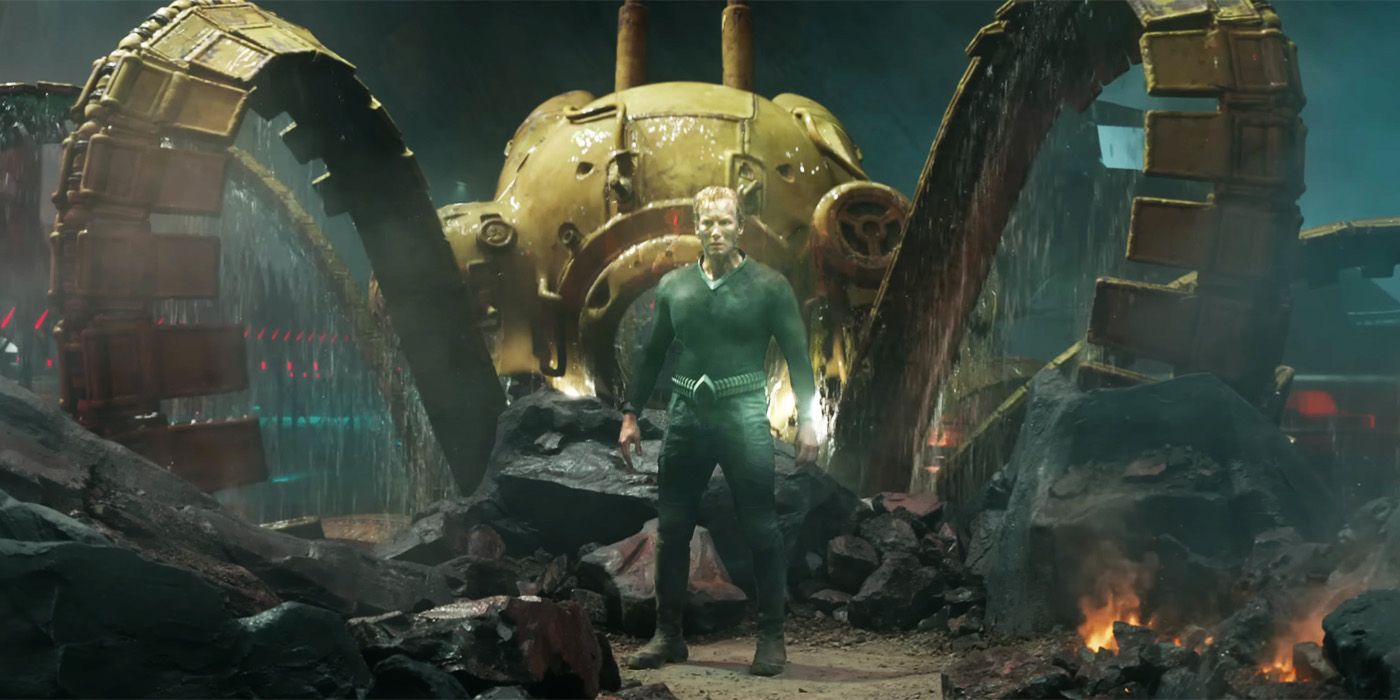 The trailer also features an enormous machine known as an "Octobot" and comes from the mysterious Lost Kingdom, which is the seventh underwater principality that formed from the sunken remains of Atlantis but had mysteriously vanished, as mentioned in the first Aquaman. The film also looks like it will continue to bring the fun and absurdity to the DC cinematic party, and nothing screams absurdity more than Arthur riding Storm, his enormous domesticated seahorse. If that sentence alone doesn't sell the movie to audiences, then who knows what could possibly get butts on seats?
The film will also see the return of Amber Heard as Mera, Dolph Lundgren as King Nereus, and Temuera Morrison as Aquaman's father, Tom Curry. Momoa recently reprised his role as Arthur Curry in The Flash, alongside fellow DC stars Ben Affleck, Michael Keaton and Gal Gadot, although director Wan wouldn't comment on any potential appearances when asked recently by EW regarding a Batman/Batmen role in the movie:
"The tricky thing early on was not knowing whether Aquaman would come out first or come out after [The Flash]. So, we just had to be prepared. At the end of the day, the best thing I would say about this movie is that it is not connected in any way to any of those films. That's the bottom line. You're going to have to wait for the movie to come out."
Aquaman and the Lost Kingdom will be released in theaters on December 20. The trailer can be seen below: