The Big Picture
Andrew Koji, known for his action credentials, surprised the team by fitting right in and making magic happen on the set of Boy Kills World.
Koji's previous work on Warrior and his comedic aspirations influenced his interest in the film, and it was a match made in heaven when he met the director.
Mohr was impressed by Koji's ability to immediately get into character, as he already embodied his role in the resistance and was in character from the first call.
Moritz Mohr's upcoming dystopian action thriller Boy Kills World may revolve around John Wick Chapter 4 star Bill Skarsgård as the deaf-mute Boy, but the supporting cast around him is packed with talent. The director's debut feature also has Jessica Rothe, Yayan Ruhian, Isaiah Mustafa, Famke Janssen, Brett Gelman, and Sharlto Copley along for the violent ride among others. One member who immediately felt right at home on set in the eyes of the team, however, was Andrew Koji. While at the Toronto International Film Festival for the film's Midnight Madness premiere, Collider's Perri Nemiroff at our TIFF media studio at the Cinema Center at MARBL spoke with Mohr and producer Zainab Azizi about how Koji fit right in and made magic happen on set.
Action has become the go-to genre for Koji. Last year, he came to theaters aboard the Brad Pitt-led Bullet Train and he also appeared in the ill-fated Snake Eyes in 2021. However, most viewers will be familiar with him as the star of the Max martial arts series Warrior playing a role written for and by the legendary Bruce Lee. Despite his extensive experience, Koji was a bit of a surprise for the role the team had planned. When asked about which actors came out of nowhere to earn a part in Boy Kills World, Azizi said, "I think the last one was Andrew Koji because we were sort of looking for older actors for that role, more seasoned, just like 10/15 years older because we were like, 'Oh yeah, that's, that's gonna fit there.'"
Koji just happened to be in the right place at the right time for Boy Kills World. His action credentials already would have made him a sensible choice to join Skarsgård, but it wasn't until he worked with Azizi and company on a different project, and learned of the comedic side of Mohr's film, that he became interested. "We're developing another film with Koji, a biopic, and he was just talking about how he always wanted to try comedy," the producer said. "He's the lead in a show called Warrior, and he felt that he was always typecast." When he and Mohr came together, Azizi revealed that it was a match made in heaven. "The role was originally Chow, and Mohr and Koji met, and magic!"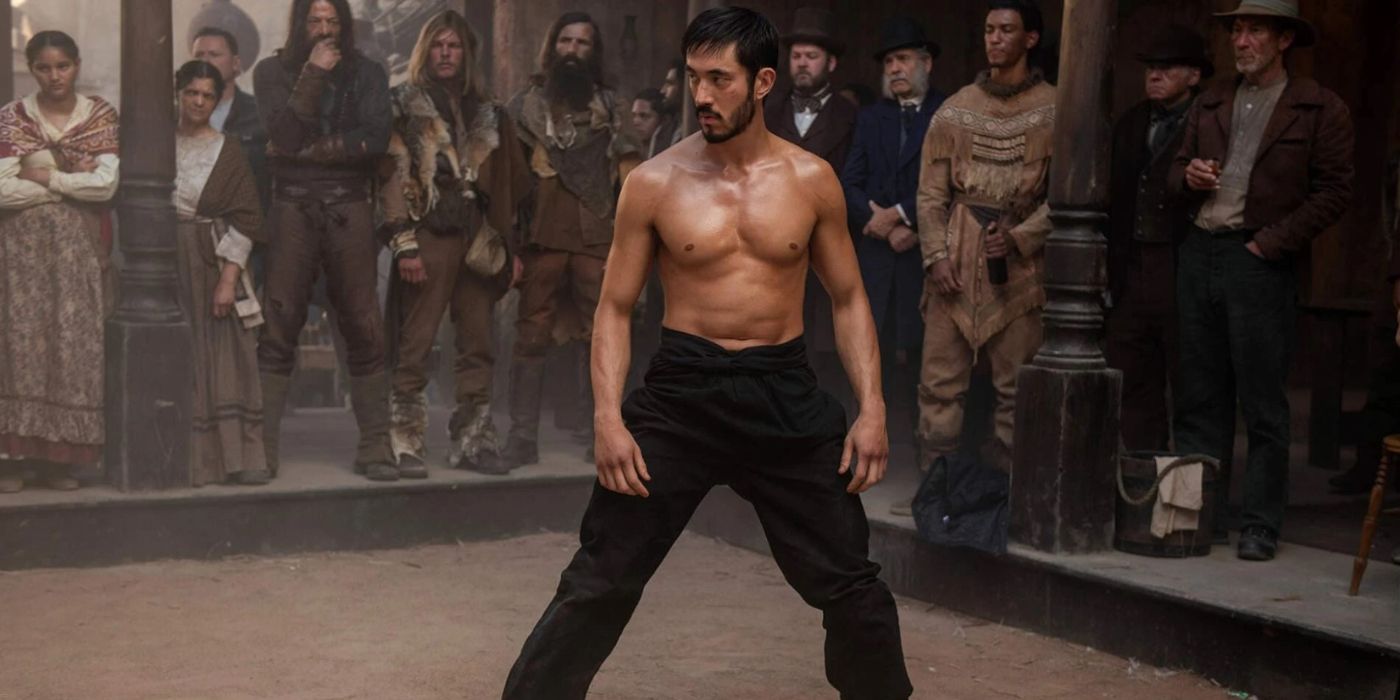 Andrew Koji Took No Time to Get Into His 'Boy Kills World' Character
Mohr attested to the value of having Koji on board thanks to his Warrior experience and familiarity with the team. Most of all, though, he was impressed by the actor's ability to immediately get into character. Koji plays Basho, a member of the resistance Boy joins and a close ally of the deaf-mute action hero in his fever-dream revenge quest against the evil dynasty that killed his family. From the moment he arrived, Mohr said he was already embodying Basho, adding:
"Yeah, it was. I didn't know that, but I thought it was always funny because he worked on Warrior and Warrior also shot in Cape Town, so a lot of the team already knew him from the show. They were like, 'That guy is usually different…' and it was only then that I realized he was basically in character the moment we got on the first call. He was already in character and that just blew me away. It was a big surprise."
Sam Raimi produced Boy Kills World which was conceived of by Mohr and Arend Remmers, the latter of whom also penned the screenplay with Tyler Burton Smith. The film currently has no theatrical release date. Stay tuned here at Collider for more of our coverage from TIFF 2023.