The Big Picture
Jeffrey Wright shines in American Fiction as struggling author Thelonious "Monk" Ellison, who hilariously attempts to write a bestselling "Black book" under a pseudonym after realizing the demand for such literature.
Monk's parody, filled with stereotypes, unexpectedly becomes a massive success, bringing him money, attention, and even a movie deal starring Michael B. Jordan. However, he must navigate moral and comedic implications as he pretends to be the controversial author Stagg R. Leigh.
Directed by Cord Jefferson, American Fiction is receiving rave reviews, winning the People's Choice Award at the Toronto International Film Festival. With an all-star cast including Tracee Ellis Ross and Sterling K. Brown, this satirical comedy is a must-watch when it releases on December 15.
Writing a bestseller requires a lot of skill, creativity, and a bit of luck, but Jeffrey Wright has found a way to fake it to the big time in the new trailer for American Fiction. The comedy sees Wright playing author Thelonious "Monk" Ellison who is struggling to find the steady success he used to enjoy with his books. When he realizes what's so popular these days, he becomes so disgusted he tries to write his own take on a bestselling "Black book" under another name. The film is one of the year's most anticipated remaining titles, and the trailer shows why, as Monk's plan hilariously backfires.
Monk first realizes the state of Black literature when he attends a talk with author Sintara Golden (Issa Rae) who all but calls her bestselling book a victory for representation before reading a stereotype-heavy excerpt. Meanwhile, his books are seen as "good but not popular," and he's told the hard truth – "Editors want Black books." So, he writes a scathing parody complete with spelling errors and other themes Monk thinks are stereotypical like drugs and deadbeat dads. It ends up being the "most lucrative joke you've ever told," as his book under the name Stagg R. Leigh immediately sells and starts shipping copies at an alarming rate. Suddenly, Monk is scrambling to keep up appearances and pretend to be the wanted criminal Leigh as he rakes in the profits and even a movie deal with Michael B. Jordan starring.
American Fiction will explore the moral and comedic implications of Monk's actions as he attends events and speaks to investors, including one played by Only Murders in the Building standout Michael Cyril Creighton who doesn't even know what a do-rag is. The money and attention keep him afloat and the profits only become more critical when his mother falls ill. Making his satiric dilemma all the more hilarious is an all-star cast including Tracee Ellis Ross, Sterling K. Brown, and Leslie Uggams making up his family with Myra Lucretia Taylor, John Ortiz, Adam Brody, and Keith David among those rounding out the cast.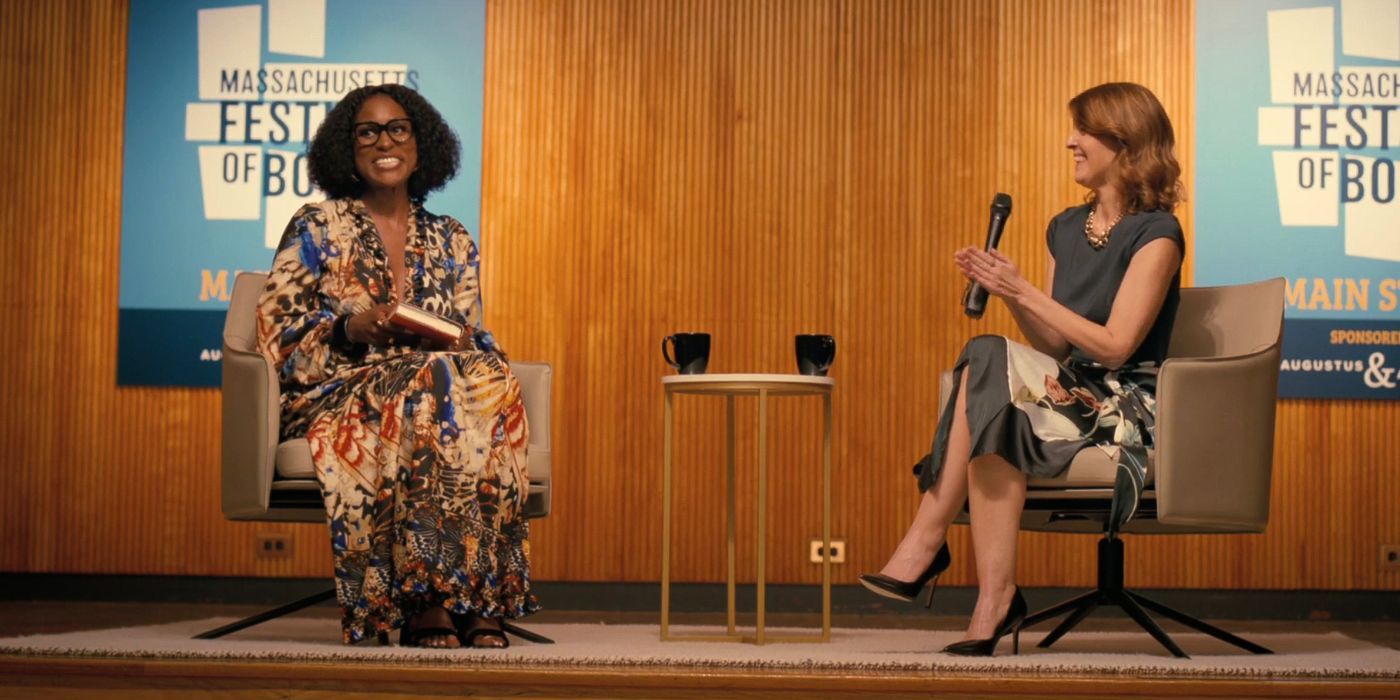 'American Fiction' Seems Destined for Greatness
Behind the camera for American Fiction is Cord Jefferson who not only directed but adapted the screenplay from the 2001 novel Erasure by Percival Everett. Jefferson has been on the rise for some time, earning an Emmy as a writer on the Watchmen miniseries and earning writing credits on hit shows like The Good Place and Master of None. American Fiction is his directorial debut, however, and by all accounts, he's knocked it out of the park. At this year's Toronto International Film Festival, his film came away with the coveted People's Choice Award, beating out some tough competition including fellow awards season contender The Holdovers from Alexander Payne and Hayao Miyazaki's last film The Boy and the Heron. Critics have also been over the moon about the film which only adds to its status as a must-watch when it hits theaters on December 15.
Check out the trailer below.