The Big Picture
All Of Us Strangers generated buzz at film festivals and now audiences eagerly await its theatrical release in late December.
The new movie poster showcases the main cast and creates a dreamy, reflective atmosphere.
Directed by Andrew Haigh, known for his compelling stories, the film has been praised at festivals and may be a contender in the upcoming awards season.
All Of Us Strangers managed to make a lot of noise throughout every film festival that it was screened, and now it's time for wider audiences to count down the days until the romance premieres in movie theaters. Unfortunately, this only happens in late December, which means that Searchlight Pictures will need to keep teasing us on a regular basis. Today, the movie got a new poster that highlights the main cast and evokes a dreamy desire.
The new poster is a wild departure from the previous one, which was more subjective and suggested a distance between the main couple. In the new one, Paul Mescal (Aftersun) is looking at Andrew Scott (His Dark Materials) the way you wished people looked at you, while Scott seems to be in a daydreaming state. The art evokes the type of reflections we tend to see in cities at night and also has Claire Foy (The Crown) and Jamie Bell (Without Remorse) in family portrait-like fashion, which suggests the past that catches up to Scott's character throughout the movie.
In the story, Adam (Scott) is a screenwriter that spends his day mostly isolated in his apartment building in London. His life changes when he meets Harry (Mescal), a neighbor that decides to knock on his door after realizing that the writer had been staring at his apartment window. At the same time, Adam is reconnecting with his past — and his parents in particular — in ways that are mysterious to say the least.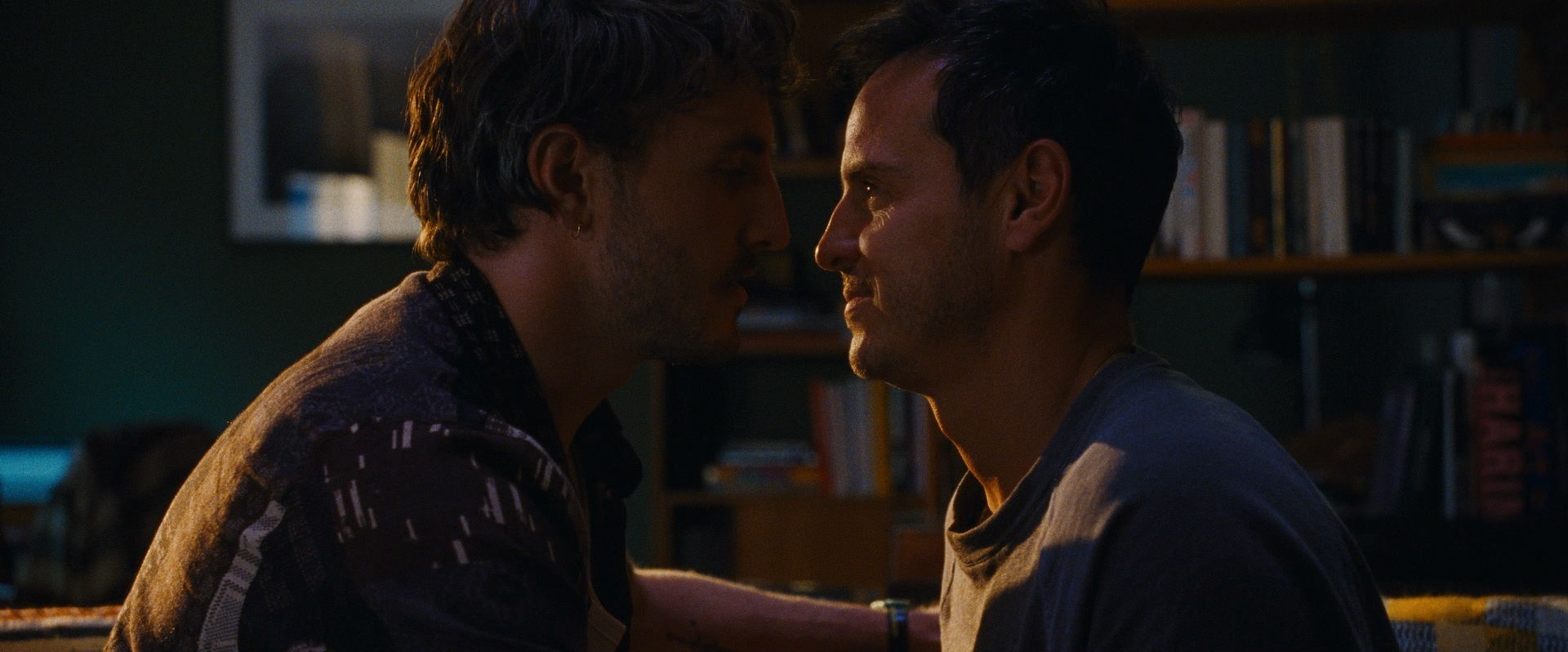 'All Of Us Strangers' Is Completely on Brand For Andrew Haigh
All of Us Strangers is directed by Andrew Haigh, who is no stranger to telling stories of men who meet by chance and have intense experiences in a short time span. He directed Weekend, which was also critically acclaimed and even featured in best-of-the-year movie lists when it was released in 2011. He also wrote and produced HBO series Looking and the powerful drama 45 Years starring Charlotte Rampling (Juniper).
Haigh's new movie has been praised in festivals like Telluride, NYFF and BFI London Film Festival, and the late December release date may indicate that Searchlight will vie for the movie when the awards season starts. All Of Us Strangers is based on the best-selling novel Strangers by author Taichi Yamada — Haigh himself wrote the screenplay, and the director/screenwriter teased that even people who know the novel will be surprised at extra twists he put in the story.
All Of Us Strangers premieres in theaters on December 22. You can check out the new poster below: